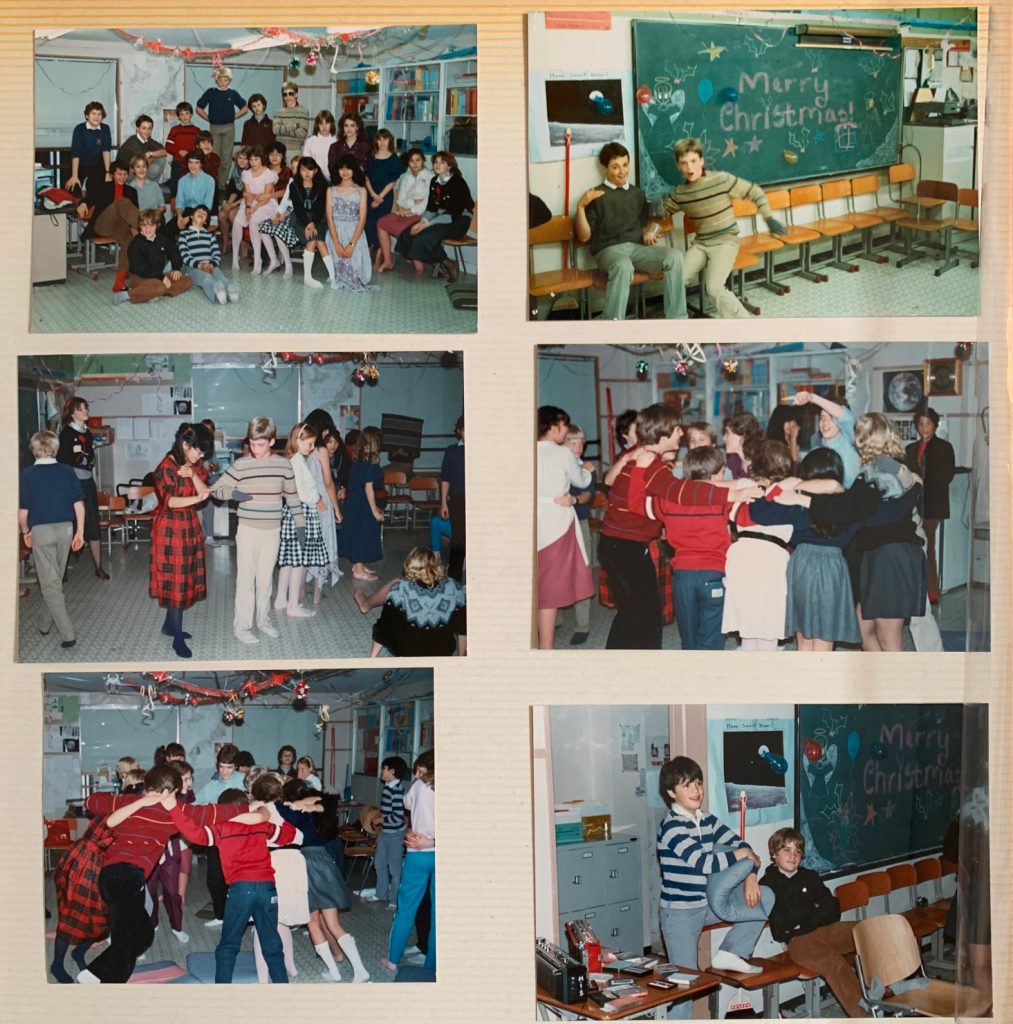 1985: Grade 8
---
What have you been doing since leaving HIS?
I graduated from a local university with a graphics arts degree (1995). Married in 1998 and now I'm selling homemade greeting cards locally.
What are your fondest memories of your time at HIS?
I have several fond memories of HIS. I'm from the "old building." It may have been tiny but there was love and friendship all around. We were the first class to have dances. Pete Cooper figured out how to make the computer pick out who would dance together. It doesn't sound like much now but Xmas of 84' it was a big deal. We had a play, took school trips, read Lord of the Rings before the movies were in theater…. There are plenty more memories I remember.
What impact has your time at HIS had on your life?
I was able to meet friend from different countries.
Further memories from Lisa!
Let's start with now. I'm going to be 49 this year and the time has flown. I'm married, 1998, with no children.  I graduated with a graphic design degree. I now create and sell greeting cards and my shop is called Risalenee' Creations. My husband, Mike, just retired from Farmington Hills Michigan police force. Now for the next chapter in my life but here is a little story of my past.

I was 13, 1984, when I first arrived at Hiroshima. I quickly became friends with a girl named Shawn Caldwell. On Saturday's we would hang out at the record store, Mc Donald's or Lotto burger. Cute Japanese guys would always try to say hello while we did too.

We all know that HIS students come and go. When Shawn left for America, a new friend took her place, 1985. Her name was Carrie Shultz. If I could find her now I'd be very happy.  We didn't cause as much trouble as Shawn and I but now Carrie and I were into Japanese music. Shibugakitai, Matchy and The Checkers! We even saw The Checkers in concert!!!  (Picture included)

We were the first class to have a dance. We convince the teachers to be chaperones so no parents would be there. We decorated our classroom in the old building during Christmas of 1984. It was a blast! One student Pete Cooper was wiz at the computer and he made a "computer dance." We all agreed that what ever names the computer picked was your partner to dance with. Haha (pictures included)

I ran a marathon. I think 5k. That was really, really hard. I'm not an athletic person. I have included my number badge that was lined to my sweater.

I see I have a certificate of being the loudest. Haha I know I talked a lot.

I'm also part of the first Thousand Crane Club. All summer long we folded paper to create as many cranes as Sadako. I know we even went over one thousand cranes. What a beautiful way to Decatur her memory. Then we placed them at Sadako's monument along with cranes from other students. (Including pictures)

We also had a mad scientist as our science teacher named Dr. Relian, sorry if spelled wrong.  His goal in life was to die at zero pounds which we know could never happen. He brought in pieces, of a dead cow, for us to dissect and view. Haha. I'll never forget that or him. I know I have pictures some where I just can't find them right now.

What about the time we took a class trip? We went to Shikoku from April 14, 1985 until April 19, 1985.  We rented bikes, was on a hydrofoil, buses. Very fun time by all. We even stayed at hotels that were different than the "westernized" ones from home. All of us girls stayed in one room and talked about boys, make up and music all night long. (Picture added)

Did you know I was a princess/queens in a play? I had no lines, just thumbs down when my other students would offer me goods in a Spring concert. It was at The Children's Culture and Science Center.  Someone has got to have a video. I even played my clarinet. Maybe this was doing during a Christmas concert. (Picture)

Who could forget The Weekly Blab? Us older student, in Summer School, wrote about silly things and also about us. In book #2 I wrote about a gorilla and how he thought a girl was looking at him but it was just the janitor. I also see I was interviewed as the Feature Story in the first Weekly Blab. (Pictures included)

I just remember fun times and the new friend I met. If it was not for Facebook, I would never have ever spoken to these kids/adults again. As far as I know we are doing well in the twenty first century. Who knew we would get this far?
("Open in new tab" to view these images full size)