Jump to: Contacting HIS Personnel
Address
Hiroshima International School,
3-49-1 Kurakake,
Asakita- ku,
Hiroshima 739-1743,
Japan
〒739-1743
広島市安佐北区倉掛3-49-1
広島インターナショナルスクール
Telephone: +81/0 82 843 4111
Fax: +81/0 82 843 6399
E-mail: info@hiroshima-is.ac.jp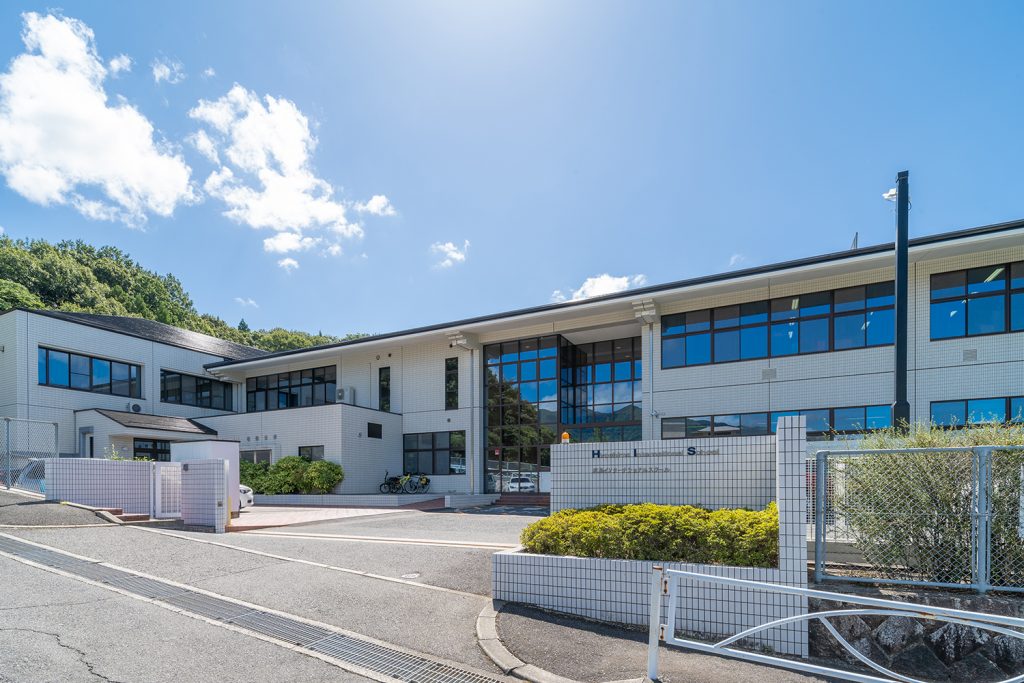 Getting to HIS
To get to HIS from central Hiroshima takes about 30-45 minutes.
By Bus (45 mins)
Take the Koyo C bus from Hiroshima Station or Sogo Bus Centre. HIS is announced on the bus, but much too early! After the announcement, let the bus drive up the hill, and get off at the "Bosai Centre 防災センター" bus stop just before the local elementary school. After the bus stop the road descends again.
By Train (30 mins)
Take the Geibi line from platform 9 of Hiroshima station (but don't take the Miyoshi Express). Get off at Kumura if you will take a taxi, or at Shimo Fukawa if someone from school will meet you.
By Taxi (30 mins)
Just give the school address, but add that it is in Koyo.
By Car (30 mins)
Take route 54 and then 37 North from the city.
Contacting HIS Personnel
Position
Principal

James Steward

principal@hiroshima-is.ac.jp
Office

Yuko Makio

082 843 4111

office@hiroshima-is.ac.jp
Admissions and Marketing Coordinator

Sayaka Hirata

082 843 4111

admissions@hiroshima-is.ac.jp
Operations Manager

Mika Solvie

082 843 4112

operations@hiroshima-is.ac.jp
English Language Programme Manager

Mika Solvie

082 843 4112

elp@hiroshima-is.ac.jp
Accountant

Maki Nontani

082 843 4111

accounts@hiroshima-is.ac.jp
Japanese Language Programme Manager

Noriko Senno

082 840 0260

jlp@hiroshima-is.ac.jp
Vice Principal (Primary) / Primary Years Programme Coordinator

Shefali Lakhina

pyp@hiroshima-is.ac.jp
Dean of Students (Secondary)

Robert Washington

rwashington@hiroshima-is.ac.jp
Middle Years Programme Coordinator

Sarah Niemann

myp@hiroshima-is.ac.jp
Diploma Programme Coordinator

Gavin Smith

dp@hiroshima-is.ac.jp
1000 Crane Club Coordinator

Yoko Yanagi

cranes@hiroshima-is.ac.jp
College Counselor

Marybeth Kamibeppu

collegecounselor@hiroshima-is.ac.jp
Teachers

Teacher addresses are in the form initial+surname

For example, someone called "Alison Teacher" would have this address:

ateacher@hiroshima-is.ac.jp