ITEMS: UN75 in Hiroshima; Crane Club Interview; Local action opportunities; Bento orders; Parent Get-together; Construction update.
Principal's Message
Dear HIS Community
We have had a great first week back and have welcomed some new friends into the HIS community. Everyone has been very supportive by following our Health Guidelines which is very important so thank you!
Today, I wanted to mention some action that has taken place over the summer and also during this first week. Action is a very important part of inquiry based learning. The idea is that we shouldn't just learn something but we should be able to act on what we learn. As HIS is dedicated to enabling all of our learners to help create a more peaceful and sustainable world, our action is often directed towards taking steps in this direction. It is the cumulative effect of the small steps that really count over time especially if we are all taking them.
Firstly, our HIS Crane Club produced a marvellous video for a children's educational program on the Australian Broadcasting Corporation (ABC) called Behind the News. It has been going for a long time, and I know that as we used to watch it in class when I was in primary school (a long time ago) in order to introduce various current affair topics. I received the request and passed it on to Leah (Gr12) who is the leader of the Crane Club and the group organized themselves to create this really thoughtfully produced video. You can see it below. Congratulations to the Crane Club on that independent collaboration.
We also had Amy (Gr12) who was selected to participate in the UN75 in Hiroshima, an important opportunity for a discussion on peace on the 75th anniversary of the bombing of Hiroshima. Afterwards, Amy produced a report which has been published on the Hiroshima for Peace website and a link is provided below. That was beautifully written and thank you for being a great role model for all of us here in the school community.
Lastly, I would like to mention some of our primary students who I have noticed being really aware of the way they include others through their choice of language. Being in a multilingual environment, in order to create an inclusive environment where everyone feels valued, we need to make sure that we use a language in the playground that everyone in the group can understand. I have seen students being very aware of this and helping others feel included through language choices. As a type of action, it may seem like a small step, but it is powerful.
While thinking about action at home, you may like to look at the TED Talk below. I have never had much success with household plants but it seems that I should upgrade my skill set. I love the easy to understand explanation.
I have included some links below related to some potential action that you could potentially take as a family around Hiroshima. I hope you all have a great weekend and keep cool.
Regards
Damian Rentoule
Crane Video
Crane Club video for an Australian Broadcasting Commission (ABC) Program
UN75 in Hiroshima
Here is the link to the UN75 in Hiroshima by Amy (Gr12). That was great work, Amy, and it is wonderful to see how independently you were able to take on this very important task.
Local Action Opportunities
Hiroshima Clean Ups
These are the last in a series of 20 clean-ups in Hiroshima during 2020. More information is available at the Inbound Ambassador website. It is a great way to take some action in the Hiroshima community.
International Coastal CleanUp Day (9/19/2020) Miyajima island's Kiyomori shrine (near the giant Tori gate) 9-11am (+picnic lunch party)
9/20/2020 [3rd Sunday at Central Park Riverside 9-10am]
10/18/2020 [3rd Sunday at Central Park Riverside 9-10am] 
11/15/2020 [3rd Sunday at Central Park Riverside 9-10am]
12/20/2020 [3rd Sunday at Central Park Riverside 9-10am] 
Peace Culture Village support
Our students have visited the Peace Culture Village in the past and we would like to continue to work with the wonderfully dedicated team who are promoting a culture of peace through this project. Here is some information in Japanese in the video below and more is available on their website in English and Japanese. They have started a crowdfunding effort to support their activities since COVID19 has affected their activities like so many other organizations. They are great role-models for our students.
 Crowdfunding link: https://camp-fire.jp/projects/view/307496 In case you are interesting in supporting the project in some way.
Parent Get-together (PTA)
Thank you to all the parents who took on a range of great PTA activities in the first half of last year before COVID19 appeared. I would like to organize a time to meet to see if we can look at the possibility of reconvening a PTA committee for 2020/2021 to take a lead of the activities. Even without a formal committee, we can still hold a range of activities, but things can work smoother with an organizing committee.
We will meet next Friday, 4th September, 9:00 am – 10:00 am. I look forward to seeing as many parent and teachers as possible.
A Zoom link is available for virtual participation if you are unable to attend in person. We are all much better at Zoom now.
Construction Update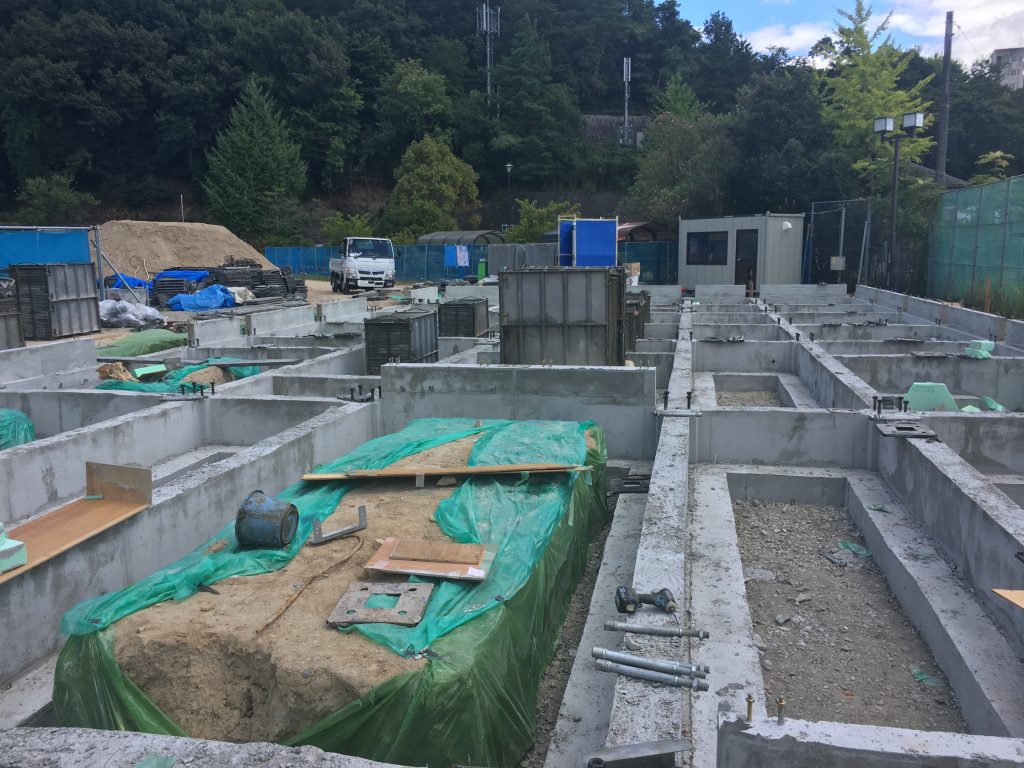 As you can see, the foundations for our Annex replacement have been completed. It is really interesting to watch the process and exciting to see it come together.
Bento Orders
We will start Bento service from September 7th (Monday) this year.
The Bento order form is available here:Bento form.  Please complete your order by Monday, August 31st.If you have any questions, please let me know at yhiraki@hiroshima-is.ac.jp. Thank you!
Bento service will be starting from Sep 7(Mon).
* Bento Order Part 1 will commence from Sep 7 to Nov 30, a total of 51days .
* You sign up for the specified days and bentos are delivered every school day except national holidays.
* Orders need to be made online by August 31 and you will be invoiced for the specified period.
* There are no refunds if your child is away from school and no cancellations are possible during this period.
   This will help us with the organization. Thanks for your cooperation.
* Small, medium and large bento are available. The company will vary the contents of the bentos day to day.
Best regards,
Yoko Hiraki
保護者の皆様へ
お弁当ランチサービスが、9月7日(月)よりスタートします。
* 第1期のオーダーは、9月7日から11月30日までの合計51日です。 * お弁当は、S・M・Lのサイズがあり、内容は毎日違います。 * 学校がある日は、祝日を除き、毎日お弁当が配られます。
* オーダーは、このフォーム (Bento form)からお申込みができます。申し込み受付は、8月31日(月)までです。期間中のお弁当代は、後日まとめて請求されます。
* 払い戻しの制度はなく、期間途中でのキャンセルや、欠席日のキャンセルもできません。皆様のご理解とご協力をお願いいたします。
何かご不明な点がございましたら、担当:平木(yhiraki@hiroshima-is.ac.jp) にお問い合わせ下さい。
ぜひ、お弁当サービスを楽しんでください!
HIS OfficeYoko Hiraki