ITEMS: Crane Club Message; Gardening goats; PTA News.
Principal's Message
Dear HIS Community
Congratulations to the Crane Club for the great work at the Peace exhibition last weekend. You can hear the peace declaration made by Leah (Gr12) and Airi (Gr11) on behalf of the Crane Club and HIS Community in the Crane Video. There are some great events coming up and we are looking forward to a really positive year of action from our students and the wider school community.
Thank you very much to the HIS PTA who have had a great start to the year. You can see the PTA message below in English and Japanese so please make sure you have a look at that.
The construction has been quite amazing for us to watch. The steel framework went up in a matter of days. That is really interesting process and we are lucky enough to have front row seats.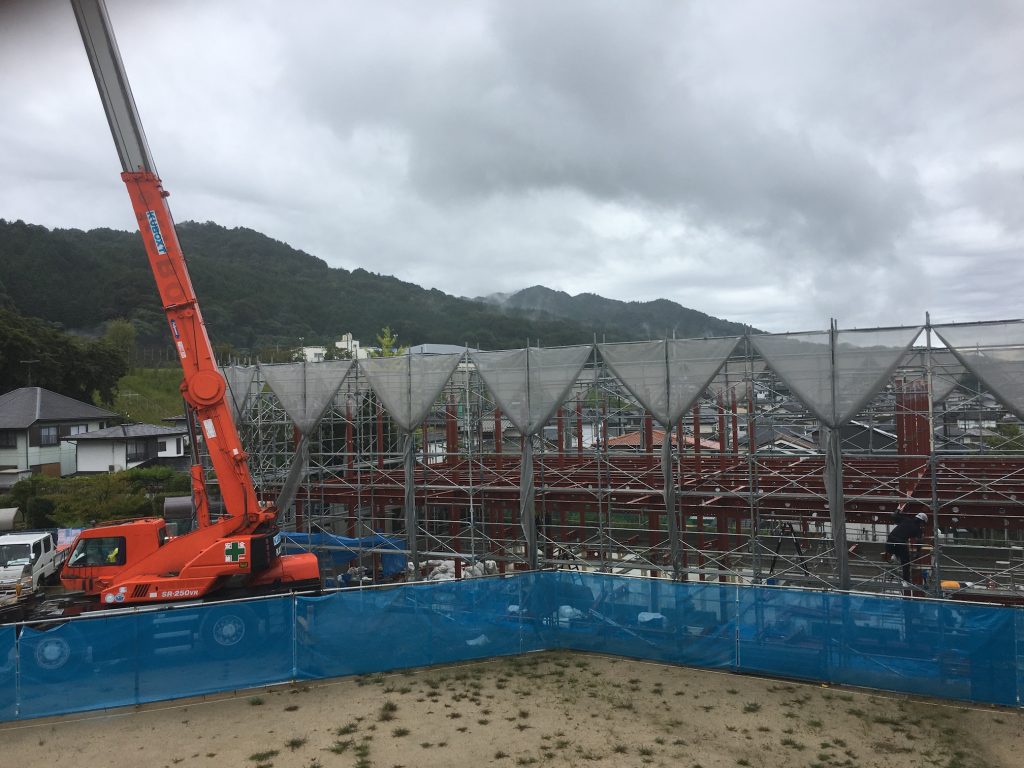 Thank you to Matt Jungblut who has been working on initial plans for a Benefactors Wall to recognise HIS donors, starting with contributions toward the building project and beyond as we enter into a new stage of our growth and development at HIS. More details to follow shortly on how you can contribute to HIS through our Benefactor's Wall.
For this week's TED Talk, I have one that is very relevant to us here at HIS as we consider the nature of knowledge and knowing. Of course, our Diploma Program students study the Theory of Knowledge course which is a detailed look at ways of knowing, but all the way through our educational program, we take a critical look at knowledge. This is an interesting one about memory. Enjoy your weekend.
Kind regards
Damian Rentoule
Crane Video
Crane Club Message
The following is a post from the HIS Crane Club's Instagram post:
Contrary to widespread speculation, we're more than a club that sits around just to eat donuts and preoccupy classroom space with cranes.
Mrs Sato, an 82-year-old Hibakusha, lost her brother in the nuclear attack. In her 34 years of organizing peace activities, and even after establishing her NPO, she never once had the chance to involve an international community in her enterprises  — but she always yearned to extend her impacts beyond the local level.
Therefore, she felt that it was a dream come true when the Thousand Crane Club, who has ample connections with the rest of the world, became part of her annual event this week. Thank you to Mrs Sato, for what was unquestionably a once-in-a-lifetime experience for a couple of our members. "This is only the beginning," she personally told us.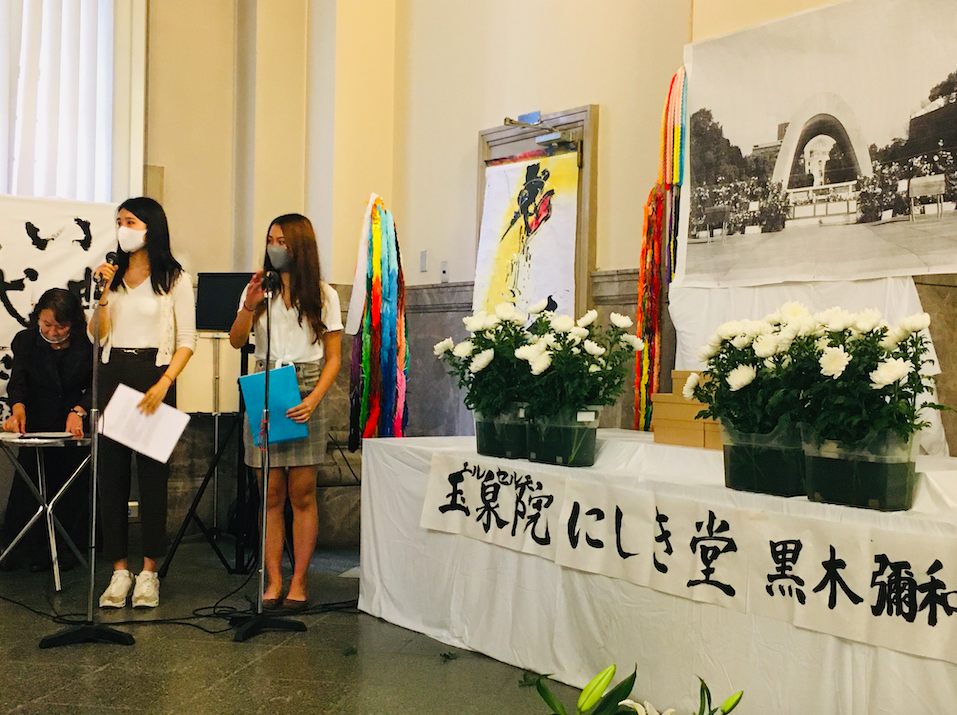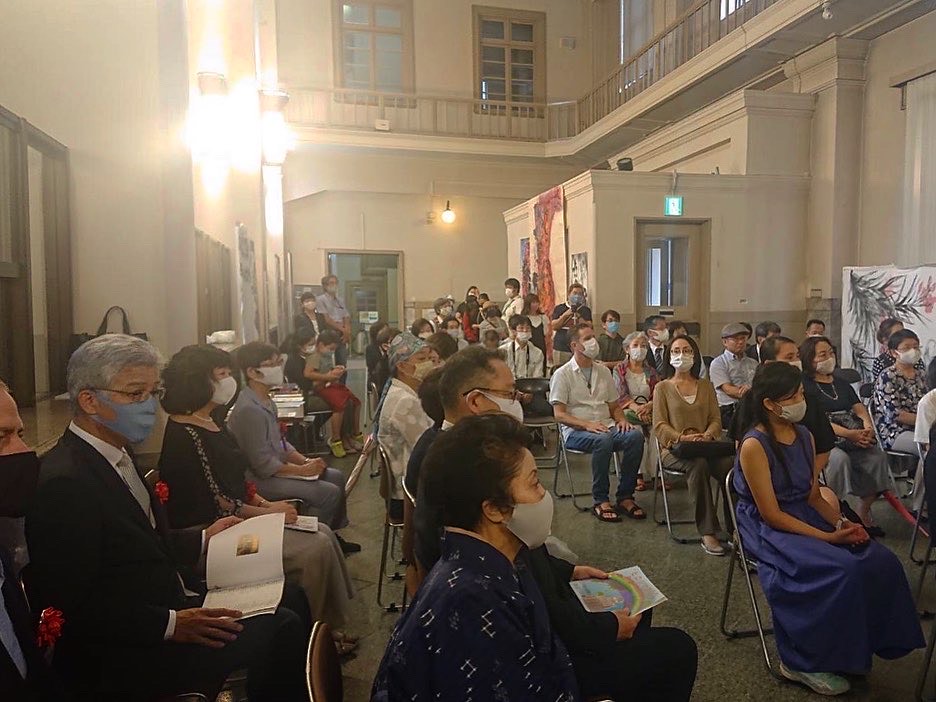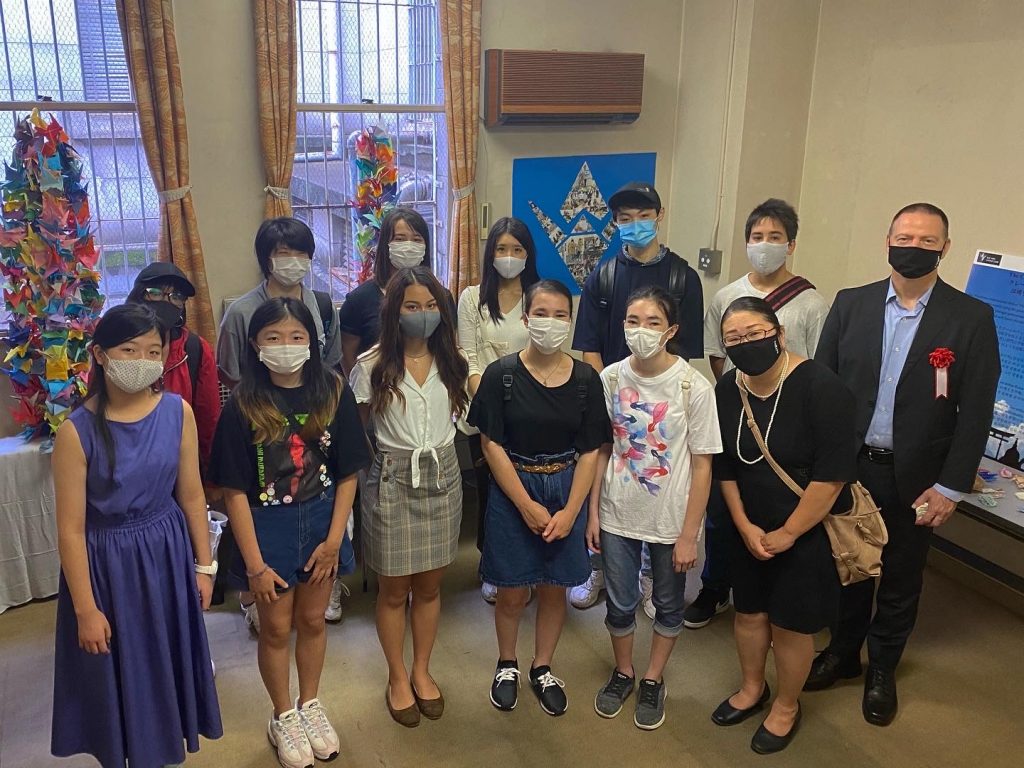 If you would like to follow the HIS Crane Club's Instagram – @thethousandcraneclub
Thank you for the great work in the Hiroshima community and beyond!
Goats
This week, we welcomed Ato and Mitsuki to the HIS community. They will be visiting us for 3-months in the capacity of full-time gardeners. They have been a big hit with everyone. They are both gentle and are working hard, morning to night, eating their way through our overgrown patch of land.
https://peraichi.com/landing_pages/view/yagi-nakao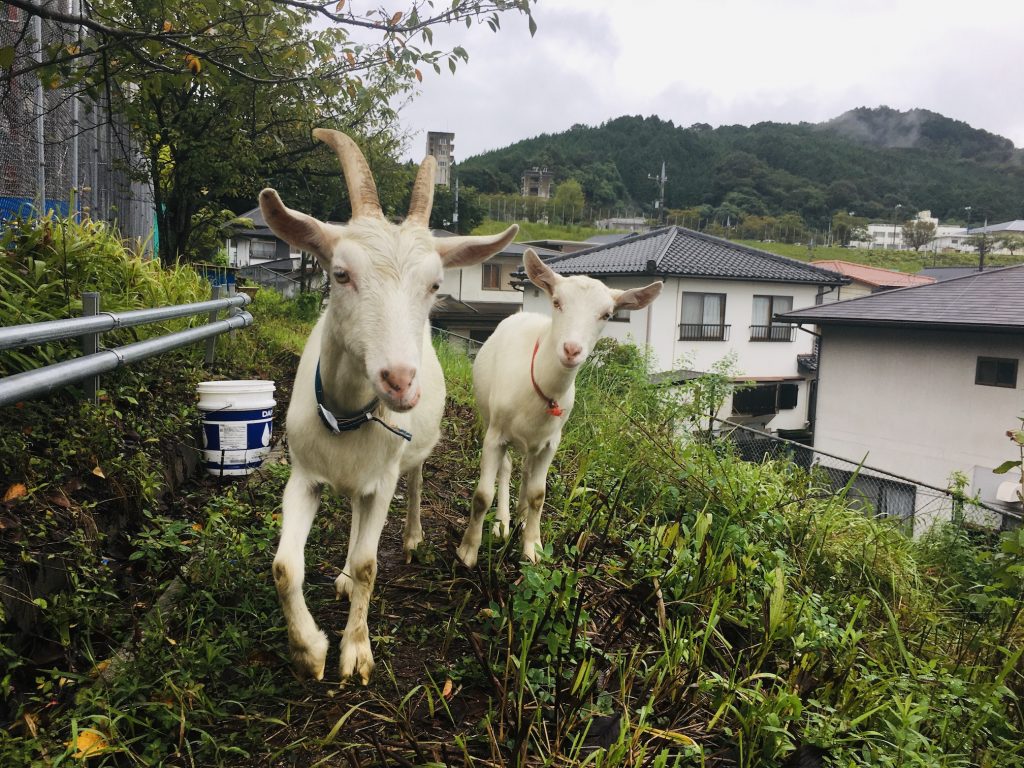 We think we have found a sustainable solution to our gardening problem as they slowly eat their way through the thick undergrowth, fertilising as they go and keeping us all entertained in the process. The slope is very steep which is difficult for a human gardener, but just right for our sure-footed friends.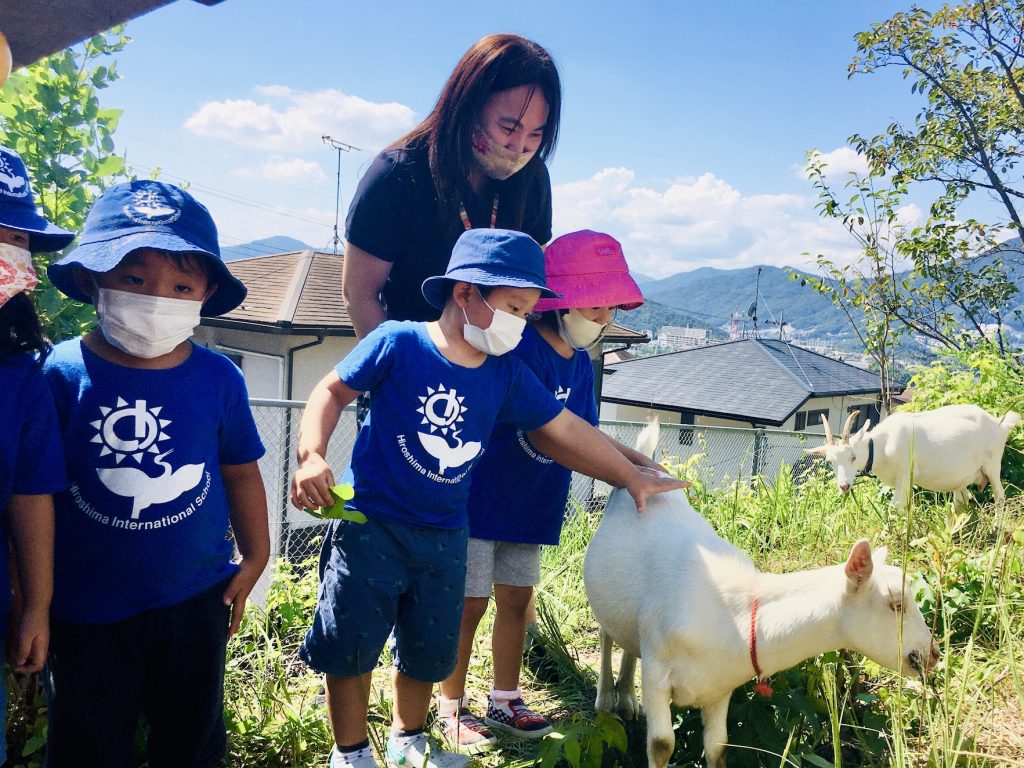 PTA News
Thank you to all who came to last week's PTA meeting. You can find details of what was discussed here:
先週のPTAミーティングにご参加くださいました皆さま、ありがとうございました。以下が話し合った内容です。
https://drive.google.com/file/d/1S7dzRCKKlguuFb-LSIi35YhrYuwQkBNv/view?usp=sharing
Today's main points:
BONFIRE NIGHT CANCELLED
Halloween volunteers: decorations and event helpers
Halloween Candy Donations
Scholastic/Baker Books order
今日の主なポイント
ボンファイヤー・ナイト中止の決定について
ハロウィンのボランティアのお願い : 飾り付けとイベントの手伝い
ハロウィンのお菓子の寄付のお願い
Scholastic/Baker Books の注文
Bonfire Night Cancelled
We had hoped to find a way to hold Bonfire Night this year, but with the school ground under construction unfortunately we have been unable to find a safe and suitable alternative venue for this event, so it is with great sadness that we will have to cancel Bonfire Night this year. 😭
ボンファイア・ナイト中止のお知らせ
今年のボンファイアは校舎建設中のためグランドが使用できないため、なんとか開催できるよう方々尽くしましたが、残念ながら安全で適切な代わりの場所が見つけることができませんでした。とても残念ですが、今年のボンファイア・ナイトは中止とさせていただくことになりました。😭
HALLOWEEN
VOLUNTEERS FOR DECORATION
We plan to decorate the school for Halloween on Friday October 2nd at 9am .
Please come along and lend a hand if you have time.
VOLUNTEERS TO HELP RUN ACTIVITIES
We also need a few volunteers to help with the Halloween activities.
DATE: Friday October 30th TIME: afternoon (details later)
We will be gratefully accepting donations of Halloween candy to be distributed to the kids at the Halloween event. Please hand your donations into the office, between Monday, October 5th, and before Friday 16th Oct.
*All candy must be individually wrapped.
** NUT ALLERGY. We have students with severe nut allergies, so please avoid sweets which contain nuts.
*** We suggest donations of at least one bag of individually wrapped candy per family                                        
ハロウィン
   10月2日金曜午前9時からハロウィンの飾り付けを行う予定です。もしお時間がございましたら、是非お手伝いをお願い致します。
ハロウィンアクティビティのお手伝いが数人必要です。
日程: 10月30日(金) 午後 (詳細は日を追ってお知らせします)     
お菓子の寄付のお願い (10月5日月曜日より受け付け開始)
   ハロウィンイベントで子供達に配るお菓子の寄付をぜひお願いいたします。ご寄付いただけるお菓子は、10月16日金曜日までにオフィスまでお持ちください。
   *寄付していただくお菓子はすべて個別包装されているものに限ります。
   **ナッツアレルギーの生徒がいます。ナッツ類が含まれたお菓子は絶対に避けてください。
   ******1家族につき、少なくとも一袋のお菓子の寄付をお願いいたします
Scholastic Book Club Order
We are organising the first order of the year from Scholastic/Baker Books.
Go to http://world-schools.scholastic.co.uk/hiroshima-international to browse the latest books and order online. For every $1 you spend on this month's Book Club, our school will earn 20¢ in Scholastic Rewards, which can then be used to buy books for the library.
Please place your order online by October 2nd.
If the coronavirus situation is on our side, we expect the books to arrive before Halloween.
Please note: Students of up to Grade 6 will bring home a flyer with a paper order form on the back but our Book Club is only accepting online orders.
今年度初めてのScholastic/Baker Booksの注文を取りまとめます。下記のサイトより、ご購入いただける本の詳細とオンライン注文ができます。
http://world-schools.scholastic.co.uk/hiroshima-international
Book clubで本の購入をされますと、Book Club 内で使えるポイントとしてご購入1ドルにつき20¢がHISに入ります。このポイントは図書室の本を充実させる為に使用されます。
本のオンライン注文の締め切りは10月2日です。
ハロウィンまでには本が到着する予定です。(コロナ事情による遅延の可能性あり)
G6までのお子さまがBook clubの注文表付きのチラシを家に持って帰りますが、ご注文はオンラインのみとなりますのでご了承ください。