ITEMS: Appreciation to the Sonoda Family; Sister School Announcement – Saijo Agricultural High School; Holiday Reading; Identity Presentation; Mask donation by the Choi family.
Principal's Message
Dear HIS Community
As we move toward the winter break, I would like to express my gratitude to everyone for all of your efforts to keep our community as safe as possible through the ongoing pandemic. Yesterday's numbers in Hiroshima were not reassuring so please take care over the break.
While you are all at home being very careful about your health, reading seems like a great way to spend some time as a family. As I have mentioned before, your children may need a little bit of encouragement and perhaps a few guidelines to help them balance their time. However you spend the day, I would suggest that some structured reading time would be really beneficial. In one of the items below, there is a short video with two helpful hints.
We know that when we read more we get better at reading, just like any other activity. Reading helps us to develop our language skills, of which reading is a really important one but there are also major impacts on vocabulary development for example as well as the way we are able to structure different types of sentences. When we read our brains are very active and hopefully when we are in gauged in reading, Like when we are really interested in a story, we don't even know that our brains are working so hard.
Planning and organising our time is about insuring balance. For example, if we read more we will get better at reading. If your child is spending excessive time watching tv, playing video games or scrolling through social media, it is an opportunity wasted as they probably don't really need to get that much better at TV, video games or social media. Help them to structure their time so that there is some balance and make sure that reading is a part of everyone's day.
I added this TED Talk by Anna Babel as it is an interesting discussion about challenging our assumptions, which is an important element of the critical thinking that forms a part of our Approaches to Learning skills that we address throughout our programs here at HIS.
Enjoy your socially-distanced winter festivities.
Kind regards
Damian Rentoule
Crane Video
Appreciation to the Sonoda Family
I would like to thank the Sonoda family who once again generously offered to video Festive Eve for the HIS Community. Especially this year as the audience was limited, having this footage professionally done is invaluable for families who were not able to make the performance. For those of you who would like a trip down memory lane, below is the performance from last year which the Sonada family prepared for us. We really appreciate your generosity!
Sister School Announcement – Saijo Agricultural High School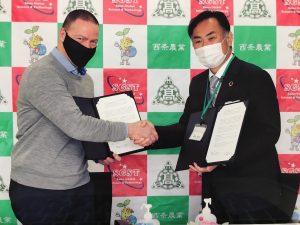 On Wednesday, I visited Saijo Agricultural High School and finished the formalities for a sister school agreement between our schools. Our first cooperation will be the 24 Hour Race in April 2021 that Saijo Agricultural High School have been generous enough to host on their beautiful campus. As part of these preparations, we have been having some really interesting conversations with them as they have quite a remarkable program. They are a working farm breeding cattle, pigs and chickens on campus as well as having an equestrian program using retired racehorses. They have agricultural land with greenhouses and hydroponics so many classes are all geared towards agri-science and as a Super Science School, they have a focus on research. It looks like there will be lots of excellent opportunities for our students to work collaboratively. Currently, with the COVID situation, any exchanges are a bit difficult but we are planning to explore options at the end of the school year and are looking forward to a close relationship in the future.
Holiday Reading
I would like to encourage everyone to support their children to read over the winter break. How can we help children to identify as readers? This talk is based on the speaker's experience in the US but his ideas about the link between reading and identity are really important and may be able to support us. Helping your children to create a reading space and also curate a list of books that your child will be interested in could be a key.
Presentation on Identity
Here is the presentation that I gave at Hiroshima Prefecture's Human Festa, an annual event examining social justice issues. I did a presentation looking at identity which you can see below. It was translated into Japanese so subtitles are included.
Mask Donation
Thank you to the Choi family (Hyoseok, G11) for the generous donation of 1000 masks which we will be able to use within the school as part of our efforts to maintain a safe school environment while the COVID pandemic continues into the, hopefully, not so distant future. .