ITEMS: HIS Idol sign-up; After-school Club sign-up; Fundraising Project Artwork; Parent Information sessions; MYP Exhibition; Theory of Knowledge student presentations; 24 Hour Race; and PTA News.
Principal' Message
Dear HIS Community
We have our Open Campus coming up on Thursday next week. Currently, our student numbers are quite low so welcoming new families is extremely important. Even more important for us all, however, is ensuring that our current families are completely satisfied with our program and stay with us for the duration of their child's educational journeys. As parents, we are always looking into the future for our children as we want them to be as prepared as possible for the exciting but uncertain future that awaits.
We have great confidence in our educational programs at HIS for preparing students for this future and we are running a series of ongoing parent information series to help our parent community understand why we do what we do and what this means for your child. Next Tuesday 9th February (9:00 am – 10:00 am) we will be running a workshop titled, 'The IB Language Learner', looking at the way the IB programs approach language learning and investigating some useful routines at home to support your child.
On February 26th February (9:00 am – 10:00 am), we are running a session for our Primary parents (Secondary parents are, of course, also welcome to attend) titled, 'The HIS Graduate', where some of our recent graduates and current DP students will be able to talk about their experiences on their journey through the IB programs at HIS. For any school, the student experience is the true indication of the success of the programs. We would like our Primary parents to meet our graduates and seniors, the best ambassadors for HIS and the best indication of what the future holds for your child at HIS.
This week's TED Talk is from Amanda Gorman who performed at the US presidential inauguration recently and was, perhaps even more significantly, featured on the Crane a couple of weeks ago. She has some great advice for all our writers and speakers. She asserts that poetry has never been the language of barriers, but rather the language of bridges.
Kind regards
Damian Rentoule
Crane Video
HIS Idol Information
For families in their first year at HIS, HIS IDOL is our annual school talent show, which has evolved over the past 9 years from what started as a small part of International Festival, but grew into its own event because so many students wanted to take part. You can find more detailed information about this great event in the following document:
Fundraising Project Artwork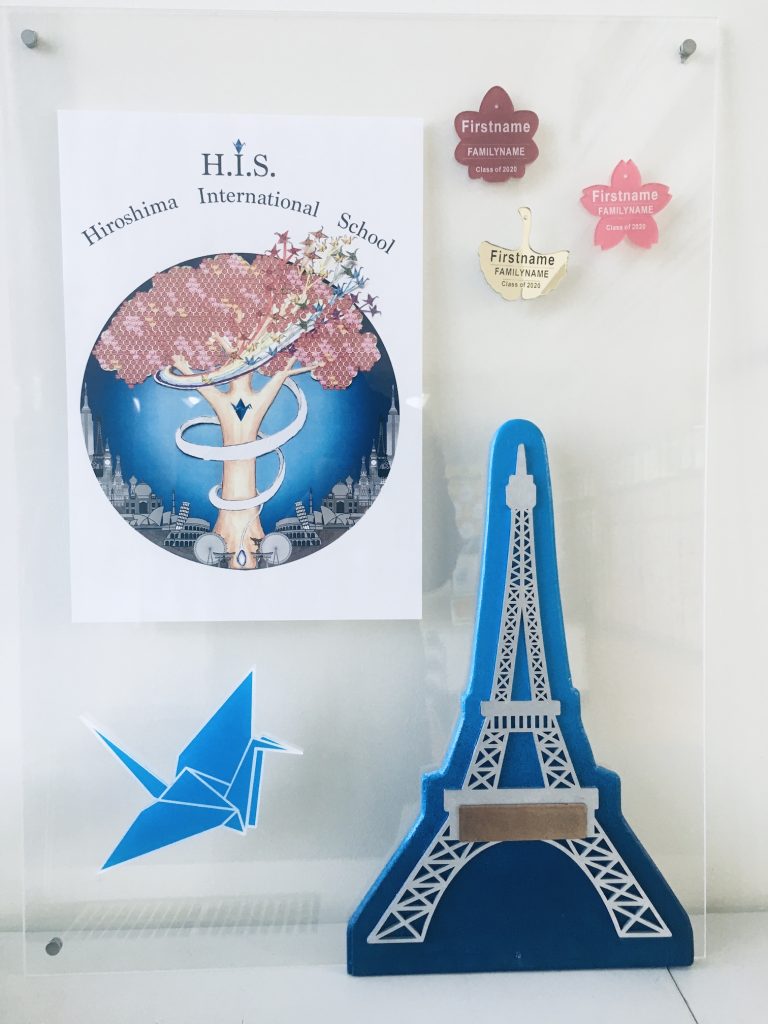 An update to the Fundraising Project: Matt Jungblut (Parent, Board of Trustees Representative, Damian (Principal) and artist, Mendel Jonkers, met this week and discussed the artwork, the fundraising levels, and got not only an update on the artwork but also some samples of the actual shapes that will be used to fill in the artwork over time as donations are received. These items are on display in the school genkan area. You can see a short video explanation below.
There will be five different items that HIS donors can add to the artwork. Members of the HIS community will be able to add these different items to the sculpture to help it grow. Each item will have the donor's name and an individualized message. It will become part of the history of HIS as it is placed on the wall to decorate our HIS Tree for all future generations to see.
The items and levels of donation are as follows:
Sakura Level at ¥10,000 – a pink cherry blossom 桜
Momiji Level at ¥50,000 – a bright red maple leaf 紅葉/もみじ
Ichou Level at ¥100,000 – a shiny golden gingko leaf 銀杏
Tsuru Level at ¥500,000 – a soaring crane available a choice of colors 鶴
Global Landmark Level at ¥1,000,000 – a choice from prominent landmarks from around the globe.
HIS has already received some generous donations and we look forward to seeing our tree grow over time. Many thanks to Matt Jungblut, for all of the work that has gone into the organization of this project.
Parent Information Session: The IB Language Learner
Next Tuesday, 9th February (9:00 am – 10:00 am) we are running a workshop titled, 'The IB Language Learner', looking at the way the IB programs approach language learning and investigating some useful routines at home to support. For example, what is the difference between basic communication and academic language? How does learning language, learning through language, and learning about language differ? Using these questions, we will look at some useful routines at home. Translations will be provided.
Parent Information Session: The HIS Graduate
On Friday, 26th February (9:00-10:00), we are organizing a Primary parent information session (Secondary parents are also, of course, welcome!) where you will be able to hear from HIS graduates and our current DP students about their experiences across the PYP, MYP and DP programs. We would like for our primary parents to see what truly wonderful people our secondary students become and recognise the benefits for remaining at HIS for the full learning journey. Translations will be provided.
MYP Exhibition
Dear Parents,
The moment has finally arrived. Every year your children (our students) are allowed to showcase the results of their careers as MYP students. We cordially invite you to celebrate this momentous occasion and participate in it by joining us Friday, 19th February from 4:00 pm – 5:30 pm. We are so proud and confident in our students' abilities that we urge all visitors to question the students on their understanding, challenges, and growth in this process. If you are unsure and what questions to ask, please feel free to use the questions provided in the link below. We look forward to having family and friends join us in celebrating your children.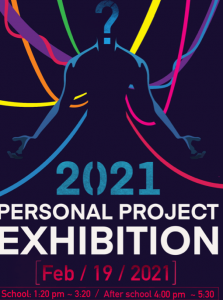 MYP Exhibition invitation to Primary Parents
Everyone in secondary would like to invite you to the MYP Exhibition on Friday, 19th February from 4:00 pm – 5:30 pm. We would especially like to invite Primary parents. The IB Programme is a continuum, and it is both useful and exciting to see where your child is headed and how the pieces come together. As always, there is a full range of passion projects by our grade 10 students. Check out the Crane next week for their project-introduction video.
Theory of Knowledge (TOK) Presentations
(Same time as MYP Exhibition)
Hi everyone! We would like to invite you to the TOK Exhibition on Friday 19th February (4.00-5.30pm) in the school gym. The TOK students will be presenting three objects from their lives which represent an aspect of themselves as knowers, how they create or think about knowledge. It would be lovely for you to come and ask them about the objects they have chosen and what they mean for our TOK students.
Parent Information Session – MYP Report Cards
MYP report cards have gone home, but what do they mean? If you have found yourself wondering the same thing, please join us on Thursday, February, 11 at 9:00 am at school or via Zoom* to discuss the MYP assessments. We will discuss the four criteria, and how learners show their understanding through criterion-based assessments. Everyone welcome. *Zoom link is available on the school calendar.
24 Hour Race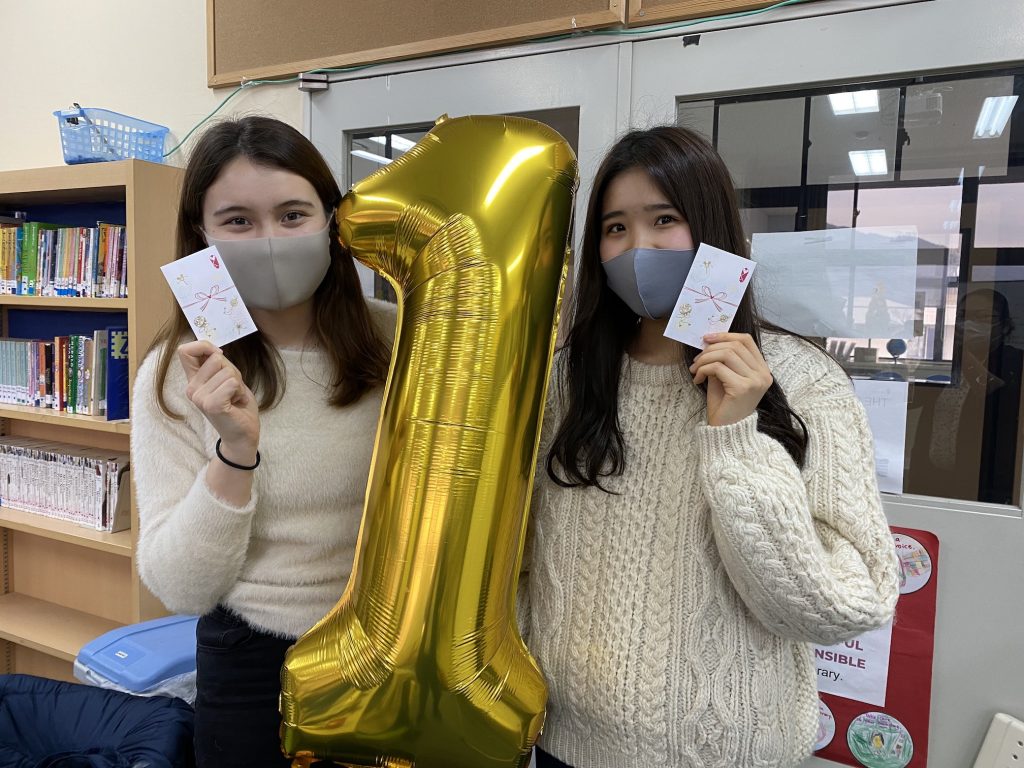 Hello everyone,
We are student representatives from the 24 Hour Race Hiroshima 2021 organizing committee, Airi Furui (G11), and Erin Hirakawa (G11).
We would like to thank Mrs.Kajihara and Mrs.Nakashima for the financial donations for the 24 Hour Race. The members of the organizing committee wholeheartedly appreciate your contribution.
皆さん、こんにちは。
「24 Hour Race Hiroshima 2021」 生徒代表の平川恵鈴 (G11) と古居愛梨 (G11)で す。 金銭面の支援をしてくださった梶原さんと中島さんにお礼を申し上げます。24 Hour Race Organizing Committee 一同感謝しております。
PTA NEWS/ニュース
MAIN POINTS 今回の要点
Val O Gram Date Notice Val O Gram のお渡し日について
PTA Funds Use Proposal PTA資金の使途に関する提案
PTA SHOP PTAショップ
PTA POSITIVE POST BOX PTA(前向き😊)ボックス
Meeting Summary 前回のPTAミーティングの要約
日本語は英語の下にあります。
Val O Grams 
Thank you to everyone who has ordered Val O Grams. Great to see so much love being sent around the community.
CORRECTION: Our original plan was to hand out the Val O Grams on the Friday before Valentines Day (Feb 12th) but we have realised that that day there is actually no school (oops! Sorry 😅) so please note that the Val O Grams will be handed out on Thursday February 11th instead!
Apologies for any confusion.
PTA Funds Use Proposal PTA資金の使途に関する提案
We would like to ask your permission to use a budget of up to ¥50,000 to purchase stock for the new PTA Shop (see details below). According to PTA rules, we are required to obtain formal approval from the community for an expenditure of this amount. This money should be returned to PTA funds through sales of the purchased stocks, so should not ultimately represent a withdrawal.
Please click the link to the form below to find out details and authorise this plan. Deadline is Friday February 12th.
Failure to respond will be understood as agreement with the majority of those who vote. Thank you for your understanding.
https://forms.gle/nFcHEB4Aizr45txU7
PTA SHOP PTAショップ
At the last PTA Meeting, it was suggested that the PTA could run a shop throughout the year to raise some funds and provide useful items for the students and community. After talking with Mr Rentoule we have decided to give it a trial run on February 18th, 19th, 25th, 26th to get the ball rolling.
We have a lot of exciting ideas for how we can use this shop to raise funds, but for starters we hope to sell basic snacks, and instant food options for people who may forget their lunch, and stationery items as a basic stock. In the long term we may sell school branded goods, and perhaps limited time sales of other items of interest to the community, or invite local small businesses to sell their wares in exchange for a donation to the PTA. Please feel free to e-mail us your suggestions of things you would like to see in the shop at pta@hiroshima-is.ac.jp We will let you know soon what items will be available in the shop.
Opening hours & Staff  オープン時間とショップ担当のシフト
The PTA shop will only be able to open on days where volunteer staff are available. The PTA committee will not be able to run the shop by themselves so we are looking for 2 or 3 parent volunteers each day to take turns at staffing the shop during lunchtimes and recess. Simply put, if there is a volunteer to work in the shop, it will open. The shop will remain closed on days with no volunteers. We are also working with the school to allow student participation in running the shop where possible, potentially as part of senior students' CAS activities.
This could be a great opportunity to spend a few hours getting to know the students, staff and school community, while supporting the school, so we look forward to working with as many of you as possible to support the school, and open the shop as often as possible. We will post opening dates for each month, depending on volunteer availability, at the end of the previous month.
If your would like to volunteer your time at the school shop, please tell us your availability for March as far as you know it using this form:
https://chouseisan.com/s?h=4246bcddb9ac4d65ad9d8cae3f19cb6e
If you would like to volunteer on the same days as specific friends, please send us an e-mail at pta@hiroshima-is.ac.jp.
SHOP NAME SUGGESTIONS PTAショップの名前募集
We would love to hear your suggestions for the naming of the shop. You can e-mail your family's suggestions to pta@hiroshima-is.ac.jp or students and those who come to school can post them in the PTA POSITIVE POST BOX in the school genkan (see below).
PTA POSITIVE POST BOX PTA(前向き😊)ボックス
You may have noticed this yellow mail box in the genkan at school. We hope that the students and community members who visit the school can use this to communicate with us any suggestions or wishes they may have, for ways the PTA can support the school. Please use this post box to send us any messages you may have for us.
Here are some ideas of things you might post in the box:
Suggestions for things the PTA can do
Things you wish we had at HIS
Events you would like to see at HIS
Messages of appreciation for people in the community (we will deliver them!)
Answers to questions the PTA asks you
For now, our questions for students are:
What would you buy if we sold it in the PTA SHop?
"PTA SHOP" is boring, so what should we name the PTA Shop?
Please tell your kids to post their suggestions in the PTA POSITIVE POST BOX. Suggestions frm parents and staff are welcome too!
PLEASE REMEMBER: This is a POSITIVE post box, so let's keep messages positive! If you have any concerns about anything related to school, please address them through the appropriate channels.
PTA MEETING SUMMARY 前回のPTAミーティングの要約
Thank you to all who came to last week's PTA Meeting. It was particularly good to have Mr John, Ms V and Mr Rentoule there to give us some updates about what is going on in the primary and secondary schools at the moment. They hope to join us regularly at meetings from now on, so please join us if you have any questions for them about general matters.
Here is a bullet point summary of the meeting:
Mr John's secondary report. G12 status report, explanation of ISA tests (see previous Crane information for details)
Ms V: Upcoming PYP Korean/Mongolian Day, New EAL support initiatives
Mr Rentoule: outlined school plans which align with parent suggestions at last meeting. Plans to improve EAL support for PYP classes, by reevaluating EAL needs in 3 month cycles, redefining and reinforcing appropriate times for use of English/Japanese, and introducing English language only clubs etc dedicating specific times for whole class communication may help >> Art in Japanese class
Parent education workshops/ sessions with graduates and DP students to show results and value of IB education
Exploring possibilities of creating alumni association and outreach to graduates
PTA discussion
Plans for questionnaire to reach out to parents who couldn't attend meetings
Discussed Val o Gram preparation
Plans for online HIS IDOL (see separate information)
Val O Gram のお渡し日について
Val O Gram ではたくさんのご注文をいただきまして、ありがとうございました。コミュニティーにたくきん愛が溢れていてとても嬉しいです。
訂正事項がございます。Val O Gramのお渡し日をバレンタイン前の2月12日の金曜日とお伝えしておりましたが、12日(金)は学校がお休みであることが判明しました。(スミマセン😅) Val O Gramを持ち帰っていただく日は、2月11日(木・祝日ですが学校があります) になりますのでご留意ください。
PTA資金の使途に関するご提案 (下述のPTAショップに関する出費です)
新PTAショップで販売する物の在庫を揃えるため、PTA資金からの予算として最大50,000円の支出を承認していただきたいと思います。(詳細は下記参照) 
PTA規約より、この予算を使うためには、正式に保護者の皆さまの承諾を得る必要があります。この予算で購入した物品から得た販売利益はPTA資金に還元されます。下記のリンク(グーグルフォーム) をクリックして詳細をご一読のうえ、提案にご同意いただけるかどうかをこのフォームでの投票にてお知らせください。投票締め切りは2月12日金曜日です。
なお、投票されない場合は、投票結果の多い方の意見に同意したものとみなされます。ご理解、ご了承をお願いいたします。
https://forms.gle/nFcHEB4Aizr45txU7
PTAショップ
前回のPTAミーティングにて、一年を通してPTAショップを出し、生徒やコミュニティーにとって必要な物品の購入の手助けができるよう、資金集めに活用してはどうか、との提案がありました。その後のRentoule先生にご相談し、まずは2月18日(木)、19日(金)、25日(木)、26日(金)にショップをオープンさせてみよう、ということになりました。
資金を増やす方法として、いろいろなアイデアがありますが、まずはスナックやお弁当を忘れた人のためのインスタント食品、文房具などショップとしての最低限のベーシック・グッズを販売したいと考えています。ゆくゆくは、HISのオリジナルグッズや、皆さまから売って欲しい物のアイデアを募っての販売や、PTAへの手数料支払いの条件を付けたうえで地元のお店の商品を販売を許可することもできます。ショップに関してのご意見・ご要望は、PTAまでメールでお知らせくださいね。ショップで何を販売するかは、また近々お知らせいたします。
オープン時間とショップ担当のシフト
このPTAショップは、ボランティアスタッフが入れる時に限りオープンすることができます。私たちPTA役員だけでシフトをやりくりすることは不可能なので、朝の休憩時間やランチタイムにシフトに入っていただける保護者ボランティアを募集しています。2、3人体制でのシフト体制を考えています。言うまでもなく、お手伝いしてくださる方がいない日はショップがオープンできませんのでご了承ください。校長先生の了承が必要ですが、生徒たちにもボランティアしてもらえるようにできればと思っています。CAS単位 (IBディプロマ必須の単位) にも活用してもらえる方法を学校と検討中です。
保護者の皆さんにとっても、ショップでボランティアすることは学校をサポートしながら、今まで関わりがなかった他の保護者やHISの教職員の皆さん、そして生徒の皆さんと楽しい雰囲気の中で出会えるきっかけになるかもしれません。たくさんの皆さんのボランティアをお待ちしています。ボランティアは毎月募集し、月末に翌月のショップ営業日(時間)をThe Craneでお知らせさせていただきます。
ボランティアは1日単位からでも構いません。少しでもお手伝いしてくださる方は以下のリンクをクリックして、ショップでボランティアできる日・時間帯を教えてください。
https://chouseisan.com/s?h=4246bcddb9ac4d65ad9d8cae3f19cb6e
仲良しのお友達同士でのボランティアも歓迎ですよ。PTA ( pta@hiroshima-is.ac.jp )までメールにてお知らせくださいね。
PTAショップの名前募集
ショップの名前ですが、皆さんのいい名前の提案を募集したいと思います。ご家族のアイディアをpta@hiroshima-is.ac.jp にメールで送ってください。生徒たちと学校に来られる皆様は玄関にある黄色いPTA POSITIVE POSTBOX(PTA郵便箱)に投稿してもいいです。たくさんの提案をお待ちしています。
PTA(前向き😊)ボックス
最近学校に来られた方は、玄関に置いてあるこの黄色いポストに気付かられた方もいらっしゃるかもしれません。ここにメッセージを入れてくださればPTAに届けられます。PTAでは、学校をサポートするための方法や学校を良くするアイデアなどを募集しています。生徒さんから保護者の皆さんまで、HISコミュニティーの方ならどなたにでもご利用いただけます。
例として、以下のような内容をお書きいただけます:
PTAにして欲しいこと
「このようなことがHISであったら・できたらいいな」などの要望
PTAに計画してほしいイベント
コミュニティーメンバーに感謝の気持ち、愛情のこもったメッセージなどを伝えたい時のお手紙(お届けします!)
PTAから皆さんにお尋ねした質問の返答
今回、PTAから皆さまにお尋ねしたい質問:
PTAショップで何を販売して欲しいですか?何があったら買いますか?or 買うかも?
「PTA Shop」という名前ではおもしろくないと思っているのですが、どのような名前がいいと思いますか?
皆さま、ぜひお子さんに聞いて、いろんな提案を黄色いPOSITIVE POST BOXに入れてくださるようにお伝えくださいね。保護者や教職員の皆さまからのアイディアも大歓迎です!
注意:POSITIVE POST BOXですので、ポジティブや建設的なメッセージしか受付けません😊
個人的な疑問や批判的なご意見などは、直接学校にご相談くださいますようお願い申し上げます。
前回のPTAミーティングの要約
先週のPTAミーティングにご参加いただいた皆様、ありがとうございました。
今回は特に Mr John, Ms V and Mr Rentouleにプライマリー・セカンダリー共、今後学校で行われること等をお話しいただき、とても有意義なミーティングになりました。
先生方はこれからもPTAミーティングに参加したいとお話ししてくださいました。
いつも疑問に思われていることなどございましたら、ぜひミーティングに参加してくださいね。
以下が簡単にまとめたミーティングの内容です。
Mr Johnから:セカンダリーについての報告。G12の現状報告。ISAテストについての説明(詳細は前回のCrane参照)
Ms Vから:PYPの韓国・モンゴルデーについて、新しく始まったEALについて
Mr Rentouleから:
・前回、保護者からの提案に沿った学校の計画についての概要説明。
・この度の新しいEALは、5人MAXでの3ヶ月を1サイクルとした計画で、その都度評価して進めていく。また、英語/日本語の使用に関して適した時間数を再定義および強化し、英語のみのクラブなどを導入して、クラス全体のコミュニケーションに特定の時間を割り当てることが役立つ場合がある。(日本語の授業の中でアートを取り上げる、など)
・保護者に向けてのカリキュラム等のワークショップや説明会を、卒業生やDPの生徒に経験談やIB教育の価値を話してもらいながら行う。
・学校が先導して同窓会(Alumni association)を設立する可能性を探る。卒業していく生徒たちに参加を働きかけていく。
・ミーティングに参加できない方の意見を伝えていただくため、アンケート作成の予定。
・Val O Gramの準備についての報告
・オンライン開催によるHIS アイドルの計画について