ITEMS: DP Exams; Spring Concert; The Kawaii Club; PTA News.
Principal's Message
Dear HIS Community
COVID Update: We continue to see the number of COVID cases rise in Hiroshima so thank you very much to everyone in our school community for following our health regulations so carefully. I wanted to confirm that we are continuing on-campus learning across the whole school. As Hiroshima Prefecture will be included in the State of Emergency that is being called, we will continue to be extremely cautious and make adjustments to our events in order to make our campus as safe as possible while we continue to provide on-campus classes to all of our students. If the situation further deteriorates, we have made preparations for a switch to online learning but are hoping that this will not be necessary.
Book Club Trailer Winners: Congratulations to the winners of the Book Trailer Contest with some extremely creative work!
The First Place: Lino (Gr11) & Yura (Gr7)
The Second Place: Yuta (Gr10), Jundai (Gr9), Taishi (Gr9)
The Third Place: Itsuki (Gr10), Hayeon (Gr8), & Mian (Gr10)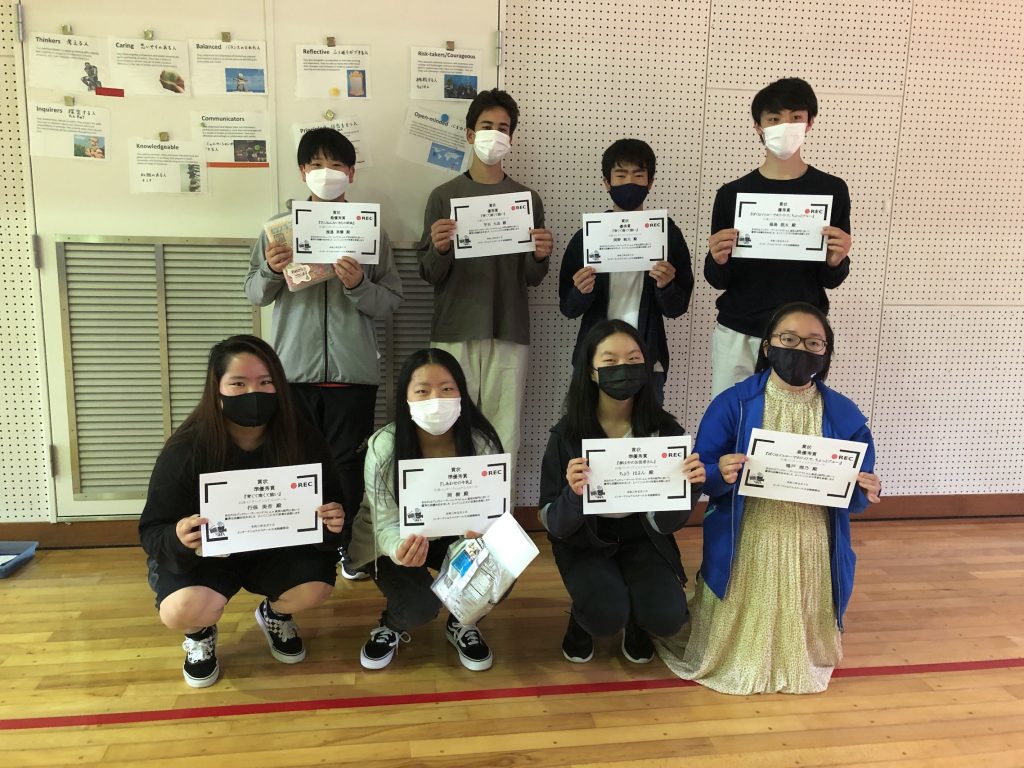 Momiji Fundraising Project: We are also excited to see the Momiji Fundraising Project coming along. Here is the artist, Mendel, with HIS parent, Matt, providing a helping hand. As you can see, it is quite large. So large in fact that we could not get the DeVinci look we were after, and Mendel is quite tall! Thank you to Matt for the organizing the project and to Mendel for the great artwork.
The installation will include a series of items that will carry the donor's name and live on in the history of HIS. The items and levels of donation are as follows:
Momiji Level at ¥10,000 – a bright red maple leaf 紅葉/もみじ
Sakura Level at ¥50,000 – a pink cherry blossom 桜
Ichou Level at ¥100,000 – a shiny golden gingko leaf 銀杏
Tsuru Level at ¥500,000 – a soaring crane available in a choice of colors 鶴
Global Landmark Level at ¥1,000,000 – a choice from prominent landmarks from around the globe.
You can make a pledge for a donation at the link to the HIS website below. We have an official opening on JUNE 4 to place the first donor items on the Momiji Tree so get those donations in and see your family's name on the installation.
This week's TED Talk is by Simon Sinek who has some great advice. I found the points about service he made in this talk very interesting within the context of our IB programs where 'service' as a type of action is one of the foundations of inquiry-based learning. Enjoy your weekend.
Kind regards
Damian Rentoule
Crane Video
Diploma Program Examinations
Our Grade 12 students (Class of 2021) have nearly finished their DP exams so it is an exciting time for them all. At the whole school assembly yesterday, we had a chance to get them all together to wish them well. The graduation ceremony on Sunday, 30th May is going to be a closed event once again due to COVID with just graduates and families attending. As we did last year, we will livestream the ceremony for everyone to join the celebration.
Our Gr12 students have not yet finished, but they have been busy with university applications and although we are still waiting on a few applications, the current very impressive list of university acceptances is as follows:
Japan
International Christian University 国際基督教大学
Okayama University 岡山大学
Ritsumeikan Asia Pacific University 立命館アジア太平洋大学
Tokyo University of the Arts 東京芸術大学
Waseda University 早稲田大学
United States
Emerson College
New York University
University of Michigan
University of Virginia
United Kindgdom
Leeds Conservatoire
Newcastle University
Royal Welsh College of Music & Drama
Trinity Laban Conservatoire of Music and Dance
University of Leicester
University of Liverpool
University of Plymouth
Once again, our graduates have been welcomed into a range of great universities around the world, and more importantly, with the preparation they have received, we are confident that they will all succeed as independent learners in their future studies. They are all prepared. It is a long journey, but well worth the wait!
Each year is very different so you can see the full list of university acceptances for HIS graduates at the link below:
Spring Concert Update
Dear Parents, Families, and Friends at HIS
You are Cordially Invited to LIVE STREAMING of the Arts Gala: Spring Concert 2021 on Friday 21st May 1:20 p.m at Hiroshima International School
The HIS Annual Spring Concert will be featuring all students in Early Childhood Class through Grade 12 in various performance groups. The program is presented as a way to celebrate student's learning engagement through music for the school year. Students are making their final effort in preparing for the special day. Please join us and support, inspire the performers to sing and to play their best!
Program Overview
Early Childhood Class Movement & songs
KG-1 Movement & songs
G2-5 Chorus
(40min.)
INTERMISSION
G6 Ensemble
G9-10 Ensemble
Soloists
G7-10 Orchestra
(50 min.)
Please prepare attire: for the purpose of bringing the light onto unity of the groups, and to add a little special feeling for the evening, please consider the following guidelines.
服装の準備は以下の通りお願いいたします。
EC, K-G1 HIS color T shirt and short pants/spats (something fit and easy to move around). Students will be demonstrating rhythm movement activity where they would need to be able to move freely (bending, crawling, galloping, etc.) They will be bare feet during the performance.
Chorus G2-5 HIS color T shirt and beige or brown tone color pants/skirt
Orchestra (G6-10) Men: collar shirts, dark dress pants
Women: dressy white or black shirts, dark pants/skirt OR dark dress
Calf length or longer is more appropriate choice for concerts
Arts Gala: Secondary Visual Arts Exhibition – "exploration of oneself"
Visual Arts department will present selected artworks by secondary students around the genkan area. The exhibition will showcase both challenges and progress that students made over the year. Please join us for our exhibition!
Secondary Visual Arts Exhibition "exploration of oneself"
Date: Friday, May 21, 2021
Location: On LIVESTREAM TOUR (Before concert)
Ayako Kurokawa, HIS Visual Arts
Arts Gala: Secondary Visual Arts Exhibition – "exploration of oneself"
今年もセカンダリー生徒による美術作品展を行います。こちらの作品展では、HISの玄関展示エリアに、セカンダリーの美術作品を展示致します。
Secondary Visual Arts Exhibition "exploration of oneself"
日にち:5月21日(金)
場所:On LIVESTREAM TOUR (Before concert)
どうぞ宜しくお願い致します。
黒川 礼子(HIS美術)
INFORMATION IN PDF:
The Kawaii Club (After school club activity run by Lino in Gr11)
This video is for any age above 2nd grade who is bored at the house because of Covid-19.
This was my first challenge to make a real Youtube video and I do have some improvements I should make. I only have five videos for now, but I will be uploading other videos at some point when I have time in the future. Thank you very much, From Lino (Gr11)
https://www.youtube.com/channel/UCU5mWIXuDGvauDWsQHDOi8w
PTA News
PTA Meeting Postponed PTAミーティング- 延期
Scholastic Book Order Thanks スコラスティック・ブッククラブ注文- ありがとうございました
HIS Hoodie Order Deadline Extended パーカーの注文- 締め切り延長
PTA SHOP -Closing Temporarily PTAショップ- しばらく閉店します
日本語は英語の下にあります
PTA MEETING POSTPONED
We had been planning a PTA meeting for Friday May 21st, but since the coronavirus situation is not looking good right now, and a Prefectural State of Emergency has just been announced, we have decided to postpone this meeting for a while. We will let you know details of the new date for our last meeting at a later date. Thank you for your patience and understanding.
Scholastic Book Order
We would like to thank everyone who ordered lots of books in the last Scholastic Book order. The order has been successfully placed, so the books should arrive soon. The total price of the books everyone ordered this time was over $800, which means we will be able to purchase about $120 worth of books for the school library. We are very grateful to everyone who has helped us support the school in this way.
For those who didn't manage to order in time this time, don't worry! We will run our next Scholastic order early in the new school year, so you will have another chance then!
HIS Hoodie Order
The HIS hoodie order deadline has been extended until next Tuesday, to give more people a chance to order. This is the last hoodie order of the year, so please make sure to get your orders in on time. You can order using this online form:
https://forms.gle/rKY8u34yZCdE5ekYA
*If we get fewer than 10 orders we will not be able to process this order. Thanks for your understanding.
If you place an order, please make sure to hand in the correct money to the office in an envelope marked with your name and "Hoodie Order" ASAP.
PTA Shop Closing Temporarily
Thank so much to everyone who has been supporting the PTA shop, both by volunteering their time and by giving their kids some change to spend at the shop.
Sadly, due to the Prefectural State of Emergency that has been announced today, after consulting with Mr Rentoule, we have decided to close the PTA shop for a while. We will let you know when the shop is able to safely reopen. We look forward to hearing from lots of volunteer staff when that happens, hopefully very soon!
To date the PTA shop has made ¥178,000 in profits which will be used to support the school. Thanks again to everyone who has been supporting the school in various ways throughout this school year!
Please stay safe everyone!
From the PTA
PTAミーティング 延期
5月21日(金)に予定しておりましたPTAミーティングですが、コロナウィルスの感染状況が悪化し、広島県では緊急事態宣言も出されることになりましたので、しばらく延期とさせていただきます。次回につきましてはまたお知らせさせていただきます。
スコラスティック・ブッククラブ注文
今回のスコラスティックのブッククラブでは、皆さまにたくさん注文をいただきましてありがとうございました。無事に発注いたしましたので、本が到着するまでもうしばらくお待ちくださいね。この度、トータルで$800をも超える注文をいただき、約$120ものHIS図書室の本を充実させるための資金を獲得することができました。たくさんの皆さまからの学校のサポートに心より感謝いたします。今回注文が間に合わなかった皆さま、新年度が始まりましたらまた機会を設けますので、次回を楽しみにお待ちくださいね。
HISパーカーの注文
今年度最後のHISパーカーの注文は、来週火曜日まで締め切りを延長します。お早めにご注文くださいね。注文がトータルで10着に満たなければ発注ができず、その場合は今回の注文をキャンセルさせていただきますのでご理解ください。
以下のリンクよりご注文されましたら、封筒にお名前と『Hoodie order』と書いて、おつりの要らないようにお金を入れてオフィスまで提出してください。
https://forms.gle/rKY8u34yZCdE5ekYA
PTAショップ しばらく閉店します
PTAショップにご協力いただいている皆さま、ボランティアの皆さま、いつもご購入頂いている皆さま、ありがとうございます。皆さまのご協力に感謝いたします。
来週16日から広島県に緊急事態宣言が出されることになり、校長先生との相談の下、PTAショップはしばらくの間、閉めることに決まりました。また再開が決まりましたらお知らせいたしますので、その時は、ぜひまた皆さまのボランティアのご協力をお願いいたします。その時が早く訪れることを祈りましょう。
またご参考までに、現時点でのPTAショップで得た利益は約 ¥178,000です。この利益は学校を支援するために使われるPTA資金になります。皆さまから、様々な形でのご協力や学校のサポートをしていただきまして、本当にありがとうございます! 
今週は以上です。皆さま、Stay safe!!