ITEMS: A Special Visitor; PTA News.
Principal's Message
Dear HIS Community
As we move into the winter break, I would like to thank the school community for being so supportive of all of our health regulations this semester. The COVID situation in Hiroshima continues to be very stable so we are hoping this continues through winter but will continue with the same health procedures into next semester. It has been a great start to the year and it is hard to believe that we are nearly in 2022 already.
One of the challenges that we face in today's very connected society is that when provided with a choice between going to sleep and connecting with the world on their device, children may not select sleeping. We all know the importance of getting a healthy sleep each night, but making those good decisions can be a challenge for children, and teenagers in particular, when social connectedness may take priority. Children may need parental support to make good decisions. As you watch this video by Matt Walker and consider supporting your child with healthy sleeping habits, please consider the overall effect of these four important elements of a healthy lifestyle: eating well, exercising regularly, sleeping enough and reading appropriately challenging texts (i.e. not just social media posts) every day. With this combination, you can't go wrong. Enjoy a healthy holiday.
Kind regards
Damian Rentoule
Crane Video
Special Thanks
We were very happy to receive a special visitor from far away who brought presents for our Primary students. Our visitor had lots of help from our PTA so thank you to all involved!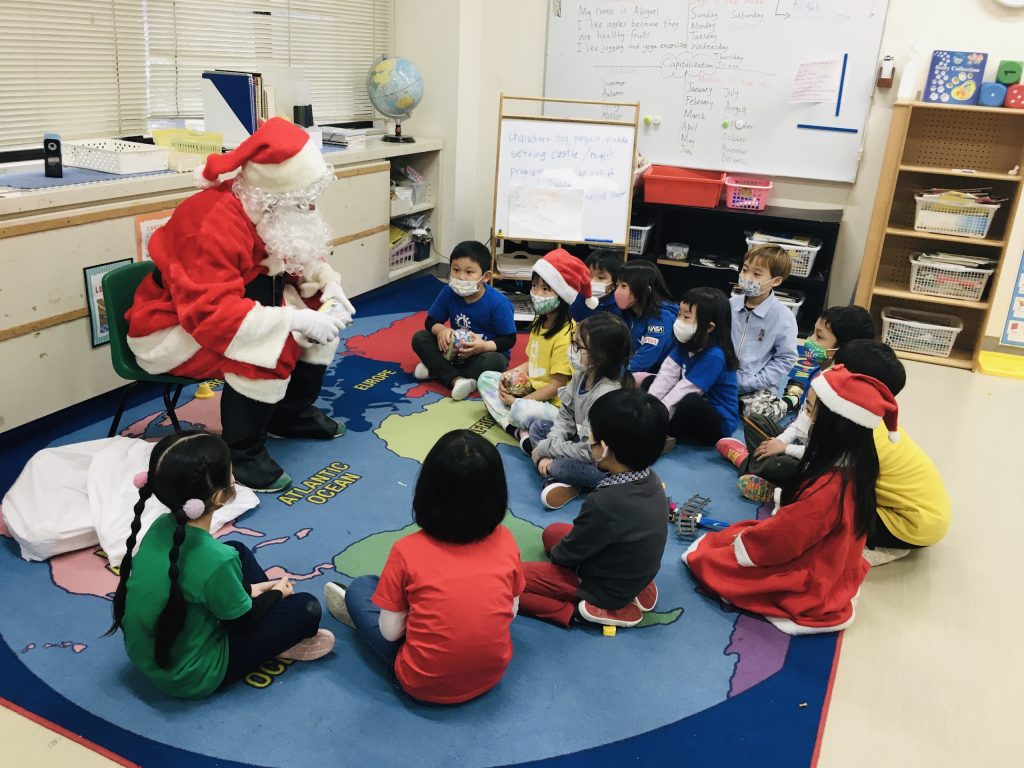 PTA NEWS
Season's Greeting 年末のご挨拶
Santa Visit サンタさん、教室を回る
Library Volunteers Needed 図書室ボランティア募集中
◆ Season's Greeting 年末のご挨拶
There are only two weeks left this year – where did it go..? At the beginning of the year, the coronavirus situation worsened and there were times when we were anxious, but fortunately, things improved dramatically and we were able to hold some events while continuing to take safety measures against infection.
We would like to express our gratitude to all of you for your brilliant cooperation this year, in helping with events and supporting the school. Working as a team is a great way to build strong relationships and get more involved in school life and it's fun(!), so please do not hesitate to come and talk to us even if you are new or cannot come to school very often.
We plan to hold a PTA meeting at the beginning of the new year. We want it to have a lively and open atmosphere, so please join us and let us know what you think.
With the emergence of a new strain of coronavirus, it won't let go of us quite yet, but let's look forward to working together next year and making some more happy memories.
早いもので、今年もあと2週間となりました。年度始めにはコロナ感染状況が悪化し、不安な時間を過ごした時期もありましたが、幸運にも状況が劇的に改善され、引き続き感染対策を行いながら、行事や作業を行うことができました。
今年も行事や学校のサポートのお手伝いでは、たくさんの皆さまが快くお力を貸してくださり、心より感謝しております。ありがとうございました。皆さまとの作業の時間は、皆さまとより深く関わることができる大切な時間、憩いの場となっています。ほんの少しの時間のお手伝いでも嬉しいですので、新しい方々、あまり学校に来られない方々でもどうか遠慮なさらずにお手伝いの場にお顔を見せにいらしてくださいね。
また、年明けにはPTAミーティングも開催する予定です。PTAミーティングは明るい雰囲気で進みますので、ぜひ参加して皆さまのご意見などを私たちにお聞かせくださいね。
新しい株のコロナウイルスが出現し、この先の心配は尽きませんが、皆さま、どうぞご自愛くださいね。来年もどうぞよろしくお願いいたします。
◆ Santa Visit サンタさん、教室を回る
Today, during the last class before the winter holiday, Santa Claus went around each classroom with a big bag, ringing a bell, and giving sweets to all the children. They were overjoyed at Santa's sudden, exciting visit.
(Thank you for your donation of sweets and cooperation in bagging work on Tuesday. 🤫😉 )
今日、冬休み前の最後の授業の時間に、サンタクロースが大きな袋を持って鈴を鳴らしながら各教室を回り、子供たちみんなにお菓子をプレゼントしてくれました。サンタさんの突然の嬉しい訪問に子供たちは大喜びでした。
(皆さまのお菓子寄付と12/14(火)の袋詰め作業のご協力に感謝いたします。ありがとうございました! 🤫😉)
◆ Library Volunteers Needed 図書室ボランティア募集中
Thanks very much to everyone who came to the library inventory update work on the 15th and 16th, we made progress and it was very helpful. We look forward to your continued cooperation next year.
We are also looking for people who can help us on a daily basis in the library after January.
The request is to help students with book selection, return, check out, in the library during the student library hours. Also, organising books etc as much as you can before and after classes would be helpful for making our library a pleasant environment.
We would be really happy to have volunteers from parents of both PYP and Secondary students.
Here is the link:
➡︎ The Link for the Library Help Shift Calendar リンク
15・16日のシステム改変作業にお越しくださった皆様、作業が進み大変助かりました。ありがとうございました。来年も引き続き、たくさんの皆様のご協力をよろしくお願いします。
また1月以降も図書室で日常的にお手伝いいただける方を募集しています。内容は生徒のライブラリ時間帯に、子供達の本選びや返却・貸出などをヘルプいただくことです。その授業前後にも、図書室を快適にするお手伝いをしていただけると大変助かります。
PYPだけでなくセカンダリーの保護者の方も、お時間がありましたら是非ご協力をお願いします。
図書室ボランティアのシフトカレンダーはこちらからどうぞ:
➡︎ The Link for the Library Help Shift Calendar リンク
That's all for our final announcement of this year. Have a great Christmas and a good year in 2022.
今年最後のお知らせは以上です。ステキなクリスマス、そして、良いお年をお過ごしくださいね。