ITEMS: Staffing update; Gr4-12 Camp Parent Information; Peace Ride Instagram Account; PTA News.
Principal's Message
Dear HIS Community
Thank you to all parents who participated in the PTA meeting on Friday morning. There has been some wonderful work by the PTA this year and we really appreciate your support of the school community. We had a very successful soccer training session after school this week. Two coaches from SRC Hiroshima Academy soccer club ran a trial practice for us and we had 30 students sign up. It was a great afternoon with students from across Primary and Secondary participating. We are hoping to start a weekly practice after school next year so this is something everyone can look forward to next year. You can see some images of the early part of the training in the video below as some initial skills were practised before some soccer games later in the afternoon. Many thanks to SRC Hiroshima Academy for this great opportunity. Enjoy your weekend!
Kind regards
Damian Rentoule
Crane Video
This week, the Crane Video is of the Class of 2022 Graduation livestream. (The image below is from the Primary Concert but the video is of the graduation!) We had some technical difficulties so the video starts about halfway but you can hear the students' speech and see the class receive their diplomas. Congratulations to the Class of 2022!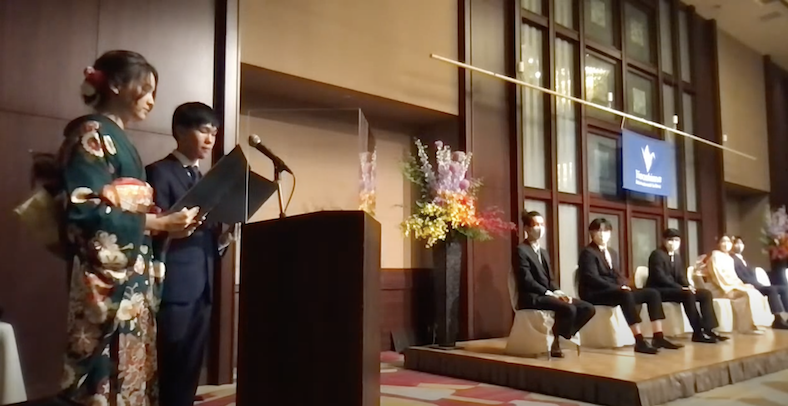 Staffing Update (for 2022/2023)
Departing Staff
Damian Rentoule (Principal)
Marisa Villareal (PYP Coordinator & Primary Vice-Principal)
Sasha Omukova MYP/DP Mathematics Teacher & DP Coordinator)
Abigael Mawia (KG/1 PYP Teacher)
Doug Teter (MYP Teacher)
Incoming Teachers
James Steward (Principal)
Shefali Lakhina (PYP Coordinator and Primary Vice-Principal)
Tresia Cercado (PYP Teacher)
Sweta Srivastava (PYP Teaching Assistant)
Manish Verma (MYP/DP Mathematics)
Patrick Sekyi (MYP Design, Mathematics, Science)
Patrick Sekyi and Sweta Srivastava were not part of the last update. Patrick is joining us from Ghana and will be replacing Doug Teter. Sweta is joining us from her current home in Thailand and is the wife of Manish. As part of our restructuring of the class groupings across the school, one of our Teaching Assistants, Bas Klein, who is a game designer, will be taking some MYP Design classes for us so Sweta will help us to ensure that high levels of Teacher Assistant support are still available to all of our Primary classes. We are looking forward to welcoming the new members to our HIS teaching team!
Gr4-12 Camp
HIS Peace Ride Instagram Account
Welcome to the new Peace Ride Instagram where we will feature pictures and videos of weekly rides. We will share and capture the moments of members' growth as better cyclists and contributors to global peace. Not only weekly posts but also updates on Instagram stories will be posted so that we'll keep you busy with new content! We will also be posting daily during the Peace Ride trip to Sanbe so stay tuned! This account is open to the public so feel free to promote and follow @hispeaceride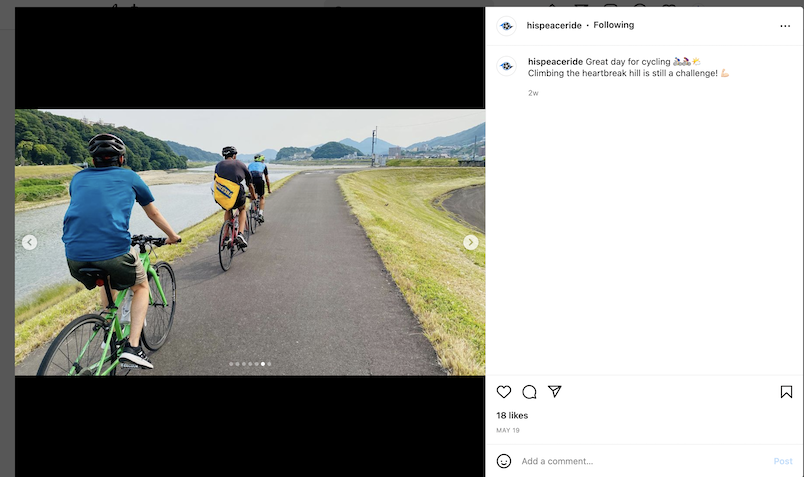 (About the Peace Ride – Eight students will cycle approximately 450 kilometres through the mountains of Tottori and Shimane Prefectures from Friday, 17 June and will meet the rest of the Secondary students at the Sanbe Campsite on Tuesday 21 June.)
PTA Message
PTA Meeting PTAミーティング
Thank you all for taking time out of your busy schedules to attend the PTA meeting today (3 June). It was great to see so many of you, including new faces, especially on Zoom.
今日(6/3)は皆さまお忙しい中、PTAミーティングにご参加くださいましてありがとうございました。新しくHISに入られた皆さまをはじめ、特にZoomではたくさんの皆さまにお目にかかれてとても嬉しく思います。
Today, as announced, we discussed the Treasurer's report, Q&A, voting on the use of PTA funds, and a review of this school year.
The following four requests for the use of PTA funds, which I had informed you about, were voted on and I am pleased to report were approved by a majority of those present.
今日はお知らせしておりましたように、会計報告、質疑応答、PTA資金使途に関する投票、今年度の振り返り、について話しました。
お伝えしておりましたPTA資金の使途に関する以下の四件の要望に関して投票を行い、出席者の過半数の同意を得て承認されましたので、ご報告させていただきます。
​​​​Playground equipment 休憩時外遊び用の遊具- 20,000 yen
Contribution to the new fence (near the climbing equipment) separating the playground from the car park 遊具エリアと駐車場を仕切るフェンス設置のための補助 – 50,000 yen
Soccer equipment for a new after school club アフタースクール・クラブのためのサッカー用品 -30,000 yen
Soft Hockey equipment for PE class (Like ice hockey but for a gym floor) PEの授業用のソフト・ホッケー用品 -30,000 yen
Minutes for other items on the agenda will be reported in next week's Crane.
その他の議題につきましては、来週以降のCraneにてご報告させていただきます。
Please note that we are still accepting donations for the Teacher's Appreciation Lunch and searching for new committee members for the new school year.
Teacher's Appreciation Lunchの寄付のお願い、新年度の新役員に関しましては引き続き募集しておりますので、よろしくお願いいたします。
That's all for this week's news. We hope you have a good weekend!
今週のお知らせは以上です。よい週末をお過ごしくださいね。
From the PTA