ITEMS:
Welcome Back!
Name that Teacher!
Crane Club News
MYP Supply Lists
PTA News
Welcome Back!
What a joy it is to be back in Japan! I have been overwhelmed with the amazing commitment the entire HIS Team has shown since my arrival in July. Hiroshima is truly a beautiful city and region of this great country. And, Hiroshima International School is a fantastic school!
I hope that everyone in the HIS community enjoyed a good summer break. The HIS Faculty and Staff are looking forward to welcoming you back to school next week, beginning on Monday morning!
Noting the above, I would like to express my gratitude to the entire HIS community for their amazing welcome!
Have a wonderful weekend!

James Steward
HIS Principal

---
Name that Teacher!
It was raining very hard this past Wednesday morning at HIS! Suddenly, out of the rain, a unique figure appeared! HINT: This is not an astronaut, or an alien!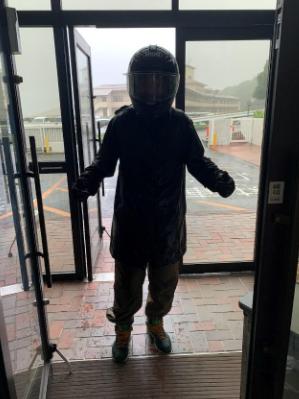 Can you guess which teacher this is? Please let me know when you see me.
---
Crane Club News
The 1,000 Crane Club experienced the following three activities during the summer break:
Bottle wrapping activity (14th July)
The 1,000 Crane Club members collaborated with an organization to make some special paper cups to carry water, so that they could deliver water to the victims of the atomic bomb.
Participated in a lecture on the A-bomb victims (29th July)
Members went to the Peace Park to participate in a lecture on A-bomb victims.
Hiroshima Peace Memorial Day (6th Aug)
Members went to the Peace Park to dedicate 1000 Cranes to Ukraine. Also we joined another activity organized by Sean Watanabe (G12). We made paper cranes and wrote peace messages on them. (#CranesForOurFuture)
Ms. Yoko Yanagi (Crane Club Supervisor)
---
From the MYP Team!
Please find below the Supply List links for each MYP grade:
---
PTA News
Welcome back! From PTA committee members 今年度のPTA役員のご紹介
WELCOME to our new families ようこそ −新しくHISにご入学のご家族の皆さまへ
PTA communication methods PTAからのお知らせ方法
Room Parents for PYP Classes for the 2022-2023 school year 2022-2023年度 PYPクラスのルームペアレント募集について
Welcome back! From PTA committee members 今年度のPTA役員のご紹介
The long summer break is finally over and the new school year is about to begin with a new principal. We hope you all had a pleasant summer.
First of all, we would like to reintroduce the 7 PTA committee members for this year, who were voted in and approved before the summer break. (in alphabetical order)
長い夏休みもようやく終わり、いよいよ新校長先生をお迎えしての新年度が始まります。皆さま、楽しい夏を過ごされましたでしょうか?
まず始めに、夏休み前に投票で承認されました今年度のPTA役員7名をあらためてご紹介させていただきます。(アルファベット順)
Eriko Hird / ハード 恵里子 (Alina G11, Marika G8)
Kumi Kim / 金 玖美 (Yuu G7, Rin G5, Hana G3)
Nami Ohata / 大畠 南波 (Soma G2)
Naoko Kurata / 蔵田 奈緒子 (Miu G3, Riho G1)
Rie Oride / 折出 りえ (Mahiro G8, Tatsuki G1)
Sayaka Hirata / 平田 清香 (Treasurer/会計) (Shiori G10, Shun G8)
Yukina Fukushima / 福島 ゆきな (Yuta G12, Nanaka G10)
We will do our best to help you. If you all have any questions or are unsure about anything, please do not hesitate to contact us. We look forward to working with you.
微力ながら精一杯努めさせていただきます。皆さま、ご質問、わからないことなどございましたら遠慮なくご連絡くださいね。どうぞよろしくお願いいたします。
WELCOME to our new families ようこそ −新しくHISにご入学のご家族の皆さまへ
Secondly, we would like to welcome any new families that have joined our community from this new school year. If you have any questions about life at HIS or how things work here, please don't hesitate to approach any of the PTA team, some of whom can generally be found in the genkan most mornings. Alternatively, e-mail us at pta@hiroshima-is.ac.jp any time. We wish you a happy time as part of the HIS family!
そして、この新年度からHISにご入学の皆さま、HISへようこそ! HISのことでご質問がありましたら、なんでもお気軽にPTA役員にご連絡くださいね。一部のPTAメンバーにはほぼ毎朝、学校の玄関でお会いできるかと思います。もしくは、PTAメール pta@hiroshima-is.ac.jp にいつでもご連絡くださいね。HISでの学校生活が素晴らしいものになりますことをお祈りしております!
PTA communication methods PTAからのお知らせ方法
Most of you may know, but just as a reminder:
Information from PTA is mainly sent by the PTA message in The Crane newsletter issued by the principal every Friday by e-mail, so please make sure you read through the Crane each week.
We also use the messaging app LINE as a supplement to share information with everyone at any time. (There is also a PTA & community group on Facebook but this is updated less often) The LINE group for HIS parents includes an overall English group and an overall Japanese group, groups for each PYP class, and one for the Secondary. Participation is not compulsory, but you can use it for reminders, urgent notices, and exchanging information with everyone. It is really useful as a casual contact tool. If you haven't participated yet, please take this opportunity to consider it.
Posting in the LINE group is not limited to PTA committee members. Please use it for any questions or information exchange.
Please read the (Link) ➡︎【 The Guidelines on how to use HIS LINE Groups 】 for how to use this LINE group.
If you haven't joined yet and would like to participate, please ask someone in the Group to invite you or contact the PTA committee email (pta@hiroshima-is.ac.jp). When you join, please introduce yourself briefly.
ほとんどの皆さまがご存じかと思いますが、あらためてお伝えさせていただきます。
PTAからのお知らせは、主に毎週金曜日に校長先生より発行されるThe CraneでのPTAメッセージでお伝えします。校長先生からメールでCrane発行のお知らせがありますので、必ずお目をお通しくださいますようお願いいたします。また、補助的にメッセージアプリ・LINEを使い随時皆さまに情報を共有しております。( Facebook のPTA&コミュニティーグループも存在しますが、更新頻度は低いです。。) HIS保護者のためのLINEグループには全体の英語グループと日本語グループ、PYP各クラスのLINEグループ、Secondary LINEグループがあります。参加は強制ではありませんが、リマインダーや緊急のお知らせに使用したり、皆さまの情報交換などにお気軽にご利用いただけます。連絡の取りやすさから気軽な連絡ツールとして重宝しております。まだご参加されていない方はこの機会にどうぞご検討くださいね。
なお、LINEグループでの発信はPTA役員に限定されません。どなたでも気軽な質問や情報交換にもお使いくださいね。
このLINEグループの使い方に関して (リンク)➡︎【 HIS LINE グループの使い方のお願い 】 にまとめてありますので、ぜひご一読ください。もしまだ入られていない方で参加ご希望の方は、グループメンバーに招待してもらうか、PTA役員までメール (pta@hiroshima-is.ac.jp) でご連絡ください。参加されましたら、簡単な自己紹介をお願いいたします。
Room Parents for PYP Classes for the 2022-2023 school year  2022-2023年度 PYPクラスのルームペアレント募集について
We are looking for the PYP Room Parents for each class this year.
Being a Room Parent is a fun opportunity that allows you to get involved with HIS. It does not require a huge time commitment. Here is the list of how the Room Parents help out.
今年度のPYP ルームペアレントを募集しています。
ルームペアレントになることは、お子さんの担任の先生方やクラスメイト、その親御さんたちと知り合える楽しい機会です。それほど多くの時間の制約はありません。以下にルームペアレントの役割を挙げます。
Room Parent Tasks ルームペアレントの役割
Send a small introduction email to new families with students in your assigned classroom.
Communicate to other class parents your role and see if they need help with carpooling, etc. to get to school events.
Provide classroom support if requested for annual school events including Halloween party; Bonfire Night; International Festival.
Help to organise class parent volunteers for specific school events
When needed, provide an age-appropriate game/activity for the class
Support Field Trip Activities (if needed)
Support Teacher Appreciation Lunch
Organising for purchasing gifts for the teachers and planning for the party (if it would be held) regarding the 5th grade graduation ceremony
Communicate to the PTA so we can help if needed.
Other miscellaneous duties may arise depending on the needs of the teacher.
ルームペアレントの役割
新しく同じクラスに入学されたご家族へクラス紹介の簡単なメールを送る。
他クラスのルームペアレントと協力し学校でのイベント参加の際に、カープール (車の乗り合い) のアレンジなどの手伝い
年間イベントの際のクラスサポート:ハロウィンパーティー、ボンファイヤ・ナイト、インターナショナル・フェスティバルなど
各行事の際のクラスボランティアの担当決めの手伝い
必要な場合は、年齢にあったゲームやアクティビティなどの提供
フィールド トリップのサポート (先生からの要望があった場合)
ティーチャーアプリシエイション・ランチのサポート
5年生の卒業式に伴う先生方への贈り物の購入や(あれば)食事会の段取り
PTAとのコミュニケーション
その他、担任の先生が必要に応じてお願いする仕事
If anyone is interested in becoming a Room Parent, please contact any PTA officer directly or send a message by email (pta@hiroshima-is.ac.jp) or on LINE.
Room Parent になることにご興味をお持ちの方がいらっしゃいましたら、PTA役員に直接お声がけいたただくか、メール (pta@hiroshima-is.ac.jp)やLINEなどでメッセージをお送りください。
That's all for this week's announcements. Let's make it a fun year! 😊
今週のお知らせは以上です。さあ、新学年の始まりです。楽しい一年にしていきましょう!😊

From the PTA