It has been another busy week at HIS!
While we have been affected by COVID, teachers and students have continued to persevere through the challenges. As things evolve, we are hopeful that things will improve next week!
We are looking forward to seeing everyone at our Parent Information Evening this coming Friday, September 9 beginning at 18:00. As we have many new teachers and many new families, I expect that this event will be very well attended. The basic schedule will be:
18:00 James Steward = HIS Overview of Philosophy and IB Education

18:20 Eriko Hird = PTA Update

18:30 Homeroom Teachers = Overview of School Year

19:15 Opportunity for parents to socialize with other families and teachers

19:30 Wrap-up and Safe Travels Home!
Parking will be available in our playground zone.
Morning Traffic Update
Thank you to all HIS community members for driving so carefully when approaching the school for drop-off and pick-up. The safety of our students and community members is imperative. This can only happen when we drive respectfully and responsibly. Thank you for your fine efforts. This process is going well.
Also, please be considerate of those people living near the school. Please avoid parking for long periods of time in places that will obstruct normal traffic flow. This is very important in maintaining positive relations within the local neighbourhood.
After School Pick-up Plan
At the end of the school day, for your child's safety, please adhere to the 15:20 pick-up time and follow the expected pick-up procedures.
Pick up time as stated above is 15:20
PYP students must wait in the genkan (entrance area) for their parents to pick them up. They cannot leave the genkan without one of their own parents.
Parents must come inside the school and pick up their child in the genkan.
Parents please stay with your child(ren) for the time you remain on campus after picking them up.
Students with siblings in Secondary programs can be taken by older siblings to their parents and vehicles.
If you would like another HIS parent to pick-up your child, please send a note or email to your child's homeroom teacher or office staff well beforehand to let them know. (Students can also show the note to the bus duty teacher when they leave)
If your child(ren) has a 'how to go home weekly schedule', please let your child's teacher know.
The safety of all students is essential. We appreciate all families adhering to these expectations.
放課後お迎えの手順
一日の終わりにPYPの生徒が自身でお迎えの車に向かう場合、危険が伴うことがあります。お子様の安全のために、3時20分のお迎えの時間を厳守し、お迎えの手順に従っていただきますようお願い致します。
ピックアップタイムは3時20分です。
PYPの生徒は、保護者が迎えに来るまで玄関で待たなければなりません。PYPの生徒は自身の両親のどちらかが一緒でなければ、玄関を離れることができません。
保護者の方は玄関までお子様を迎えにきてください。
お子様をピックアップした後も校内に留まる場合は、お子様と行動をともにして頂きますようお願い致します。
他のHIS保護者にお迎えをお願いされる場合は、事前に担任またはオフィススタッフまでメモまたはメールにてお知らせください。(生徒は帰宅時にバス当番の教師にメモを見せます。)
もしお子様が「毎週、曜日によって決まった帰宅方法」がある場合は、その旨担任までご連絡ください。
生徒の安全を守ることは最重要事項です。家族の皆様には、生徒の安全のために手順を厳守し、ご協力いただけますこと、心より感謝申し上げます。
---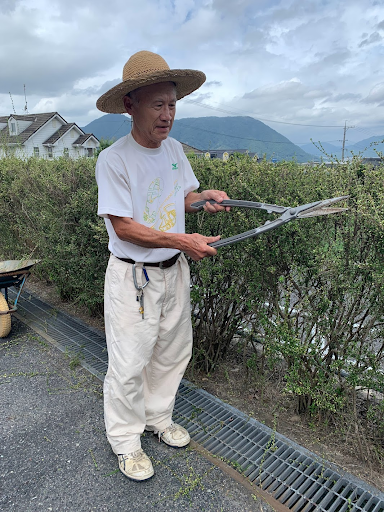 Gratitude to Mr. Saeki (Saeki-san)
Saeki-san has been working at HIS for 10 years. He enjoys his work and loves tending to the gardens and grounds of our beautiful school.
He also loves playing ping pong and climbing mountains. He knows all of the mountains around HIS and the special trails on each one.
When you see Saeki-san, please wish him a good day and also thank him for taking such good care of Hiroshima International School.
---
Videos of the Week
Hula Hoop Heaven
So Close and Yet so Far!
---
HIS Faces in the News!
---
FINAL REMINDER:
Invitation to "Let's Pray for Ukraine 13th Charity Concert":
Thank you very much for all HIS community members that attended our "Let's Play/Pray for Ukraine" held this past spring.
The donation was sent to the Ukrainian Rotary Club and used for medicines, food, first aid kits, etc.
The current situation in Ukraine is still very severe. Therefore, we have decided to hold one last charity concert this year. We are pleased to share our new program here: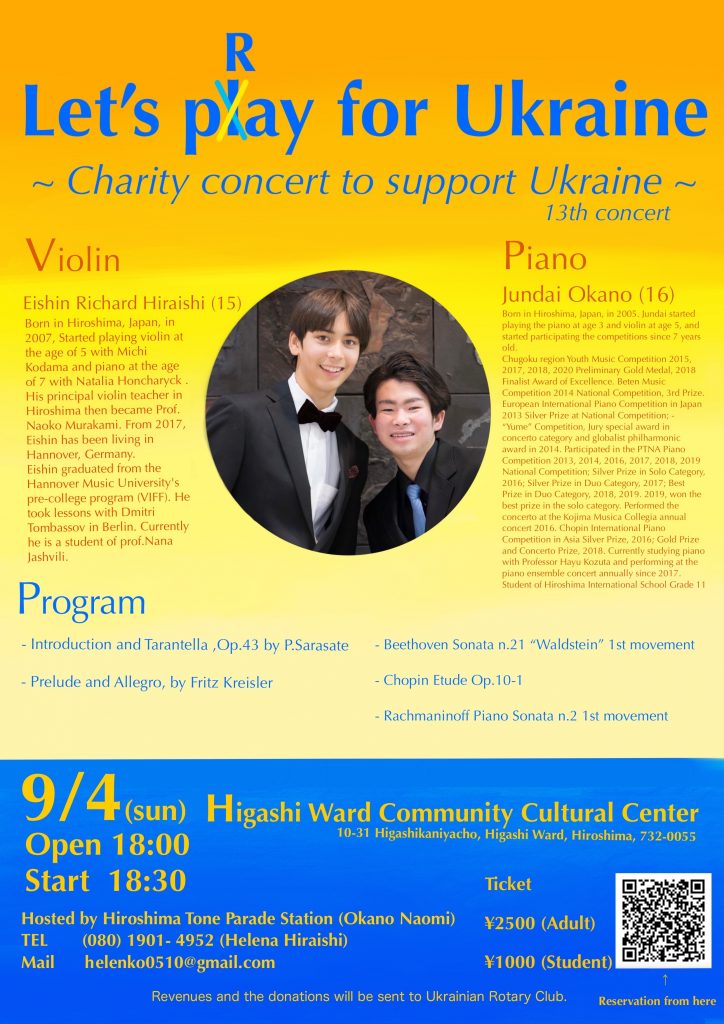 Let's pray for Ukraine -13th concert
Sunday, September 4, 2022
Higashi Ward Citizens Cultural Center Main Hall
18:00 Doors open 18:30 Concert begins 19:30 Concert ends
Admission: Adults 2500 yen Students 1000 yen
For ticket reservations, please click here.
Alternatively, please contact us at the following number:
080-1901-4952
We look forward to seeing you at the event.
---
PTA News
Eriko Hird, our PTA President, is looking forward to meeting all families at our Parent Information Evening on September 9. At this coming event, Eriko will share many of the PTA plans for the HIS school year.
PTA会長のハード恵里子さんは、9月9日に行われる"Parent Information Evening"で、皆さんにお会いするのを楽しみにしておられます。今回のイベントでは、今年度のPTAの活動についてお話しされる予定です。