Items: Festive Eve Performances; Peace Events over Winter; Wall Art for Fundraising Project; PTA News.
Principal's Message
Dear HIS Community
As we move into the cooler weather, we see the number of COVID cases across Japan and also in Hiroshima increasing. I would like to remind everyone of our Health Procedures.
So far, everyone has been great, filling out their health observation forms every day, wearing their masks properly, maintaining social distancing as much as is possible in a school environment, washing hands and using hand sanitiser regularly during the day. Let's keep this up!
For this week's TED Talk, I thought I would add a very interesting one from Andri Snær Magnason about glacial melt which serves as a further reminder of the need for us to look after our environment and the need for environmental awareness to be a central part of schooling. In the PYP, we refer to the broad theme of 'Sharing the Planet', while in the MYP the theme is referred to as 'Globalisation and Sustainability' while the DP incorporates subject-specific concepts. The message though is the same and I like the PYP's wording, in particular, as we are all sharing the planet. I hope you enjoy the weekend.
Kind regards
Damian Rentoule
Crane Video
Festive Eve Performances
We are nearly ready to allocate seats for Festive Eve. We had too many requests for Saturday but after a number of people indicated that they would be able to change to Friday, it looks like it will all work out well so thank you for your flexibility.
Family groups will be seated together with some distance between each group so please do not move seating during performances. Thank you. Only ticket holders will be allowed to enter the school building so please help us out with this. It is a bit different than our regular procedures – everyone loves a chat in the genkan, but not on these days, please! This is important for the parents who are dropping off children on Saturday, but not watching the performance. Please, just a drop off!
There will be parking available on the field. The back doors will be closed so please walk around to the front doors to enter where seat tickets will be needed to enter. This is very different from our usual way of operating where everyone comes and goes as they want. With any change in a procedure, it may feel a little odd, but please just remember that we are trying to limit numbers of people in the building as a precaution due to the ongoing COVID19 situation, but also working to provide an important performance opportunity for our students. Thank you for being mindful and understanding of these procedures.
UNICEF at Festive Eve
Takata san from UNICEF will visit Festive Eve once again this year, on the Saturday 12th performance. UNICEF will set up their booth near the HIS genkan-main entrance area. They will have a donation box for Japanese yen as well as foreign currency (any currency is welcome). They would also like to sell UNICEF greeting cards (great design for season's greetings, Xmas cards etc).
Thank you for supporting UNICEF once again.
Peace Event during the Winter Break
Flower Offerings: On January 1st, an event has been organised by HPS where 1000 flowers will be offered to visitors so they can pray for the A-bomb victims and send wishes for world peace. The flowers have been prepared by Sato san of Hiroshima Peace Station (HPS) every year for 17 years. A peace video message will be played next to the cenotaph this year and 1,000 sweets and peace message cards will be distributed to all the visitors. It starts at 9:00 am and ends around 12:00pm. Volunteers to help give out sweets, flowers, peace message cards, event flyers etc, are welcome.
Mochi Pounding: On January 10th (Sun) from 10:00 am at the peace park in front of the fountain there will be Mochi pounding and a children's' Kagura dance. Mochi will be offered at the cenotaph while a videoed peace message is played.
Wall Art for the Fundraising Project
Here is a revised version of the Wall Art project as part of the upcoming fundraising project. It is still a draft of the idea. At the bottom of the image will be a skyline of famous landmarks across the world (the portion that now appears dark. For, example, Mt Fujii and the Itsukushima Torii gates from Miyajima could be included from Japan. We would like to ask you for ideas about landmarks that you think would be good to include. If you have a suggestion, please add your ideas in this Form. Thank you.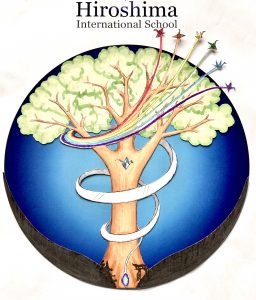 The final product will be placed on the wall in the genkan and will be made of a combination of wood and steel with the background painted. Donor plaques in the shape of Momiji leaves will be placed on the tree over time so it will change colour as donations are made. I have had some inquires as to how donations can be made. Once the design of the donor plaques has been finalized, we will send out details. Thank you for your patience!
PTA News
Hoodie Order
Just an update about the hoodie order. We have placed the order and are hoping to deliver them to you before the start of the winter vacation.
The office staff have kindly agreed to accept receipt of the payments. If you have not paid yet, please have your child hand the money in in an envelope marked "hoodie order" with your child's name and grade written on it as soon as possible and preferably by the beginning of next week.
Thank you for your orders!
現在、発注は終わり商品が届くのを待っている状況です。冬休みまでにお渡しできるようにと思います。
料金については、オフィスの方で預かってもらえるようになっています。
封筒に「Hoodie Order」と「学年」と「氏名」を書いてください。
まだ支払いが済まれていない方は、お子さんに持たせるか、学校にお越しの際にオフィスの方へ預けて頂けたらと思います。
来週中に早めによろしくお願いします。