ITEMS: HIS Graduates & Seniors Panel Discussion; HIS Momiji Fundraising Project; Diploma Program Exams Update; and PTA News.
Principal's Message
Dear HIS Community
I would like to thank our Graduates, Leela, Lisa and Nanako, as well as our Seniors, Mairi, Leah, and Joe who came in to talk about their experiences learning at HIS with our parents who have children in the Primary Years Program. The students talked about their development as independent learners who followed their interests in their studies and were able to develop as critical thinkers, among other interesting ideas. We really appreciated the opportunity to hear from the students' perspective. I will share a video with some highlights next week. Thank you very much to Nanako, Leela, Lisa, Mairi, Leah, and Joe for sharing your ideas and your experiences with us.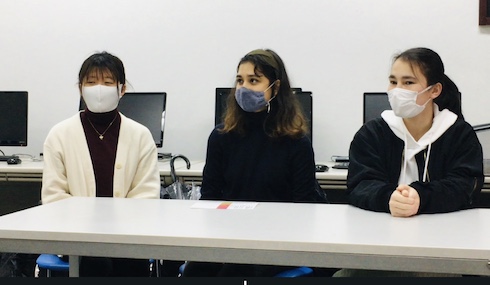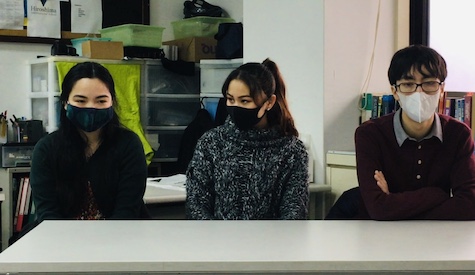 Here is a 20-minute video just near the closing part of the discussion. My apologies for the sudden cut-off at the end. My phone ran out of storage. Too many great thoughts to fit in my phone. I will add some more clips in future Cranes. It is well-worth watching the whole presentation and it is in English and Japanese.
Also, thank you very much to the members of the PTA who have been running the new shop at school which has proven very popular as you can imagine. We really appreciate the parent support of HIS. Enjoy the weekend.
Kind regards
Damian Rentoule
Crane Video
The HIS Momiji Fundraising Project
As you may know, HIS has started an ongoing fundraising project which will enable HIS community members to show their support for international education in Hiroshima as HIS continues to grow and flourish. The project is designed both to support HIS financially and to recognize the generosity of our community members by creating a lasting memento on the walls of HIS as part of an evolving art installation. All donors will receive a named artefact to place on the installation and we will all watch this grow and develop over time. The items and levels of donation are as follows:
HISの成長と繁栄と共に、HISコミュニティーメンバーが広島での国際教育への支援を示すことができる、継続的なファンドレイジング(寄付)プロジェクトを開始しました。このプロジェクトはHISを財政的に支援することと、徐々に進展していくアートを取り入れる一環として、HISの壁に永続的な記念のアート作品を作成することにより、コミュニティーメンバーの寛大さを認識することの両方を目的としています。全ての寄贈者は、アートに取り付ける名前付きプレートを受け取ります。この木が時間の経過とともに成長および発展するのを見守りましょう。ご寄付の内容とレベルは以下の通りです。
---
Sakura Level at ¥10,000 – a pink cherry blossom 桜
Momiji Level at ¥50,000 – a bright red maple leaf 紅葉/もみじ
Ichou Level at ¥100,000 – a shiny golden gingko leaf 銀杏
Tsuru Level at ¥500,000 – a soaring crane available a choice of colors 鶴
Global Landmark Level at ¥1,000,000 – a choice from prominent landmarks from around the globe. 世界中の著名なランドマーク
---
We are looking forward to seeing the artwork in the near future and watching our Momiji tree grow as our community supports us over the years to come.
近々作品を見ることができ、もみじの木がコミュニティーの皆さんのサポートにより、今後何年にもわたって大きく育つのを楽しみにしております。
YOU CAN MAKE A DONATION ON THE HIS WEBSITE! HISのウェブサイトよりご寄付ください。
Update on the IB DP Exams
Update from the Diploma Programme Coordinator
There is a new section on the Curriculum- Diploma Programme that is called "Class of 2023" which include the Course Selection Handbook for 2021-2023, presentation for the students, and subjects' handbooks.
The IBO have announced the two paths for the May 2021 cohort. Our school is taking the examination route. Please find the summary of the two paths in the pamphlet below.
Please contact me at aomukova@hiroshima-is.ac.jp if you have any questions/comments concerning the Diploma Programme and/or general queries about the high-school programme offered at our school.
24-Hour Race Reminder
PTA NEWS
PTA SHOP
Thank you for your support with the PTA Shop experiment over the past two weeks, and to those who have signed up to volunteer in the shop next month.
We are pleased to announce that we plan to open the school shop every day from March 1st.
If there are any sudden changes to the schedule we will announce in the school LINE and FB groups, so please check in there to make sure we are open.
買い出しや販売のお手伝いをして頂いた方々、来月のボランティアに登録して下さった方々、有難うございました。
来月のPTAショップは、おかげさまで毎日オープンさせることができます。
もしも変更などがあった場合は、LINEやFBでお知らせいたしますので、開いているかをぜひご確認くださいね。
The shop seems to be quite popular with the students. We are trying to vary the items on sale throughout the week, and maintain a balance of healthy options as much as we can.
ショップは、おかげさまで生徒達に人気のようです。
これからも、できるだけ様々な健康的な商品を選び続けたいと思います。
We are enjoying watching the children use the math skills they have learned in class to work out what they buy, and try to make good choices. This should be a great opportunity for families to discuss at home how to use money wisely and make good choices with regards to what we eat.
子供たちがクラスで学んだ数学を使って、何を買おうか考え、良い選択をしようとしているのを楽しく見ています。
ご家庭でも賢いお金の使い方、食べる物の選択に関して話し合う素晴らしい機会になるはずです。
We can't run this shop without the help of generous parents. Please sign up here and let us know your availability for April.
保護者の皆さまのお手伝いなしではこのショップは成り立ちません。
できる限りお手伝いしていただける4月の日にちをちらにご記入ください。
よろしくお願いします。