ITEMS: Gr4-12 Camp Information; PYP Fun Week; Soccer Practice Trial; PTA Message.
Principal's Message
Dear HIS Community
I hope you enjoy the images of the Primary Concert in the Crane Video this week. It was a great event and the young performers did very well up on stage. Congratulations to everyone involved!
We also had some of our alumni join us for another in the series of Alumni Panels so I would like to thank Erika Kodama, Daichi Watanabe, Ryo Kiriake, & Leela Watt for sharing their insights and for being so generous with their time, helping our students develop an idea of what that future could hold for them. We are also preparing for the graduation ceremony for the Class of 2022 where we will officially say goodbye although we hope to see everyone back on our Alumni Panels in the future! Here is a link to the Livestream for the Graduation 4:30pm – 5:30pm on Sunday, 29 June. Enjoy your weekend.
Kind regards
Damian Rentoule
Crane Video
Camp Message
HIS PYP Fun Week
June 6-10
The students have been working very hard this year so the student council decided it would be a good idea to relax a bit. We have planned some fun activities for the PYP students to enjoy throughout the week.
Monday, June 6: Bring a fun board game from home for game day
Tuesday, June 7: Wear your clothes inside out
Wednesday, June 8: Buddy reading
Thursday, June 9: Wear your favorite pajamas to school
Friday, June 10: Dress up as your favorite character. Please don't bring any weapons.
We hope you enjoy these activities throughout the week.
Sincerely,
Aria
PYP Student Council President
Soccer Club Practice Trial
Next Wednesday afternoon, coaches from SRC (Soccer Representative Club) who run several successful programs around Hiroshima will visit HIS for a trial. All students are invited. A sign-up sheet will be sent home on Monday so please give this some thought over the weekend. We hope that SRC Hiroshima Academy will run a regular program after school next year so this is a chance to try it out.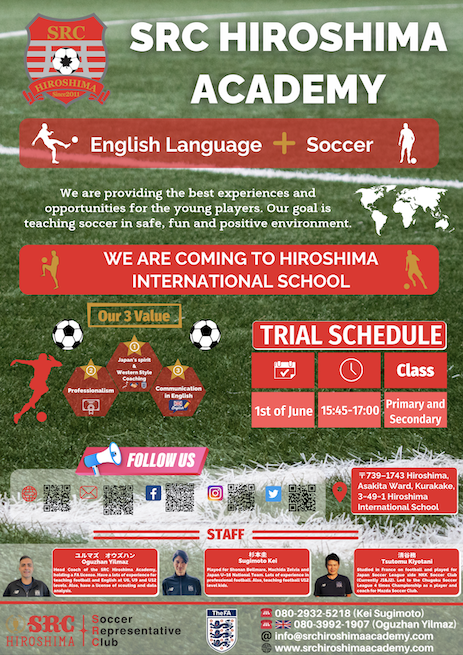 PTA Message
PTA NEWS
◆ NEXT PTA MEETING : Friday June 3rd, 10:15am in the Pink Room (Zoom link to be sent shortly)
来週金曜日 6/3 10:15am〜 PTA ミーティング HIS Pink room にて (Zoom参加のリンクは追ってお知らせ)
As we mentioned in the Crane the week before last, we will hold a PTA meeting in the Pink room (opposite the toilets on the 2nd floor) from 10:15 after the PYP Parent Information session on June 3rd next Friday. As announced last week, we will also vote on whether or not to approve the four items that the school requested to purchase with PTA funds. (more details in ➡︎ The Crane 20 May 2022 ) For those who have difficulty in attending the meeting directly, you can also connect with Zoom at the same time, so please invite everyone and join us. The Zoom link for this meeting will be emailed to you shortly.
先々週からCraneにてお伝えしてきておりますように、来週金曜日6月3日PYP説明会終了後の10時15分より、2階 トイレ前のPink room にてPTAミーティングを行います。先週5/20のCraneで発表しましたが、学校からPTA資金による購入の要望があった四点についての支出の是非の投票も行います。( ➡︎ The Crane 20 May 2022 参照 ) ミーティングへの直接参加が難しい方のために、同時にZoom でも繋げますので、皆さまお誘い合わせのうえ、奮ってご参加くださいね。このミーティングのZoom リンクは追ってメールにてお知らせいたします。
Other agenda items include the Teacher's Appreciation Lunch, a review of this year, and accounting reports. If you have any other questions/items, please let us know by e-mail (pta@hiroshima-is.ac.jp) at least 3 days before the event.
この他の議題は、Teacher's Appreciation Lunch、今年度の振り返り、会計報告などです。他に話し合ってほしいことなどありましたら、開催の3日前までにメール ( pta@hiroshima-is.ac.jp ) 等でお知らせください。
◆ G12 Graduation G12卒業式
Congratulations to all of the Grade 12 students and their families on the occasion of their Graduation this coming Sunday. We wish you all the best of luck as you spread your wings and go off on the next stage of your adventures, but hope you will take lots of happy memories of HIS with you.
この日曜日5月29日に卒業式を迎えられるG12の皆さん、ご卒業おめでとうございます。そして、G12の生徒さんのご家族の皆さま、お子さまのご卒業おめでとうございます。新しい世界へ羽ばたいて行かれる皆さん、HISでの思い出を胸に素敵な人生を歩んでいってくださいね。
◆ TEACHER'S APPRECIATION LUNCH  (再) 教職員の皆さまへの感謝ランチ
As a reminder, the Teacher's Appreciation Lunch has been decided for Friday, June 24th, the last day of this school year. We will continue to accept donations for this lunch of 500 yen or upwards (more is welcome 😊). Please write your name and "PTA LUNCH" on the envelope and submit it to the office (if you wish, you can submit anonymously). As we mentioned, please note that donations will be limited to money, the same as last year. Thank you for your cooperation.
再度のお知らせになりますが、Teacher's Appreciation Lunch は、今年度最終日6月24日金曜日に決まりました。このランチへのご寄付を1口500円 (多いのも大歓迎😊) を引き続き受け付けております。封筒に『PTA LUNCH』とお名前を書いてオフィスまでご提出ください (ご希望の方は匿名でも構いません)。今年も皆さまからのご寄付はお金に限定させていただきますので、どうぞご了承ください。皆さま、どうぞよろしくお願いいたします。
◆ PTA Committee Member for the next school year (再) 来年度のPTA役員
​​​​​​​​Time flies and the end of this year is approaching, and we should think about the next school year. If you are interested in becoming a PTA committee member for 2022-2023, please talk to us directly or contact us by e-mail (pta@hiroshima-is.ac.jp) etc.
We look forward to your help in making HIS an even more enjoyable place for our children.
2022-2023年度のPTA役員になることにご興味がある方がいらっしゃいましたら、PTA役員まで直接お話くださるか、メール ( pta@hiroshima-is.ac.jp ) 等でご連絡ください。HISが子供たちにとってより楽しい場所になるよう、ぜひ皆さまのお力をお貸しくださいね。
That's all for this week's announcement. We look forward to seeing many of you at the meeting on 6/3 (Friday) next week. Have a nice weekend!
今週のお知らせは以上です。来週6/3(金)のミーティングでたくさんの皆さまにお会いできることを楽しみにしております。よい週末をお過ごしくださいね。