Welcome from James Steward
Dear HIS Community,
Another excellent week has been completed at HIS.
Our Grade 5 campers have returned, and the accompanying teachers (Ms Jessy, Mr B, and Yumi sensei) appear to have survived, although I hear that at least one of them fell into the water during the golfing activity!
We were also treated to a Festive Eve sneak preview at the Hilton Hotel on Friday night, as our Peter Pan Team did an extraordinary job performing some of the highlight numbers of the coming show on December 10. Congratulations to everyone involved in this superb performance. As well, thank you to the Hilton Hotel for hosting us. We had many HIS families attending the event, and the food and camaraderie afterwards was excellent.
Thank you also to Mr Washington (MYP Collaborative Planning) and Ayako sensei (G10 DP Course Selections) for leading important IB activities at HIS this week.
These excellent efforts on all fronts go a long way to ensuring HIS maintains its excellent reputation and standards, while moving us forward to future goals and aspirations.
Please read on for further information.
James Steward
HIS Principal
---
Welcome Back from Camp Grade 5!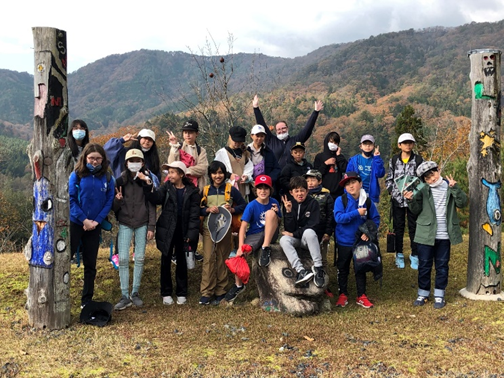 ---
Baseball Clinic on December 2
Yasunuishi High School has offered to run a baseball clinic for our students December 2 from 15:30 to 17:00. Most equipment will be provided, however, HIS students are requested to bring their own bats and gloves, if possible. If a student does not own these items, the high school team will bring extra equipment. Thank you to Megumi Muterspaugh for helping us organize this opportunity.
Please inform Makkie-san in the HIS Office by November 25 if your child intends to participate in the excellent opportunity:
Yuko Makio makkie@hiroshima-is.ac.jp
---
Bento Order(弁当オーダー)
Bento Order Part 2 will start from Dec. 1 (Dec.1 – Mar.31)
Please submit this bento form by November 22.
第二期の弁当サービスは、12月1日から始まります。(12月1日~3月31日)ご希望の方は、11月22日までにこのオーダーフォームよりお申し込みください。
HIS Students Celebrate World Children's Day
"Go Blue"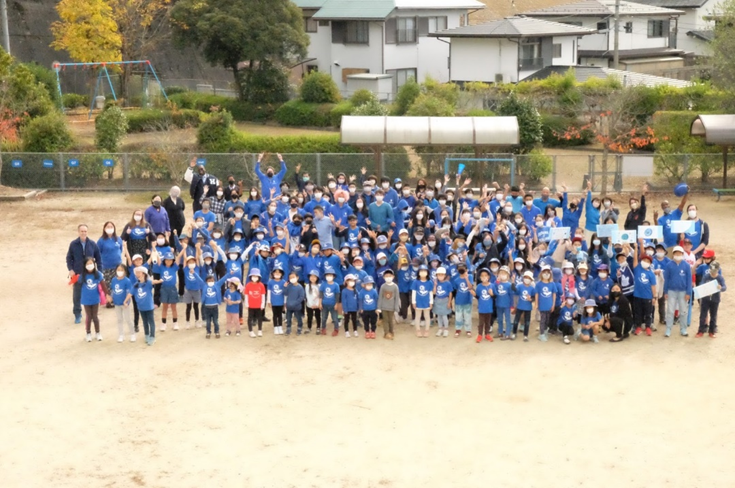 ---
HIS Faces in the News! (Picture Gallery)
Click here to see our weekly selection of photos from across HIS.
---
Videos of the Week
---
From the Parent Wolfpack (PTA) Team
◆ Scholastic/Baker Book Club Online Order Ends soon! (Deadline: 9am Monday 21 Nov)
スコラスティック/ベイカー ブッククラブ オンラインオーダー 締切間近 (11/21 月 9:00am)
Our new Scholastic/Baker Book Club is up and running!
Go to
https://world-schools.scholastic.co.uk/hiroshima-international/digital-book-club
to browse the latest books and order online.
Every $1 you spend on Book Club will earn 20¢ for our school in Scholastic Rewards. This is an opportunity to contribute to the school as these will be used to add books to the library.
Please place your order online by 9am on Monday, November 21st, 2022.
The ordered books will arrive at school and we will pass them to your child/ren to bring home when we receive them. They will hopefully arrive by the beginning of December.
◆ Decorating Volunteers request 飾り付けのボランティアのお願い 11月22日(火) 9:00am〜
We will decorate the school for the Winter Holidays (near the entrance, hallway, etc.) from 9:00 am on next Tuesday, 22 November. If you have time, please lend a hand. Please bring a utility knife and a pair of scissors if you can come and help!
◆ Request for Donation of Sweets for the Santa Visit (Reminder) Santa Visit 用のお菓子ドネーションのお願い (再)
We would like to ask for donations for the sweets that will be distributed to students for the Santa Visit as the sweets collected before Halloween were all used up for the Halloween Carnival. If you have brought donations to the school, please give them to Sayaka san in the office. Some students are allergic to nuts, so please avoid them. Thank you!
◆ Special thanks to Child Care Teams (The Volleyball Club and the Crane Club)
チャイルドケアチームへお礼贈呈
The money donated by parents for Child care for Halloween and Bonfire Night was handed as a certificate to the teachers and the members of the Volleyball Club and the Crane Club. The amount donated was 44,900 yen for the Volleyball Club (for Halloween Carnival) and 36,000 yen for the Crane Club (for Bonfire Night). Thank you so much for supporting the events. They were very happy to receive it.
◆ Let's Recycle for Halloween Costume! (Reminder) ご不要のコスチューム回収企画 (再)
We are collecting costumes, accessories and decorations for Halloween that aren't needed anymore so that they can be recycled. Please put them in a plastic bag with your name written on it, then place them in a clear plastic box (See the photo below) in the Genkan area. Thank you!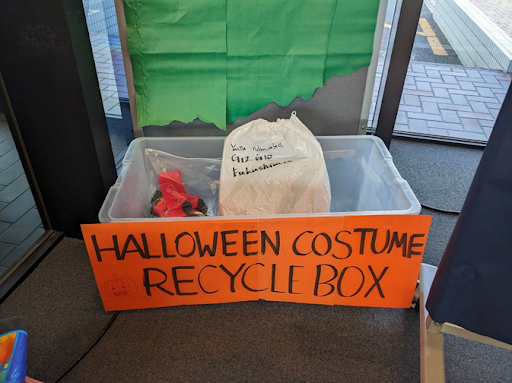 That's all from us this week. Have a great weekend!
From the Parent Wolfpack Team