Welcome from James Steward

Dear HIS Community,
A cold spell has gripped Hiroshima and HIS! Today, I saw Mr. Verma shopping for items that would keep his family warm! Soon we will be skiing in the mountains.
The cold weather reminds us of the final preparations taking place for Festive Eve on December 10. There is only one more week until the big show!
The Let's Bake team worked with G3-4 this week and made 150 apple crumble muffins. These were consumed with immense speed on Friday during break time. In fact, so quickly that there were none left by the time I got to the muffin booth! Please see below a video created by Naoko Kurata about the event.
And, here is the recipe!

Thank you to the Primary teachers, and Ms. Shefali for organizing the PYP Awards Ceremony this week. It was nice to celebrate with parents and students.
Thank you, to Mr. Ron and Ryoko Sensei for hosting G3 from Kurakake Elementary School this past week. They really enjoyed their visit to a foreign land!
Thank you to Takako Sensei for organizing the DP Music Concert on Tuesday. We were treated to some excellent music from our very own HIS musicians!

The cold weather did not stop aspiring HIS baseball players from enjoying a superb practice session on the HIS field on Friday afternoon. The Yasunishi High School team, along with Coach Taiga, ran an exceptional event. Nineteen of HIS's finest athletes joined the session. There were plenty of groundballs, flyballs, strikeouts and home runs to go around. We are hopeful that we can experience another event like this soon. Thank you to Megumi Muterspaugh for organizing this great fun!

Finally, I want to encourage all families to purchase our new 60th Anniversary Polo Shirts designed by our very own HIS students! These will look wonderful when singing in the choir, or at various events at HIS and across the city. Please don't forget to order this week. Thank you!

The Polo Shirt Order Form can be found below in the Parent Wolfpack section of The CRANE.

Please read on for further information.

James Steward
HIS Principal
---
Festive Eve 2022  
If you are attending Peter Pan on December 10, it is vital that you complete this Festive Audience Registration form:
https://forms.gle/nxpKkwebah5Pf8CE8

And here is a reminder of all other pertinent Festive Eve information:
Saturday, Dec. 10th 14:00-17:30   
Program: This year, we will be presenting Peter Pan, based on a classic play (1903) by J.M. Barry. The choir (all G3-5) will be singing selected pieces during the musical; all primary classes will be presenting class dance acts. The G6-10 orchestra will be performing an overture. The cast are supported by the backstage crew who are taking all areas of responsibilities behind the scenes as stage directors, movement director, stage managers, choreographers, musicians, lighting, scenery prop design, costume/hair make-up, and audio technicians. 
Costumes & Concert Attire
Cast Members
All costume-related items in school by Sun. Dec. 4th, the cast run-through day.
Final dress rehearsals will be on Friday, Dec. 9th.
All Primary Class Act Students
All costume-related items in school by Friday, Dec. 2nd for Primary Class stage trial. Please mark names clearly on all items.
Hair and Make-Up
The costume team will work on light face painting at school, but hair styling can be done at home. There are no specifications and a 'special feel' for the child is the priority.
All Students
Students should leave all costume items at school until the performance.
Please put all items in a strong shopping bag with the student's name and grade on it.

G6-10 Orchestra Concert Attire オーケストラ演奏者服装規準
White shirt with collar and dark pants, or suit & tie.
Dark dress OR white blouse and dark pants/skirt.
Calf length or longer is more appropriate for this occasion if you have the choice.
Saturday, Dec. 10th Schedule
Alternative school day schedule. Monday, Dec. 12th 代休 No school in lieu of Sat.
There will be NO SCHOOL BUSES on this day.
10:00 Cast & Backstage Crew only arrival.
12:45 Other Crew and Primary/Secondary students arrival.
No sooner than 12:30 please.
Students will go directly to their homerooms.
13:00 G6-10 Orchestra soundcheck rehearsal
13:30 DOORS OPEN
14:00 Curtain Opens
Parking: School ground will be opened for PARKING. Safety guards will be directing you.
駐車場は校庭を開放します。警備員の誘導に従ってください。
Indoor Slippers: Please prepare indoor slippers to protect the gym floor.
Something Warm: Heating in the gym will not be on during the performance. Please wear something warm.
Student Seating and Program Order:
All students will be seated with the class until the end of the program. I
The program order is as follows:
Peter Pan

Overtures by G6 Orchestra & G7-10 Orchestra

EC/KG classe: Act 1 "Tender Shepherd"

G1-2 class: Act I "I Gotta Crow"

G3-4 class: Act II "Hook's Tarantella"

G5 class: Act III "Hook's Waltz"

G3-5 Choir will be singing through all Acts "Tender Shepherd" "I Gotta Crow" "I Won't Grow Up" "Wendy" "Hook's Waltz" "Neverland"
Clean Up:
For all secondary students, community responsibility is an important part of their learning expectations. Orchestra members are expected to safely put away the instruments and take them home after the program. Thank you for your understanding.
Video:On the courtesy of the Sonoda family, HIS will be taking a video for record. We will make this video accessible via online link. Please respect the copyright law and use the link ONLY for personal use. Sharing of the link through any open social network is strictly prohibited. 公演ビデオは個人利用のみに限り、SNSでのシェア、公開は固く禁じられています。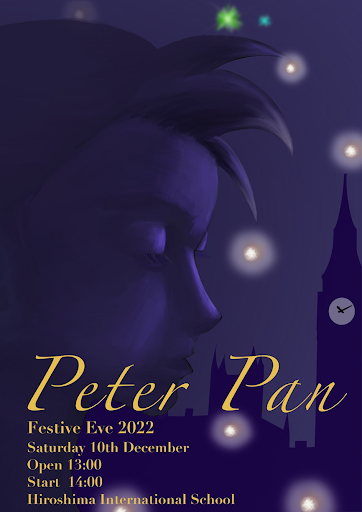 ---
HIS Faces in the News! (Picture Gallery)
Click here to see our weekly selection of photos from across HIS.
---
Videos of the Week
---
From the HIS Parent Wolfpack (PTA)
The Crane Message 02 Dec 2022
From the Parent Wolfpack Team (PTA)
◆ 60th Anniversary Polo Shirt Order – Now For Sale! HIS60周年記念ポロシャツ販売中
Order Deadline 注文締切: 9:00 pm Monday 12th Dec / 12月12日(月・祝) 午後9:00
As we mentioned last week we are now taking orders for Polo Shirts. These will be used for various school events in the future such as concerts, choir performances, field trips etc. So please get your orders in soon! The deadline is December 12th.
Here is a link to the order form
 ➡︎Click here for the Polo Shirts Order Form / ポロシャツの注文リンク
As a reminder – here are the details about the shirts.
  ➡︎Click here for details and pricing of the polo shirts ポロシャツの詳細はこちらから
◆ Let's Bake! レッツベイク!
Grade 3/4 students made 155 delicious apple crumble muffins during Let's Bake on Thursday and we sold out during the Friday snack time. All the money we made (¥6,035!) goes to The Wolfpack (PTA) funds to be used for student and school activities. Thank you for letting the kids bring some coins for it. Next Let's Bake will be in January prepared by the second enthusiastic group of G3/4🧁🧁
◆Halloween and Christmas Decoration Donations 寄付のお礼
We would like to give a big Thank You! to all those who generously donated for both the Halloween and Christmas decorations. The school has looked so special this year and this wouldn't have been possible without your kindness.
The list of families who donated for Halloween and Christmas Decorations:
Abe family, Curley family, Haga family, Taino family, Smith-Obara family, Ueno family, Nakashima(Yoshitaka) family, Kondo family, Shiomi family, Uehori family, Nakamura family, Sato family, Sonoda family, Kako family, Shima family, Li family, Kawamura family, Anonymous families. Sorry if we missed anyone's name. Thank you so much again!
◆ Santa's Visit Candy Donations Santa's Visitのためのお菓子の寄付のお願い(再)
It's nearly that time of the year….
We are still collecting donations for the sweets that will be distributed to students for the Santa Visit.
If possible please donate sweets that are individually small so we can put a selection into the gift bags. Thank you!
If you have brought donations to the school, please give them to Sayaka-san in the office. Some students are allergic to nuts, so please avoid them.
That's everything for this week, hope you are having a great weekend!
From the Parent Wolfpack