Welcome from James Steward
Dear HIS Community,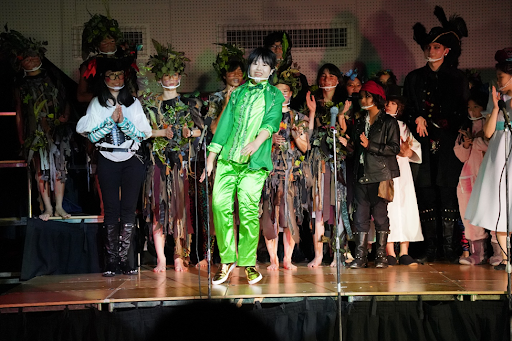 Peter Pan flew through Hiroshima International School on Saturday afternoon and into the early evening as Festive Eve took hold! A packed house was captivated by this exceptional musical. Our students were wonderful on all fronts. The acting and singing was superb. The music and dancing were fantastic. Sets and props were extremely creative. Costumes were beautiful. The entire directing team did a fabulous job!
For all of this, we must offer special thanks to the Sonoda family for organizing filming; Nami Ohata for overseeing costume design and creation; Eriko Hird for her continued Parent Wolfpack leadership; and Takako Sensei for her unrelenting commitment to HIS and our students.
There are so many others to thank, but not enough space here to do so! To all that supported Peter Pan 2022, our greatest gratitude is sent to you for your supreme efforts these past months.
We will have one final chance to celebrate this Thursday, December 15 at the HILTON Hotel, where 35 parents will enjoy lunch together in support of the camaraderie associated with such a production.
I am looking forward to seeing you all there!
Please don't forget to order, this week, our new 60th Anniversary Polo Shirts designed by our very own HIS students! These will look wonderful when singing in the choir, or at various events at HIS and across the city. Thank you!
Please read on for further information.
James Steward
HIS Principal
---
MYP Personal Project Update from Mr. Washington
For those that missed it, please find below the link to the latest update on the MYP Personal Project for G10 from Mr. Washington.
https://drive.google.com/file/d/19WbUCq5equRrH60qIUWAtjO_GiB64_UG/view?ts=638d3454
---
Let's Pray for Ukraine Concert December 23, 2022
Please see below information for the latest Let's Pray for Ukraine concert featuring very close connections to the HIS Community.
---
College Fair Reminder!
December 13, 6:00 – 8:00 pm
By invitation only, virtual college fair for families and students of Osaka YMCA, Hiroshima International School, and Fukuoka International School. There will be a student panel and counselors available from 19 colleges and universities. Korean and Japanese schools were added at HIS's request. You can stop by one school or many. This is a valuable opportunity to explore different areas of study, especially before deciding on classes for grade 11/12 (DP). Explore and ask questions from your own home!
---
HIS Faces in the News! (Picture Gallery)
Click here to see our weekly selection of photos from across HIS.
---
From the HIS Parent Wolfpack (PTA)
◆ Sweets bagging for Santa Visit (9:00 am Tue, Dec 13) お菓子袋詰め作業 (12/13 火 午前9時〜)
This coming week, before winter vacation it's time for "Santa's Visit" where Santa Claus distributes sweets to the children. The candy bagging work will be done from 9 am on Tuesday, December 13th. We would be grateful if you could help us. Thank you.
◆ 60th Anniversary Polo Shirt Order – Ends Monday! HIS60周年記念ポロシャツ販売締切間近!
Order Deadline 注文締切: 9:00 pm Monday 12th Dec / 12月12日(月) 午後9:00
The time for ordering polo shirts is nearly up.. These will be used for various school events in the future such as concerts, choir performances, field trips etc. The deadline is Monday December 12th (school holiday).
Here is a link to the order form
 ➡︎Click here for the Polo Shirts Order Form / ポロシャツの注文リンク
As a reminder – here are the details about the shirts.
  ➡︎Click here for details and pricing of the polo shirts ポロシャツの詳細はこちらから
◆ Peter Pan- A great achievement!
On Saturday Peter Pan was staged triumphantly. The children worked so hard at many different jobs (and roles) and enjoyed themselves so much. They also learnt a range of important skills and how to work together, to make a great performance in a short period. Thank you so much from all the parents to Takako-sensei and all the teachers that contributed.
The parental contribution is always very important for the areas where the children can't provide everything. We would like to express our gratitude to all the parents who spent a huge amount of time from their busy schedules in many different activities, from making the wonderful costumes to helping with the costume changes etc. Again this year, many people donated their clothes and accessories, thank you so much.
We would also like to mention our appreciation to G2 Soma's mum, Nami Ohata, who led the costume team tirelessly through thick and thin.
From the costume team:
Dear Parents,
We hope everyone enjoyed "Peter Pan".
The costume team were delighted and relieved that we were able to finish everything on time for the show and that everything went without a hitch on the day.
This year we were lucky to have the help of 30 parents who managed to make around 100 costumes for the students in the show.
Thank you so much to everyone who came along to help and supported our efforts to help your children look like the stars they are.
Nami Ohata
◆ Scholastic / Baker Books Order Books have arrived! 本到着&配布済み
The Scholastic / Baker Books books arrived at the beginning of the week and were handed out to your children on Monday and Tuesday, so check their bags if you haven't seen them yet! As before 20% of your purchase amount comes back to the school as a reward in the form of books for the library. Thank you for helping build the library collection.
That's all for this week, looking forward to seeing those who applied for the Hilton meal on Wednesday, now let's enjoy the last week of school for 2022!
The Parent Wolfpack Team