Welcome from James Steward
It has been another great week at HIS with plenty of action along the way!
One of the highlights of my week was this week's basketball game against MC Perry from Iwakuni. Our HIS Wolves showed incredible spirit and determination, while playing a superb game. Every HIS basket was met with jubilation and cheers from our loyal fans who packed the house. Congratulations to the entire team. You captured our hearts this week!
Thank you to Claire and her team (below) for creating this wonderful welcome poster.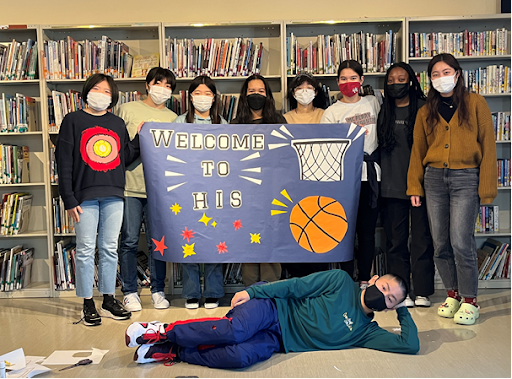 It is expected to be a very cold week ahead with temperatures dipping well below zero. Therefore, please ensure that your children are dressed warmly and properly prepared for outdoor play.
This is a reminder that the senior citizens home across from HIS called "Nozomi-en" has been very supportive of HIS over the years. We need to keep a strong relationship with them, and therefore, you are requested not to park there when visiting HIS. Parking there is only allowed with permission when we host special events on campus.
Finally, thank you to the Parent Wolfpack for organizing the creation of our new HIS 60th Anniversary Polo Shirts! These have arrived and were distributed this week.
This week there are plenty of great photos in the HIS Gallery. Please be sure to check them out.
Please read further for more information.
James Steward
HIS Principal 
---
Grade 3-4 News
As you may be aware, HIS has been growing steadily this school year. Many classes are close to capacity. In Grade 3-4 we have a 'waiting list'. Therefore, we have decided to split the class effective February 1. This will allow us to accept the students on the waiting list.
To make the above-mentioned split occur, we have had to adapt schedules and classrooms, and hire a new teacher, Ms. Olivia Smith-Watson. Some of you may remember Olivia from Summer School 2022 when she was a teacher in this program.
Please welcome Olivia to HIS, and we will keep you informed as our final plans take shape.
---
New Applications
We continue to accept many new student applications. HIS is doing very well with enrollment up significantly this year. If you are aware of families considering HIS, please encourage them to get their applications in early as space is becoming limited in some grades. 
---
HIS Faces in the News! (Picture Gallery)
Click here to see our weekly selection of photos from across HIS.
---
From the Parent Wolfpack (PTA)
◆International Festival
The date of the festival has been set as Saturday 15th April.
We would like to hold a general meeting for the festival arrangements on Monday January 30th at 9am , to avoid the cold weather coming next week. The festival is always a really enjoyable event, but we can only make it a success with everyone's cooperation and effort. Please come along if you can. If there are any topics you would like to include in the meeting, please let us know directly or by e-mail by Friday 27th.
◆ Val-O-Gram (ヴァル・オー・グラム)
Valentine's Day is approaching! We will hand out the application form for the popular Val-O-Gram to your children sometime the week of the 23rd. Please note that we use a paper application form. The deadline is on Monday February 6th. For an explanation of how Val-O-Gram works please see below. The proceeds will be used for PTA funds, for the benefit of the students. Thank you for your cooperation.
——————————————
Typically, Valentine's Day cards are given to sweet hearts or secret crushes, however, in HIS we want the Val-O-Grams to be received for all sorts of reasons, for example to say, 'Thank you for your friendship' or 'I'm thinking of you' or 'I appreciate you'. So, you can buy Val-O-Grams for your own children, and they can buy them for you, their friends, or teachers and grandparents.
通常は、チョコレートやバレンタインカードを愛する人や、密かに想いを寄せる人に贈りますが、HISでは、Val-O-Gramsに日頃の感謝の思いをを伝える役目を託します。例えば、仲の良いお友達や先生に。ご兄弟、祖父母などご家族に。ご自分のお子さまに。お子さんからご両親に贈ることもできます。
Val-O-Grams will be delivered to students and teachers during school hours on Tuesday February 14th. Students can also buy Val-O-Grams to take home for family members or non-HIS friends.
Val-O-Gramは、2月14日(火)のバレンタインデー当日に、学校にて先生やスタッフ、お子さんやお友達へ届けられます。(ご家族宛てや、HIS外部の方への注文分は、お子様が持ち帰ります)
One flower contains 2 chocolate Hershey's Kisses – 200 yen
Val-O-Gramのお花一本にはHershey'sのKissチョコレートが2つ入っています。
———————————————
For more details please see the hard copy application form as mentioned above.
◆ Let's Bake!
We are having Let's bake on 26th Thursday with the second group of G3/4 children.
If your children are baking please bring an apron and a tie for long hair. We will bake chocolate brownies this time and sell them on Friday 27th. Please make sure your kids have 100 yen coins to pay for purchases!
◆ Polo Shirt
The 60th anniversary polo shirts have arrived! We have started distributing to students who have already paid. For those who missed the first order, there will be another chance ready for the spring concert. Please note that you should wash the shirt carefully- inside out and in a laundry bag to protect the emblems.
That's all from us this week. Keep warm!!
The Wolfpack Team