Welcome from James Steward  
There is plenty of information in this CRANE. I will keep my introduction brief, so that you can focus on the many details below.
Thank you, once again, to Naoko Kurata and her PTA Wolfpack Team for organizing an amazing International Festival. Saturday night's celebration party on the ANA Hotel rooftop was a windy and wild experience (see the pictures)!!! Thankfully, the group was able to move inside, as it felt more like February than late April!
As well, the PTA Wolfpack has arranged for ICE CREAM to be served to students and staff this Wednesday after lunch courtesy of locally owned Mo Mo Milk! What a welcome treat that will be!
There are still many events coming as we move toward Golden Week.
Please read further for more information.
James Steward
HIS Principal
---
G7 Summit Changes  
We were hoping to retain our original schedule for May 18-22, however, due to city travel restrictions, we are now forced to make the following changes:
May 18-19 = Classes will occur online. Teachers will be sending instructions to families in the coming days.
May 20 = All HIS School Events have been cancelled and moved to alternate dates
May 22 = Remains a school holiday
May 27 = PYP Student Led Conferences and the PYP Exhibition will occur at HIS
June 1 or 2 evening = New Spring Concert Spring (Tentative Date). Takako sensei will finalize very soon. 
---
Sports Day Update
This is a reminder that Sports Day will occur this Friday, April 28. Students do not come to HIS; we meet at the stadium. For further information, please contact Mr. Bartelink, the HIS Office, or your Homeroom Teacher.
---
HIS IDOL Preparations
The ever popular HIS IDOL challenge is returning to much fanfare. The HIS IDOL Team has begun to lead the charge on this front.
Here is the trailer for the event:
Here is the 'Sign-up' Form:
https://forms.gle/bQR8vU2HQnTjzgJ18
Here is a link that contains very important information about the entire process for HIS IDOL. Please read carefully!
https://docs.google.com/document/d/1uQL4Ql6y1izZLQ_Yj7Jfmzs8KthIsbRRtMkThd_NtKE/edit
We are looking forward to seeing everyone's special talents again this year!
From the HIS IDOL team
---
Spirit Week is here!
A spirited team of HIS students from our HIS SRC have created some posters for our coming Spirit Week. Please take note below: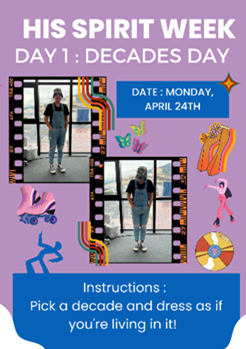 ---
HIS Faces in the News (picture gallery)
Click here to see this week's photos from across the school:
https://photos.app.goo.gl/njX2cUZaRvEKrMee8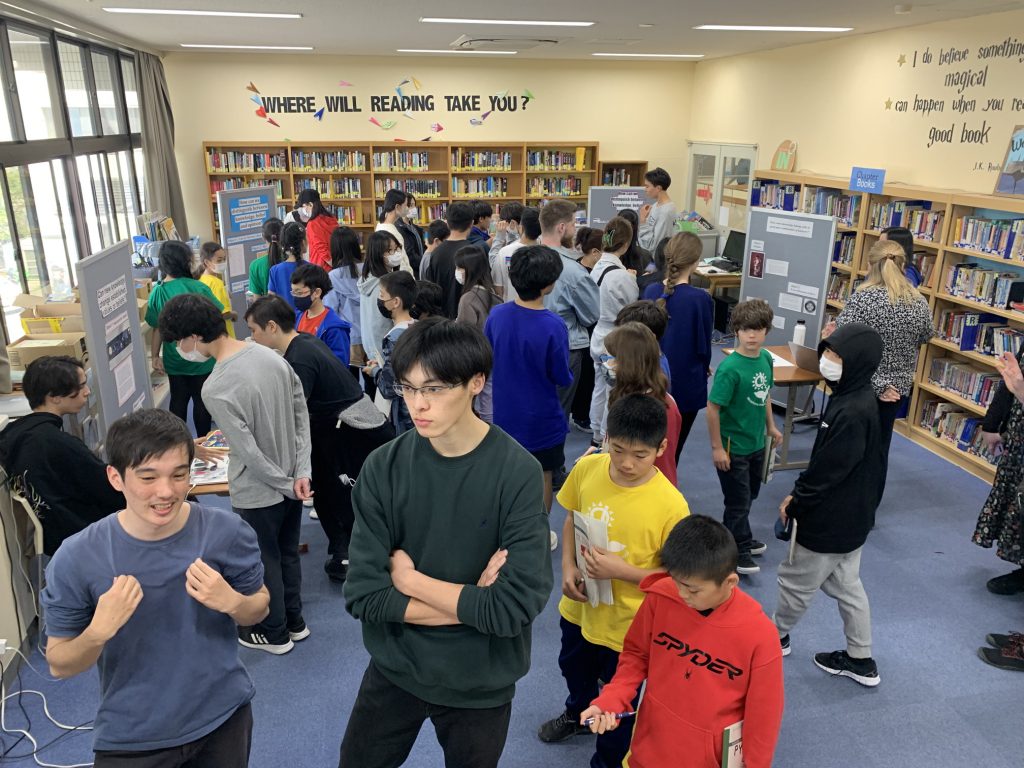 ---
PTA Wolfpack Update
◆HIS 60th Anniversary Polo Shirt 3rd Order Information – Order ASAP
 60周年記念ポロシャツ3回目注文に関して – 注文をお急ぎください  
 ➡︎Click here for the Polo Shirts 3rd Order Form  / ポロシャツの3回目注文リンク
Order Deadline: 12:00pm Tuesday 25th April 2023 – Deadline cannot be extended
注文締切: 2023年4月25日(火) 午後12:00 -締め切り延長不可能
As you may have been informed by Takako Sensei, our music teacher, PYP and Choir students will be wearing the 60th-anniversary polo shirts at the Spring Concert, which will be held soon. (Secondary students will wear their regular black and white orchestra attire.) For new students and those who have not yet purchased their polo shirts from previous times, we will be taking a third order. Orders must be placed quickly for delivery to be on time for the Spring Concert. Please be sure to place your order by 12:00pm Tuesday 25th April.
近日開催予定のスプリングコンサートでPYPとクワイヤの生徒は60周年記念のポロシャツを着用します。PYP生徒さんでまだポロシャツをお持ちでない方は注文をお急ぎください。
◆ Drink sales on Sports Day 
スポーツデーでの飲み物販売
Drinks will be on sale next Friday (4/28) at HIS Sports Day at the Balcom BMW Hiroshima Grand (formerly Coca-Cola Stadium). The selling prices are 100 yen, 150 yen and 200 yen. We cannot accept high-value bills of 10,000 yen or 5,000 yen, so please bring coins. Drinks to be sold are Water, Japanese Tea, and Pouch-type drinks. Please note that the number of items available is limited.
販売価格は100円、150円、200円です。高額紙幣は受け付けできません。販売数には限りがあります。
◆ International Festival  
Thank you again, everyone! 様々なご協力をありがとうございました!
As we mentioned in the email Crane last week, the International Festival was a great success, thanks to all that contributed, helped, staffed the stalls and set up and cleared away. None of it would have been possible without you! The weather conditions this year were a little…challenging, but it did nothing to dampen everyone's enthusiasm. We were also heartened to see so many people attend, particularly after the long gap since our last festival in 2018. It gave us such a warm feeling to be able to organise an event where so many people could work together as the HIS Community Team!
We would like to thank the teaching and office staff both for their help and for putting up with the disruption beforehand. Also the students who gave up their time for the festival to help out running activities, design and create beautiful signs, control the audio system, MC the event, help clear everything away, and the Crane Club who set up tables on Friday. Also to the students (particularly G8) who took on the huge task of tidying up and cleaning mud off everything on Monday.
Thank you too, to the teachers who helped run stalls, child care, record and edit videos and supervise the children running activities etc.
Thank you to our old friends – the parents of children who have already graduated from HIS who donated both their time and many items to the effort.
And of course, a huge thank you to all the parents who put in so much time and effort in so many different areas including controlling car parking and collecting rubbish (trash). We would also like to thank Mr Steward for giving so much support to us the Wolfpack (PTA) Team and making sure we could do what was needed to get the festival ready smoothly.
Also to the many families and companies who generously donated raffle prizes, and made it such an exciting end to the event!
We would particularly like to take the chance on everyone's behalf to give a big thank you to our wonderful Festival Leader – Naoko Kurata. We were all thrilled to see her ability to communicate with everyone and sort things out so quickly and efficiently!!
If you still have any receipts, please submit with your name as soon as possible to your section leader (or Sayaka san in the office if you are not sure who) to claim a reimbursement for any expense you paid for the festival.
Please give us a little more time on the financial results of the Festival – we will let you know soon.
Well done, everyone!!
◆ Well done Party for Festival 
お疲れさまパーティー
We had a fun evening at the Roof Top Beer Garden of the ANA Hotel! The weather decided to play tricks on us again – this time it was a gusty wind, but it was a great opportunity to celebrate with many people who had helped organise the festival.
◆ Scholastic / Baker Book Order -Delivered 
スコラスティック/ ベイカーブックスの本、配布済み
For those who have ordered books, we delivered them to your child/ren on Tuesday. If you haven't received them, please check your child's bag. Thank you!
Hope you are having a lovely weekend in the sun.
From the Wolfpack Team