Welcome from James Steward
It is a short CRANE this week.
I wish to remind you that due to the G7 Summit, classes will occur online on Thursday and Friday this week. Information has been shared via teachers and coordinators about how to properly connect to each class. If you have questions, please contact your child's homeroom teacher to ensure all is understood.
Next week, on May 22, it will be a school holiday. If able to, please enjoy some extra family time.
The Peace Ride will depart from HIS early in the morning on May 22. Please wish the Peace Ride Team good luck as they ride across the region!
The IB Exams for Grade 12 will soon be wrapping up. Congratulations to Ayako sensei and her students for their perseverance. Graduation is coming June 10!
On May 27, the PYP Student Led Conferences and the PYP Exhibition will occur at HIS.
On June 2 at 16:00 we will host our annual Spring Concert.
The buzz of HIS IDOL continues to resonate within the HIS corridors. The big event will be on June 18.
The HIS 60th Anniversary Ball will occur on the evening of June 23 at the Hilton in Hiroshima. More information is coming from the PTA Wolfpack very soon, but please save the date. It will be a very enjoyable way to end the school year!
I look forward to seeing you soon at our many coming events!
James Steward
HIS Principal
---
Kento's (G11) Letter to the Editor
Kento (below) wrote a great letter to the "Chugoku Shinbun" editor as part of a task in Japanese class, and it was recently published. It was regarding the use of artificial intelligence (AI) tools like ChatGPT.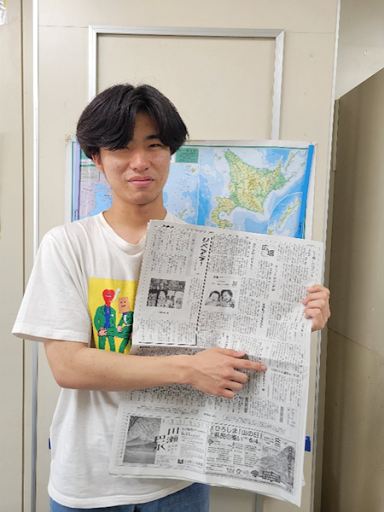 Kento's Extended Essay Request!
DP Extended Essayのための若者言葉や流行語についての調査依頼/Survey request about Japanese slang for DP Extended Essay
こんにちは、11年生の新谷健人です。僕は今Japanese BのExtended Essay(課題論文)で若者言葉や流行語について調べています。最近の若者言葉や流行語をどのくらいの人が理解できるのかを知るためにアンケートを作りました。このアンケートは日本語話者の人を対象にしています。できるだけ色々な年齢層の人に答えてもらいたいと思っています。
アンケートは下記のURLから回答していただけます。
所要時間は約5分程度です。
https://forms.gle/jixjjeSMmvMdM8NX9
ご協力のほどよろしくお願いします。
Hello, I am Kento Shingai from Grade 11. I am currently researching slang in my extended essay for Japanese B. I am interested to know how many people can understand such words and want people from multiple ages to answer my survey. This survey is for Japanese speakers only.
Please answer the survey from the Link below.
It should only take around 5 minutes to complete the survey.
https://forms.gle/jixjjeSMmvMdM8NX9
Thank you in advance for your cooperation.
Kento (G11)
---
Soma and Hiroto's PYP Exhibition Request
Soma and Hiroto are from G5. They are studying the Ukraine-Russia War. They are looking for someone knowledgeable to interview on this topic.
If you are interested to support Soma and Hiroto, please contact Mr. Steward, or Ms. Jessy their G5 teacher. The boys would really appreciate it!
Thank you very much!
---
From the HIS Parent Wolfpack (PTA) Team
◆ Polo Shirt
ポロシャツをオーダーした人には、来週中に配布予定。お金がまだの人、払ってくだささい。
The ordered Polo Shirts will be arriving this week. If you haven't paid yet, please do as soon as possible.