Welcome from James Steward 
Dear HIS Community,
It has been one of the busiest weeks of the year, and that is saying something!
Congratulations to our Class of 2023! The Grade 12 Graduation was held downtown on Saturday amid robust fanfare. Everyone looked wonderful and our graduates did a splendid job conveying their thoughts while delivering excellent speeches and memories that often had the audience both laughing and crying at the same time.
On Friday, we held our Farewell Assembly. All students were able to say good-bye to our graduates. A 'Time Capsule' was then buried on campus by this imaginative class. The Class of 2023 then enjoyed a sushi dinner together at a local restaurant.
We wish our fine graduates all the best in their young futures.
Next on the horizon is the PYP Graduation set to occur on June 16!
Enjoy the week ahead.
James Steward
HIS Principal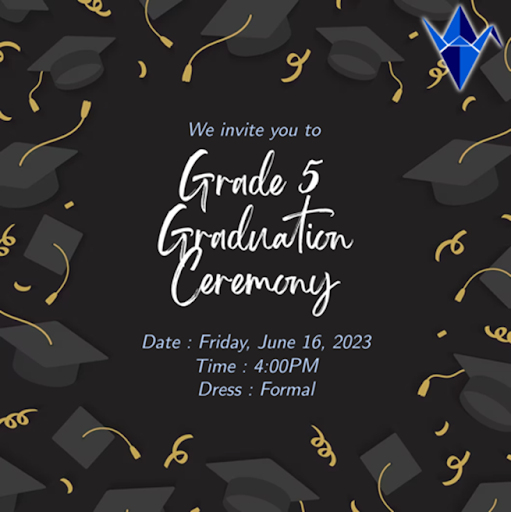 ---
Farewell Video
Here is the link to the Farewell Video shown at our assembly on Friday:
---
Peace Ride Video
Here is the link to the Peace Ride Video created by Yuta:
---
Student Initiatives from Jundai and Koichi
Hello everyone! I'm Jundai from G11.
For my Global Politics internal assessment, I am supporting a cafeteria for kids at the Hiroshima Evangelical Lutheran Church. This cafeteria supports underprivileged and vulnerable children.
I would like to ask for help from the HIS community to support the children by having an open donation at the genkan, starting next Tuesday. I will be placing a box at the genkan, so it would be very helpful if you could donate the following items:
Food (see below*)
Toys
Clothes
Thank you so much for your support!
*more details about what type of food they can accept will be shared next week.
僕は国際政治クラスのプロジェクトの一環として、広島福音ルーテル教会さんが運営している子ども食堂を支援させていただいております。子供食堂のお手伝いを通して子供たちのことを知り、何か学校として手助けできないかなと思い、HISコミュニティの皆様に協力をお願いしたいです。来週の火曜日から玄関に寄付箱を置かせていただきますので、以下の物品を寄付していただけると嬉しいです: 食品*、おもちゃ、子供服など。
ご協力、どうぞよろしくお願い致します!
*食品については来週詳細をお知らせ致します。
G11 Jundai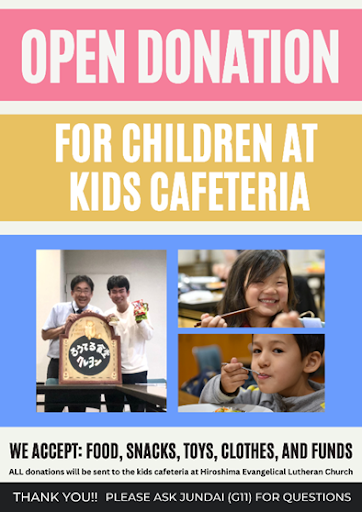 ---
Kid's Guernica @ HIS  (キッズゲルニカ @ HIS)
For this year's Action Week, I am organizing an activity that will allow HIS to host its own Kids Guernica (participatory artwork).
The canvas* of this Kids Guernica will span 3.9m and be 1.75m tall, making it half the size of Picasso's Guernica. Now an iconic thought-provoking work, it was created with the anti-war sentiment stemming from the violent Spanish Civil War, which had left devastation in its wake. Similarly, this project will encourage curiosity and critical thinking in children relating to the complex relationship between war and peace. Through drawing and painting together, this international project will not only reinforce the legacy of HIS promoting peace, but build a stronger sense of community.
Due to this being a student-led activity, it is entirely dependent on PTA and parent support. Please consider the table below for details on what is needed to make this project happen.
In the event that donations are possible, please contact me at koichih@hiroshima-is.ac.jp by Friday the 16th of June. If alternative supplies can be donated, that would also be appreciated.
Thank you in advance,
Koichi Hiraishi (G11) 
PTAと保護者の皆様へ、
この度、今年のアクションウィークの活動の一つとして参加型のアートプロジェクト、キッズゲルニカを HISで主催する事になりました。
キッズゲルニカとは、ピカソがスペイン内戦で起きた無差別攻撃の惨状を憂い反戦の思いを込め制作 した『ゲルニカ』と同じ大きさ(縦3・5m×横7・8m)のキャンバスに、世界の子どもたちが平和を願い絵 を描く国際的アートプロジェクトです。
今回このアクションウィークを通してゲルニカの半分の大きさのキャンバスで(縦1.75 ×横3.9)子供たち が戦争という国際的問題と、戦争と平和の複雑な関係性について考え、キッズゲルニカを通して子供 たちが答えを表現するという活動内容となっております。また、この活動を通して、HISとして平和を訴 える事と、HISコミュニティの結束を深くする活動でもあります。
学生主催の活動の為、PTAや保護者からの協賛が必要な状況となっております。このプロジェクトを実 現させる為、もし差し支えのない場合は、協賛などの協力を下の欄からご検討ください。
協賛などのご協力が可能な場合、6月の16日 (金) までこちらの方へ連絡をお願いします → koichih@hiroshima-is.ac.jp。 また、画材などの支援も有り難く受け入れております。
ご協力のほど、よろしくお願いします。
平石幸一
Supplies 
Amount
Price / Notes
Gesso
18
¥1,980 To cover 6. 835 sq. m
Paint Brush
4 in 1 set x 5
¥550 Sponsored by Atelier Pao as of now.
Roller
4
¥880 (Optional)
Eyelet 
3
¥330
Eyelet Pliers
1
Will buy at craft store and provide receipt
(¥1,500 on avg)
Zip Ties
3
¥330
Paint 6 color set (500ml)
2
¥12,776 Black, White, Green, Blue, Yellow, Red (to allow for new colors via mixing)
Total
¥ 18,346 (¥17,466 without rollers)
---
G7 Student Businesses –  Entrepreneurship
Businesses opening the week of June 12th – 16th in the Genkan
Company Name
Owners
What is the product or service?
Pricing 
Sanks
Akinari, Emon, Den
Futsal tournament. Sell shaved ice and canned juice
¥100 – 200
HE&M
Eri.N, Miki, Hairin
Opening small shops to sell things we made
¥100 – 500
Nican Video Studios
Brice
Video editing as a service
$15 – $30
¥2000-3500
T-shop (T)
Tomoki
Sell old toys, vehicles
¥100
Carve crafts
Ethan
Sell wood sculptures
¥500
Mr Munch's Snacks
Yuu
Sell Snacks Example: Oreos, Rice Crispy, and chips
¥100
---
YEARBOOK Orders
It is that time of year when the HIS Yearbook is due to come hot off the press! Please make your orders here:
https://forms.gle/aZ41gK4KreqZNjL98
---
HIS IDOL on June 18
The HIS Idol (talent show) is on June 18; doors open at 15:30. The show starts at 16:00. The venue will be Hiroshima International Student House.
Snacks and drinks will be sold including popcorn, pizza, sausage buns, donuts, drinks, ice cream, and more. Please enjoy and support us.
12 individual groups and various class acts will occur including ECKG, G1-2, G3-4, G8 and G9-10.
We look forward to seeing you there!
---
Photo Gallery
Please see this week's selection of photos from around the school at the following link:
https://photos.app.goo.gl/5KbRG2wZr2R6t5yz5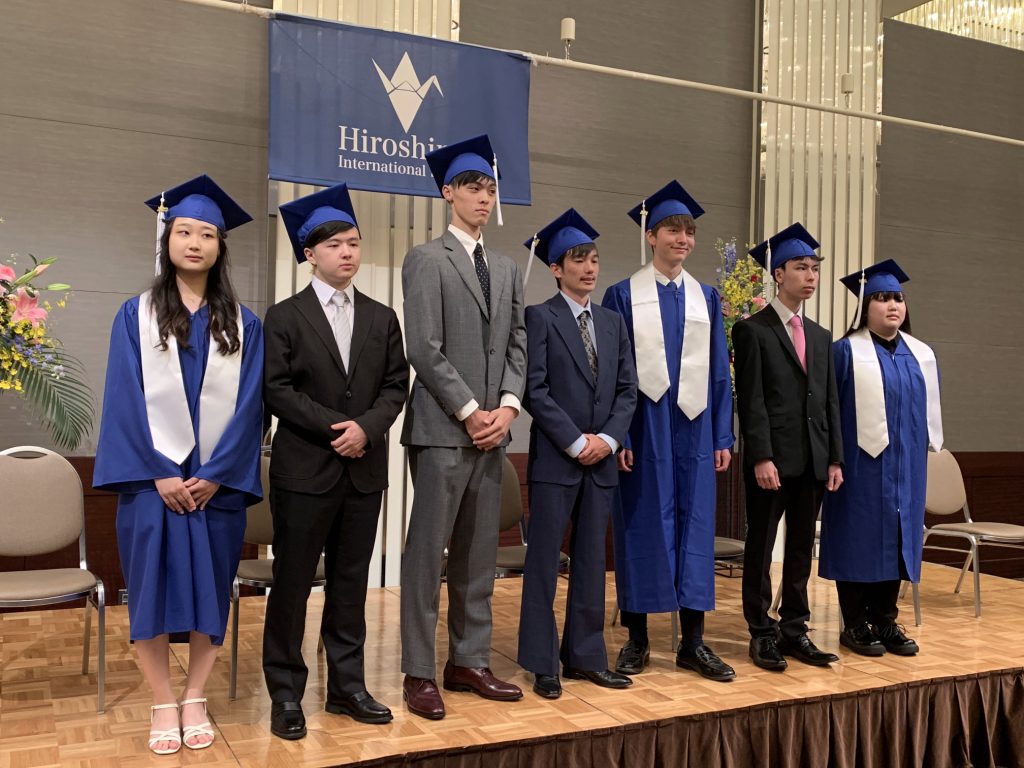 ---
From the HIS Parent Wolfpack (PTA) Team
◆ Congratulations to Grade 12!
Congratulations from the Wolfpack / PTA Team to all our wonderful Grade 12 on their graduation from HIS. Good luck for your next big step, we look forward to seeing your sparkling future! We will miss your happy faces around the school – please come back and tell us how you are getting on.
On behalf of the PTA we sent a Parker pen to each graduate, engraved with the school name. We used PTA funds for this long standing tradition.
◆ Wolfpack (PTA) General Meeting
On 15th June at 9am we are planning to hold a general meeting to summarise the PTA's activities over the school year, give an overview of the PTA Accounts, etc. Please try to attend. It will be in the staff room.
Join Zoom Meeting (If required)
https://zoom.us/j/93308477043?pwd=MXlyVitDZkVGYkN5ZTJZYXptYnQrdz09
◆ HIS 60th Anniversary Ball
Date: Friday June 23, 2023
The application deadline is Sunday 11th before midnight!! Please make your last minute applications!
➡︎ Here is the Detail of HIS 60th anniversary Ball / HIS創立60周年記念食事会 詳細
➡︎ **Application Form is HERE** 参加申込フォームはこちらから
Application Deadline: 23:59 Sunday 11th June 2023
申込締切: 2023年6月11日(日) 23:59
Please let us know if your child/ren participated in HIS IDOL and would like to perform at the Ball Party!
◆ Teachers and Staff Appreciation Lunch
As we mentioned, In the last week of school we are returning to an old tradition, to prepare a lunch for HIS teachers and staff to show how much we appreciate all the efforts that they make for our children.
We need your help to cook and put together a special meal on Tuesday 20th June from 11:00 -2:30 pm. More details are linked below.
  ➡︎Here is the Link  to the Detail for Teachers & Staff Appreciation Lunch
◆ Let's Bake! – For EC / KG
As this year's final 'Lets Bake!', on Wednesday June 21st the EC/KG classes will make jelly for sale on Thursday recess time. EC/KG parents, please make sure your children bring aprons. For children with long hair, please make sure that they have a hairband or similar with them, and know that they will need to tie their hair during the cooking.
That's all for us. Have a great rest of the weekend!
From the HIS Parent Wolfpack (PTA) Team