Welcome from James Steward
Congratulations to our wonderful PYP Grade 5 graduates!
Their ceremony was held on Thursday after school amid much fanfare. The speeches were excellent. The gymnasium was beautifully decorated. The graduates looked great!
Thank you to Ms. Jessy, Ms. Sweta, Ms. Shefali and the entire PYP Team for their fine efforts. Most of all thank you to our Grade 5 students!
Good luck as you enter the MYP in August!
We now look forward to the Kindergarten Graduation on Thursday and the 60th Anniversary Party on Friday evening.
James Steward
HIS Principal
---
YEARBOOK Orders
It is that time of year when the HIS Yearbook is due to come hot off the press! Please make your orders here:
https://forms.gle/aZ41gK4KreqZNjL98
---
Miyajima Clean-Up
Hello! I'm Alina Hird from G11 and I'm organising a beach clean-up. As residents of Hiroshima, I'm sure Miyajima holds a special place in your heart. That's why I'm inviting you to join me in cleaning up Mikasa Beach at Miyajima where visitors come to see the famous Torii Gate! I'm doing this as part of my Global Politics Internal Assessment, where I'm researching the global waste problem and exploring solutions such as zero waste shops. I'm also doing this as part of the annual「ごみゼロクリーンキャンペーン」organised by Hiroshima City.
The clean-up will take place at Mikasa Beach at Miyajima on June 29, with the meet-up spot being the Miyajimaguchi ferry terminal at 9:30 AM. It will end around 12 PM. Rubbish bags, gloves and drinks will be provided. I'm mainly looking for G6-12 students, but PYP kids (with parent accompaniment) and parents are also welcome to join! This is the form to sign up.
Thank you for your support!
Alina Hird, G11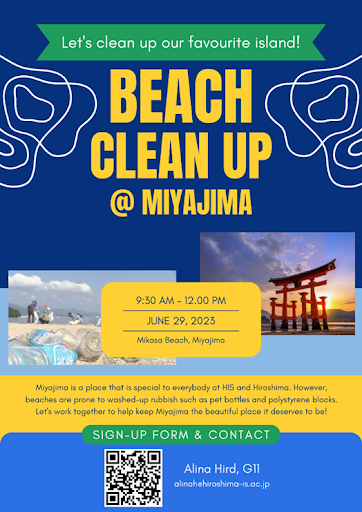 ---
From the Grade 7 Entrepreneurs
Carve Crafts/ Ethan

Thanks for buying my crafts. Unfortunately, I didn't make any profit but that's fine. I probably should've charged more money for the crafts but since I am such a nice person I didn't.

Mr. Munch's/ Yuu

Mr. Munch's Snacks would like to thank you for buying my snacks, and I will donate half of my profits to the school, please come again if I make a business.

HE&M

Thank you for buying our products from HE&M which is our store. Fortunately, we made some money and half of our profit will be donated to the school. If we are opening the store again, please come. Thank you.

Nican Video Studios

Although I did not have the time to offer my services to anyone at this school. I would still like to thank everyone who bought something which my classmates sold as, in the end, half of the money, including mine, will go to the school. So, I would like to thank everyone who supported my classmates, and thus, the school.

SANKS

Thank you for buying our shaved ice and juices at SANKS! Also, thank you for participating in our futsal tournament! Half of our profit will be donated to the HIS. We will use this money for HIS and to make it a better place. Please come again if I start business again.

T-shop

Thank you very much for shopping at my store. I will donate 580 yen to the school.
Thank you to the HIS community for supporting this project! In total the Grade 7 Entrepreneurs will donate 17,726 to improve the school.
Sincerely,
Mr. B
---
HIS Faces in the News (Photo Gallery)
Please click here to see this week's selection of photos from across HIS:
https://photos.app.goo.gl/gvERiM9HCjTGRRCe9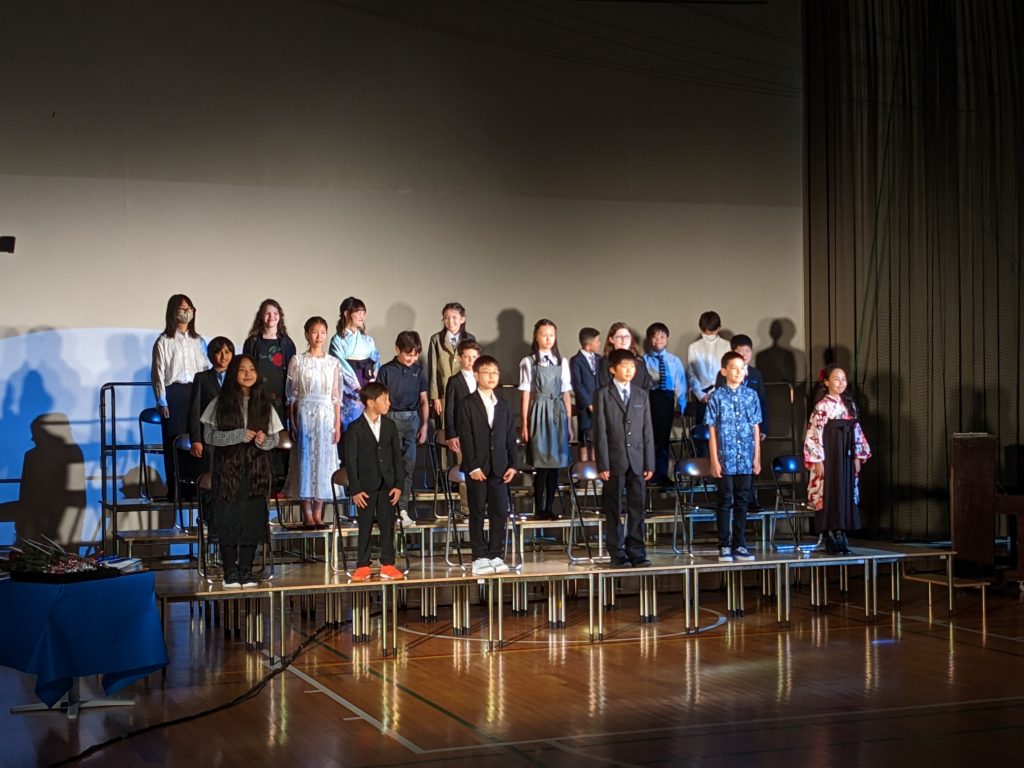 ---
From the HIS Parent Wolfpack (PTA) Team
The Wolfpack/PTA General Meeting was held at 9am on Thursday 15th June. Thank you so much to those who joined us (17 people including Zoom participants). We talked about
1. International Festival Overview and Use of Festival Profit for the school
2. Reflection of the Events for this School Year (2022-2023). We will summarise this in next week's Crane.
3. Treasurer's Report,
4. Teachers Appreciation Lunch,
5. Introduction of the Candidates for the Wolfpack/PTA Executive Members for the New School Year (2023-2024), and how to vote.
This is a summary of the PTA accounts for the year.
◆ HIS PTA/Parent Wolfpack 2023-2024 Committee Confirmation Vote 来年度役員選出投票
As announced at the meeting, five of seven members (Kumi, Rie, Sayaka, Yukina and Eriko) will step down from this year's Wolfpack Committee Team. The following people have been nominated and we are currently in the process of voting for the new members of the wolfpack/PTA team for the next school year. Parents should have received the email with the link for the voting form from Mr Steward.
Kaoru Ueno as a Treasurer / 上野 薫 (Shiori G2) 会計
Lindsae Negri (Jackson G5, Zulaa G2)
Mayu Haga/ 芳賀 真佑 (Shosei G9, Manato G5, Yusei G1)
Nami Ohata / 大畠 南波 (Soma G2)
Naoko Kurata / 蔵田 奈緒子 (Miu G3, Riho G1)
We would like to ask you to confirm their nomination by answering the question in the voting form by 9am on Monday, June 19th, 2023. The details are also found in the form. Please check your email for the form link from Mr Steward. Thank you to our new nominees!
2023年6月19日 月曜日の午前9時までにフォームの質問に答える形で投票してください。詳細もフォームのリンクよりご確認いただけます。フォームのリンクは校長先生からのメールにてご確認ください。候補者の皆さまに心より感謝申し上げます。
◆ Teachers and Staff Appreciation Lunch 感謝ランチ -Tuesday 20th June, 2023
 ➡︎Here is the Detail for the Teachers & Staff Appreciation Lunch
We would like everyone to participate in some way. 皆さまに何かしらのご協力をよろしくお願いします。
We are still accepting monetary donations towards this lunch for those who won't be able to take part by preparing the food etc. お金によるドネーションも引き続き受け付けています。
We need your help from 11:00 -2:30 pm on Tuesday 20th June.
Volunteers are needed from 11:00 to 14:30 to set up, serve teachers, look after students in the lower grades during lunch and clean up.
We are asking the parents in each grade group to contribute the following items please:
G8,G10,EC,KG … Appetizer or Salad or Vegetarian Main
EX:Ham and Cheese, Any salad, Egg roll, Marinated vegetables, Vegetarian curry etc…
G3 (Mr Ron), G4 ,G6, G9 …Main dish
EX: Fish, Beef, Pork or Chicken etc
G3 (Ms Olivia), G4, G5…Main accompaniments
EX: Bread, Sandwiches, Noodles, Fried Rice, Pasta, Onigiri , Kimbap, Sushi, or Paella
Mashed potatoes, etc.
G1, G2, G7…Dessert
EX: Cookies , Chocolate, Baking , Cake… etc
G11…Drinks and Fruit
EX: Juice, Coffee, Tea, Green Tea, Some Fruits …etc
◆ 60th Anniversary Ball and the Prom (G8-G12)
If you haven't paid the fee for the Ball, the Second Party, and Prom, please do so ASAP.
60周年食事会や二次会、プロムのお支払いがまだの方、至急オフィスまでお願いします。
We will accept extra applications for both the Ball and Prom until the day before (Thursday 22nd June), so if you missed the deadline and would like to join the party, apply now!
 ➡︎ Application Form is HERE 参加申込フォーム
*For your information, the Prom details have been given to the students. Grade 8 has been added to the application.
【*Cancellation Policy ※キャンセルについて】
If you need to cancel please send an email to pta@hiroshima-is.ac.jp before Tuesday 20th June at 23:59. We will not be able to return money beyond that point.
ご都合によりキャンセルされる場合は、PTAまでメール(pta@hiroshima-is.ac.jp)にてご連絡ださい。6月20日(火) 23:59 以降にキャンセルされた場合は、参加費のご返金はできないことをご理解、ご了承ください。
◆ Use of Festival Profit for the school フェスティバルの利益を学校のために…
We asked teachers what they would like to buy from the profit of the International Festival held in Spring (All thanks to many parents who volunteered for it tirelessly.). By Takako sensei's request, Mr Steward and the Wolfpack/PTA Team have decided to buy some versatile, multi-position staging platforms for gym use for the Festive Eve, Spring Concert, Graduation, etc.
◆ Let's Bake! – For EC / KG, for sale on Thursday 22nd recess
As announced in last week's Crane, this year's final 'Let's Bake!' is on Wednesday June 21st when the EC/KG classes will make jelly for sale on Thursday recess time. EC/KG parents, please make sure your children bring aprons. For children with long hair, please make sure that they have a hairband or similar with them, and let them know that they will need to tie their hair during the cooking.
◆ HIS IDOL
Looking forward to seeing many of you at International House for the big event!
That's all for us, have a good weekend! Only one more week to go!!
From the HIS Parent Wolfpack (PTA) Team