Welcome from James Steward
Week 2 at HIS has been another exciting one with many events on the schedule. New students and teachers are settling in. The PTA Wolfpack has begun planning for a series of exciting coming events.
Thank you to Mr. Onodera for delivering an excellent 'guest lesson' on Migration this past week to our G3-4 students during Japanese class!
Parent Information Evening (PIE) was an excellent event. The HIS Staff did a wonderful job with their presentations and parents enjoyed educational discussions with their children's many teachers. This year's Teaching and Learning Team is superb and HIS is in great shape.
Good luck to our Volleyball Teams in the coming days as they prepare for a series of important games!
James Steward
HIS Principal
---
Concert Information from Takako Sensei
HIS Clarinet Instructor Saneshige sensei is featured in the concert below.
Great Wind repertoires including Symphony No. 8 by David Maslanka.
If interested, please contact Takako sensei.
Saturday, Oct. 7th 17:00
JMS Aster Plaza Big Hall
Student Ticket 2000 yen, Adults 4000 yen
---
After School Clubs Update
This year, After School Clubs organized by Ryoko sensei will occur on Tuesdays and Thursdays. More information will be coming soon from Ryoko sensei.
---
Core Values we are working on at HIS:
Always make responsible decisions
Respect yourself, others and all property
Be polite
Keep the school neat and organized
Take pride and care in your school
Represent HIS with pride
Participate in school activities to the best of your abilities
---
After school pick-up for primary (PYP) at 15:20
PYP students must wait in the genkan for their parents to pick them up.
Park in the HIS Playground! Open daily at 15:00.
Parents, please stay with your child(ren) for the time you remain on campus after picking them up.
If you would like another HIS parent to pick-up your child, please send a note or email to Makkie-san (office@hiroshima-is.ac.jp) in the HIS Office well beforehand to let her know.
The safety of all students is essential.
---
Photo Gallery
Check out the latest HIS Action in pictures at this link:
https://photos.app.goo.gl/3tCdeQg3RVqmNP2PA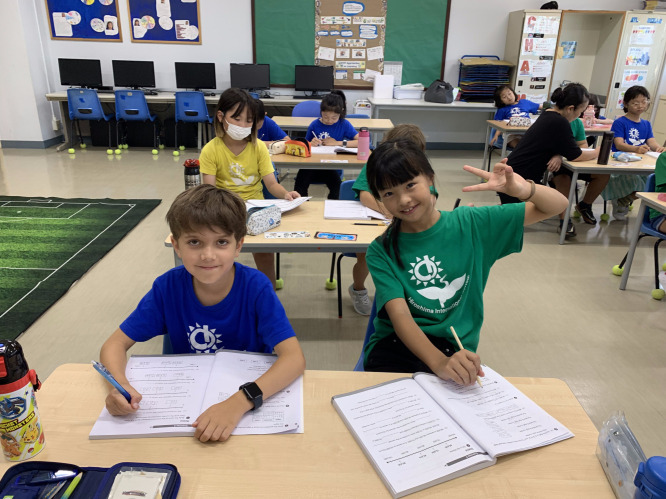 ---
From the PTA Wolfpack!
We hope that everyone enjoyed the Parent Information Evening on Friday! We mentioned a few upcoming events at the meeting and would like to give you some more information.
The first Wolfpack event of the year is a Hot Lunch on Tuesday, Sept. 19th. The lunch will be Karaage Chicken, rice, potato salad and vegetables made fresh by our Wolfpack and parent volunteers. The price for the hot lunch is 400 ¥. You can order more than one lunch if your child needs a larger portion. The lunch will be delivered to their classroom on the 19th at lunch time.
Deadline to order lunch is 9/15/2023 at noon. Please give your payment to Makkie-san in the front office in an envelope labelled "Hot Lunch Order" with your name and total amount on it.
You can order the lunch here: https://forms.gle/pVNBxz6tk2qPXMfS6
The second event we have is our first Wolfpack General Meeting; it will be held on September 26th at 9:00am at HIS. The main topic of this meeting will be our upcoming Halloween event. Hope to see you there!
Finally, we have our first Let's Bake of the year. For those of you who are new, this is a two part event put on by the Wolfpack. On the last Thursday of the month, we meet with a class to bake a sweet treat. The following Friday the Wolfpack holds a bake sale to sell the treats that were made.
This month we will be baking with the G8 on September 28th and the Bake Sale will be on September 29th.
The PTA Wolfpack