Welcome from James Steward
First, I must remind all families that Parent Teacher Student Conferences will take place on Monday. If you require further information regarding appointments, please contact Makkie san in the HIS Office. As well, please ensure that children remain with parents at all times during the conferences. It is important to respect others who are participating at different times during the day.
As I have noted many times, our school population is increasing. This means that more cars are entering the surrounding roads of HIS. Therefore, please do not park on the road. Instead, please use the school playground, which is open daily in the afternoons by 15:00, and when necessary, in the mornings at 8:30.
Thank you to the PTA Wolfpack for their superb decorating of the HIS corridors this past week. The school has been emblazoned and illuminated with fabulous Halloween decorations seemingly everywhere! HIS looks wonderful! Please check our HIS Photo Gallery for further insights.
Please read further for more information.
James Steward
HIS Principal
---
Reminder: After School Study and Play
HIS has grown significantly over the past year. We are now pushing 190 students!
Having stated this, for many students want to, or need to, remain at HIS after normal school hours.
For younger students in Primary that remain, they must be accompanied by a parent in order to play by the ECKG room.
No 'ball playing' is allowed in the field area. There are too many cars in the area and it is not safe.
For students waiting for pick-up, they must remain in the Genkan area.
For Secondary students that have permission to study, they can only do so in the Meeting Room, or the Genkan.
HIS is a lively place and we love this! However, all students must make responsible choices while following the simple guidelines stated above. 
Thank you for your help in this matter. We appreciate it!
---
HIS Photo Gallery
Click here for this week's selection of photos from across HIS:
https://photos.app.goo.gl/YxaNnbVYGwW4Auiy5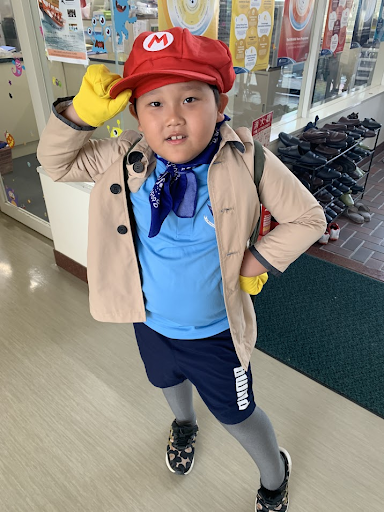 ---
PTA Wolfpack Update
This week we have Wolfpack Snack Shop on Oct 10 & 11 (Tuesday and Wednesday). During morning break we will be selling snacks. Examples of snacks that will be sold are cheese & crackers, assorted breads, and onigiri ranging from 100-200¥. Please remember to send your children with money if you would like them to purchase snacks. Limit is 500 ¥en for students and all profits will go to the PTA fund. For ECKG, in order to keep the money simple, the limit per child will be 200 ¥en.
Remember to sign up for the Halloween Party, the deadline is Oct. 20th.
To sign up for the Halloween Party please click here https://forms.gle/szSb2zveLTM6i2hD6 
We need help to make these events great for the kids. Here are ways that we need your help:
-Donate snacks or treats, please drop them off in the box in the Genken by October 24. Please no snacks or treats with nuts due to allergies of students.
Sign up to help stuff snack bags
Sign up to help with games
Sign up to decorate your car for the Trunk or Treat
To sign up to volunteer please click below. Please note there are two tabs:
https://docs.google.com/spreadsheets/d/14ehgDZxDCGs0dKJ0eTaFQnc0co86ehM2vaT8MiyQAsM/edit?usp=sharing
Upcoming Events:
October 10/11th Wolfpack Snack Shop
October 20th Deadline to sign up for Halloween Party
October 24th Last day for donating snacks!
October 25th Wolfpack making Snack Bags
October 27th Halloween Party
The PTA Wolfpack