Welcome from James Steward
The long-awaited March Break is approaching! Before we get there, however, there is plenty to celebrate and accomplish.
Congratulations to Ayako Sensei and all students involved in the VA Exhibition 2023 held downtown this week. It was absolutely superb! Here is a fun picture of the TEAM!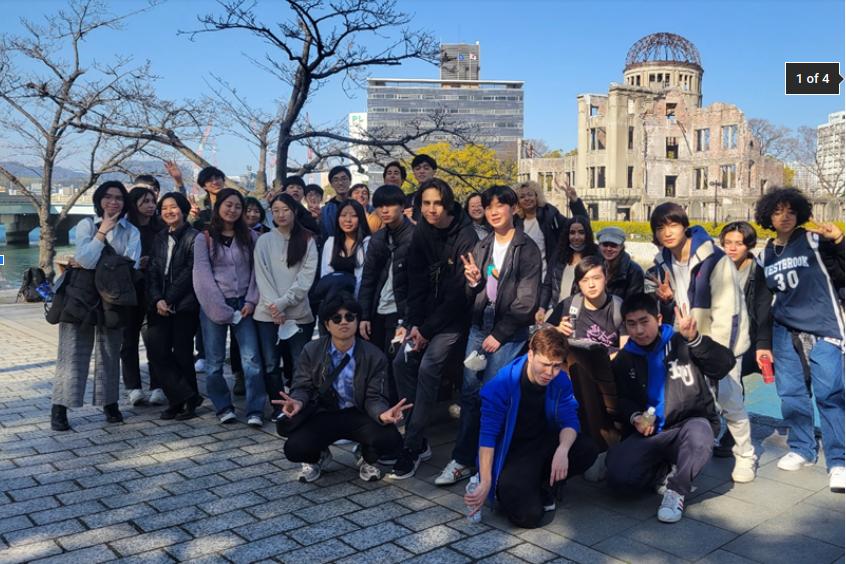 The Parent Wolfpack continues to prepare for the International Festival on April 15. They are planning to have a draw for many prizes. If your family is connected to a business that might be able to offer a fun, exciting or unique prize, please contact me, James Steward, or Naoko Kurata. Examples of prizes might include:
Gift Certificates to Local Businesses,
Complimentary Service at a Local Business,
Lunch or Dinner at a Local Restaurant,
An Overnight Stay in the Region,
Air Tickets to a Japanese Destination!
Tech Items such as iPads, Computers, Video Game Options, etc.
Or anything else unique that comes to mind!
Here is the poster for our coming International Festival on April 15. Thank you to Naoko Kurata for her creative skills.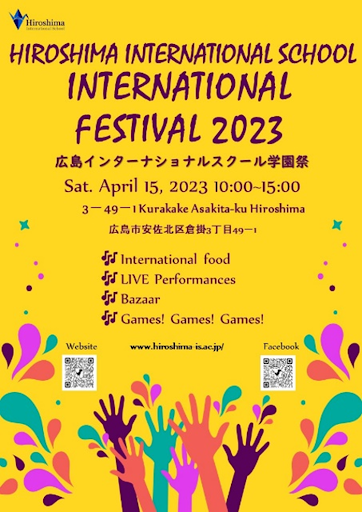 ---
Poru Poru News!
The EC/KG and other PYP students joined the Poru Poru Dance this past Monday! The dance and the interviews will be broadcasted on Hiroshima Home TV on the program named 5up! as shown below:
EC/KG
– March 13th – 17th 5up! (around 5:40pm Poru Poru Uranai, fortune-telling)
– March 20th – 24th (5:59am – 6:00am weather forecast)
*Official Hiroshima Home TV distribution by YouTube starts on March 17th.
Interviews of PYP students
– March 20th – 24th 5up! (around 5:40pm Poru Poru Uranai, fortune-telling) except for March 21st
– March 25th 5up! Saturday (9:30am – 9:45am)
– March 27th – 31st (5:59am – 6:00am weather forecast)
*Official Hiroshima Home TV distribution by YouTube starts on March 24th.
More Interviews
March 16th (around 5:35pm)
March 23rd (around 5:35pm)
---
HIS Faces in the News! (Picture Gallery)
Click here to see our weekly selection of photos from across HIS.
---
From the Parent Wolfpack Team
◆ Scholastic/Baker Book Club Online Order
 スコラスティック/ベイカー ブッククラブ オンラインオーダー受付中
Our new Scholastic/Baker Book Club is up and running!
Go to:
https://world-schools.scholastic.co.uk/hiroshima-international/digital-book-club
to browse the latest books and order online.
Every $1 you spend on Book Club will earn 20¢ for our school in Scholastic Rewards. This is an opportunity to contribute to the school as these will be used to add books to the library.
Please place your order online by 9pm on Tuesday, March 21st, 2023.
(締め切り: 2023年3月21日(火・祝) 午後9時)
◇International Festival News◇
◆ Volunteers for Saturday April 15th – Keep the day free!
 ボランティアのお願い (4/15(土)を空けておいてくださいね!)
As the Festival comes closer it's important we identify jobs for everyone. The volunteer list will be published next week, and we would like to ask you to block your calendars for the day of April 15th now.
The success of the event at a small school like ours relies on everyone contributing their efforts (both primary and secondary parents). We can't do it without you!
◆ Festival Flyer and Poster チラシとポスター配布のお願い
We will shortly be distributing an envelope to your children (one per household) containing flyers. Please distribute these to your friends, family and neighbours that you think might be interested in attending. Please also make an effort to distribute to shops or restaurants you frequent, particularly ones with an international connection or theme. We have plenty more to distribute, in the staffroom – please contact us if you require more. We also have A3 sized posters – if you have somewhere visible to post, please ask us for one.
◆ Second Polo Shirt Order ポロシャツ2回目注文
We would ask that as much as possible, parents volunteering on the day wear the 60th Anniversary polo shirts to make us easily identifiable and for improved security for the children.
当日ボランティアをしてくださる保護者の皆さまは、外部のお客様との区別をしやすくするため、またお子様の安全確保のため、できるだけ60周年記念ポロシャツの着用をお願いします。
We will be making another order of polo shirts – links below.. The deadline to order will be 9pm on the 21st March
 ➡︎Click here for the Polo Shirt 2nd Order Form / ポロシャツの注文リンク
 ➡︎Click here for Details and Pricing of the Polo Shirt / ポロシャツの詳細はこちらから
◆ (Reminder) Bazaar Item Collection starts. (再)バザールのための寄付のお願い
Boxes will be placed in the genkan area for donations to the Bazaar. As we mentioned previously we would like to collect:
・Toys – Unbroken toys, Sets with no missing parts, CLEAN Stuffed animals, etc.
(Free giveaway toys or similar toys will not be acceptable.)
・Books (Both English and Japanese. Recipe books are also okay.)
・Unopened or unwanted gifts (Within the Date of Expiry if foodstuffs)
・Handmade items.
Items left unsold will be assessed by a recycling shop so that they will not be wasted.
◆ (Reminder) Bake Sale Ingredients Donation (再)ベイクセール材料の寄付のお願い
We would like to collect ingredients for the bake sale for International Festival and would welcome donations of confectionery ingredients such as flour, raisins, and nuts that are still within their expiration date. If you have any spare in your store cupboard, please let us know.
◆ (Reminder) Photos request for "Determined Toddlers Photo Exhibition"
  (再)フェスティバルでの写真展のためのイヤイヤ期の写真募集中
 ➡︎Click here for Photo examples / 日本語訳・写真例はこちらから
At the International Festival, we will hold a "Determined Toddlers Photo Exhibition"
The purpose of the exhibition is to show how much toddlers are motivated to take on new challenges even if their determination can give you a difficult time.
We all have days that we are so exhausted by our children throwing tantrums and making demands, but they are building their characters at the same time. Please send photos of your children from the age of between 18 months and 3 years old with a short description.
We also need photos of HIS staff and guardians when they were little(!).
Deadline / 応募締切: Friday, March 31, 2023
To: Ryoko Jordan (rjordan@hiroshima-is.ac.jp)
That's all for now from us. Have a great rest of the weekend!
From the Wolfpack Team