Welcome from James Steward
This week I had the privilege of joining the annual Peace Ride with Mr. Barker and the Secondary cyclists. They were absolutely exceptional! Mr. Barker's wonderful organization and passion for cycling radiates within our students. The many challenging kilometres ridden and multiple scenic mountain climbs will leave lasting memories for all that participated. This was truly a major challenge for everyone. Congratulations to the entire Team, including Mr. Bartelink, our dependable driver, and Director General, Peter Skaer, who joined many of our training rides. We are very thankful for such supportive people.
Congratulations are also in order for the Grade 5 Class led by Ms. Jessy and Ms. Sweta, as they completed their PYP Exhibition on Saturday. The range of presentations was excellent, and the quality of their performance was stellar. Thank you to all parents that attended and supported our fine students. Thank you also to our PYP Coordinator, Ms. Shefali, for her dedication to this event and the PYP Programme.
Finally, congratulations to all students and family members that participated in the Saturday Student Led Conferences, an essential part of the PYP. It was wonderful to see so many parents attending on a weekend.
There are many pictures of the above events found in our Photo Gallery; please enjoy.
James Steward
HIS Principal
---
Respect the Flu!
Please note that we have had multiple reported cases of influenza in the Primary School. Out of respect to our entire community, please do not send children to school who are symptomatic. It is not fair to others. It is also important that you seek medical advice.
If a class is deemed to have too many cases, we will be forced to shut the class down. This will not be optimal given the many coming events scheduled.
---
Coming Events!
Dear Parents, Families, and Friends at HIS
You are Cordially Invited to the:
Arts Gala: Spring Concert 2023
Friday, June 2nd, 16:00 at Hiroshima International School
It has been three years since the last whole school Spring Concert in 2019. We are back LIVE all together. The HIS Annual Spring Concert will be featuring all students in Early Childhood Class through Grade 11 in various performance groups. The program is presented as a way to celebrate student's learning engagement through music for the school year. Students are making their final effort in preparing for the special day. Please join us and support, inspire the performers to sing and to play their best!
Program Overview
Early Childhood/Kindergarten Class Movement & songs
Grade 1-2 Movement & songs
G3-5 Chorus
c. 60min.
INTERMISSION
G6 Ensemble
G9-10 Ensemble
Solo
G7-11 Orchestra
c. 40 min.
Please prepare attire: for the purpose of bringing the light onto unity of the groups, and to add a little special feeling for the evening, please consider the following guidelines.
服装の準備は以下の通りお願いいたします。
EC-G2 HIS team color T shirt and short pants/spats (something fit and easy to move around). Students will be demonstrating rhythm movement activity where they would need to be able to move freely (bending, crawling, galloping, etc.) They will be barefoot during the performance.
Chorus G3-5 HIS 60th Anniversary Polo Shirt and beige or brown tone color pants/skirt
Orchestra (G6-11) Men: collar shirts, dark dress pants
Women: dressy white or black shirts, dark pants/skirt OR dark dress
Calf length or longer is more appropriate choice for concerts
Parking: The playground will be open for parking from 15:00. Car-pooling would be encouraged as there are limited spaces.
Slippers: Please prepare slippers to protect the gym floor. 上履きの準備をお願いします。
Gym Doors Open @ 15:30 p.m. for the audience. Please wait until the final rehearsals are over.
開場前、生徒達は最終リハーサルに緊張して臨んでいます。リハーサル終了まで、入場は控えていただきますよう、お願い申し上げます。
All Primary students will be seated with their homeroom groups until the end of the program.
No Eating during the Performance for HIS Students HISの生徒は演奏会終了まで、生徒の席で演奏に耳を傾けます。演奏会中は生徒は飲食できません。
Secondary Students will be kept for a quick clean up of their equipment and for a GROUP PHOTO following the program. We will be aiming to dismiss secondary students by 18:20 p.m.
終演後、中高生は記念撮影をし、オーケストラ席の簡単な片付けがあります。解散は18:20予定ですのでご協力よろしくお願いいたします。
Children can be the best audience of the finest music. If they are familiar with the pieces, they will be RESPONDING with greater joy. Younger children watch the way grown-ups listen to music. Please enjoy listening to some of the musical pieces that will be heard at the HIS Spring Concert 2019. Looking forward to seeing many of you there! 子供は本物の音楽を聴き分ける力を持っています。曲に親しんでいれば、聴くことが喜びに変わるでしょう。小さな子供は大人がどんな風に音楽を楽しむのかをじっと見ています。スプリングコンサートで奏される曲にどうぞお子様と耳を傾けてみてください。
EC-KG Grizzly Bear
G1-2 Smile, 夢のヒヨコ
G3-5 Choir 「ていんさぐぬ」 Teinsagunu, Cantate Deo, 「へいわくんくん」Heiwa Kun-kun, G3-4 part, G5 part I'm Gonna Sing/When the Saints Go Marching In/Swing Low, アルデバラン Aldebaran with Lasting Peace Project Choir
G6 Ensemble Bourree in G Major by Bach , Ashokan Farewell
G7-11 Orchestra Rhapsody in Blue by Gershwin Brandenburg Concerto No. 5 Allego by Bach
Takako Tokunaga, HIS Music
---
Arts Gala: Secondary Visual Arts Exhibition
"We are back!"
Visual arts department will present selected artworks by secondary students around the genkan area. This exhibition will showcase the works by Grade 7-10 students and you will be able to see both challenges and progress that students made over the year. Please join us for our exhibition!
Secondary Visual Arts Exhibition
Date: Friday, June 2nd, 2023
Location: HIS Genkan (entrance) area
Open to anyone
Hiroshima International School
Secondary Visual Arts Exhibition 2023
"We are back!"
Grade 7 and Grade 8: Human Expressions
Grade 9 and Grade 10: Selected artworks
Grade 11 and Grade 12: Selected artworks
Ayako Kurokawa, HIS Visual Arts
---
For all of the latest HIS happenings, please check this week's HIS Photo Gallery here:
https://photos.app.goo.gl/XMHnybXmAjDHm5496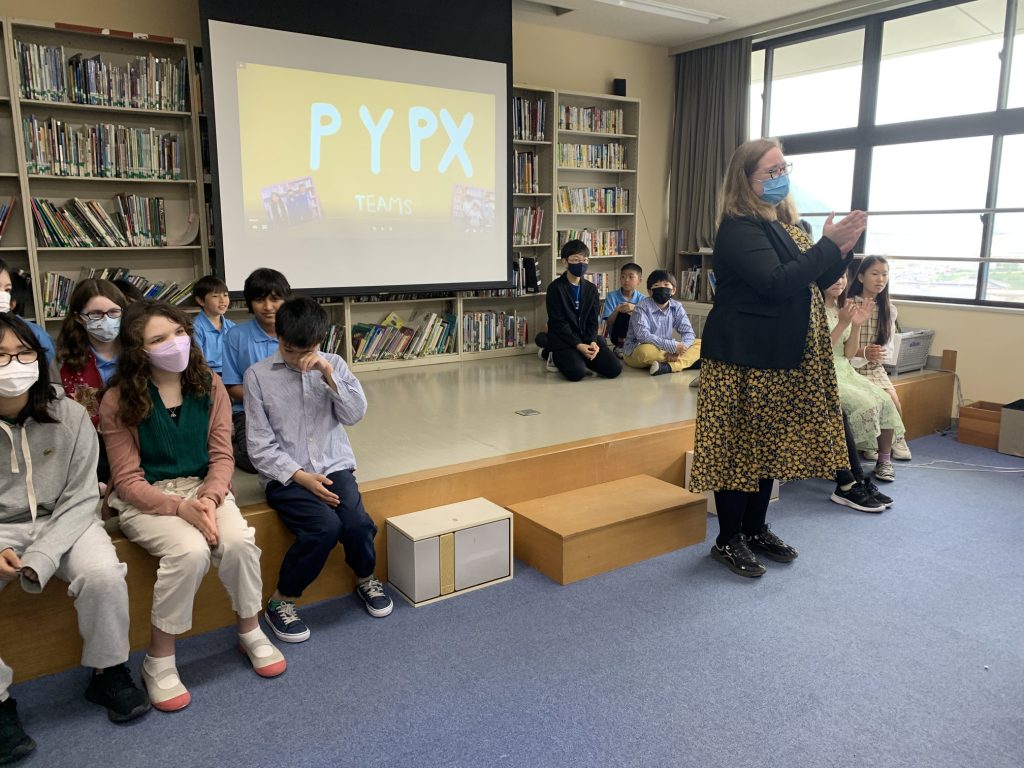 ---
From the HIS Parent Wolfpack (PTA) Team
◆ HIS 60th Anniversary Ball
We would like to announce the celebration for the school's 60th Anniversary! This will be a great opportunity to meet up and party in style!
Date: Friday, June 23, 2023 18:00 ~ 20:30
Venue: Hilton Hiroshima (11-12 Fujimicho, Naka-ku, Hiroshima) 2nd floor venue (Otagawa AB)
Participation fee (soft drinks included):
Adults (including G7 and above) 6,500 yen
Add all-you-can-drink alcohol for 20 years old and over 2,300 yen
G1 -G6 student 3250 yen
EC/KG Student Free
Dining: Buffet
Dress code: Formal (Lounge Suit or Black Tie)
There will be a children's play area.
Second party
Time: Same day 20:30 ~ 22:00 (children may also attend)
Place: Hilton Hiroshima 6F ZATTA Bar & Lounge
Participation fee: All-you-can-drink for 90 minutes: 4,000 yen (same applies to soft drinks only)
Participation fee for children under the age of 20: Seats are reserved, but prices are being negotiated (we will let you know as soon as they are decided)
We will send the link to the participation form within a few days.
HIS創立60周年記念パーティー
日時: 2023年6月23日 (金) 18:00 ~ 20:30
場所: ヒルトン広島 (広島市中区富士見町11-12) 2F会場 (太田川AB)
参加費用 (ソフトドリンク付き): 
大人・G7以上 6500円 アルコール飲み放題追加 2300円
G1 〜 G6 3250円
EC/ KG 以下 無料
食事スタイル: ブュッフェ形式
ドレスコード: フォーマル (男性はスーツ、もしくはタキシード)
子供のプレイエリア有り
二次会パーティー
時間: 同日 20:30 ~ 22:00 (子供も参加可能)
場所: ヒルトン広島 6F ZATTA バー&ラウンジ
大人参加費用: 90分飲み放題 一律 4000円 (ソフトドリンクのみの場合も同様)
19歳以下の子供参加費用: 席は確保しているが値段交渉中 (決まり次第お伝えします)
参加申し込みフォームは近日中にメールを通じてお送りします。
◆ Teachers and Staff Appreciation Lunch
This year we are returning to an old tradition from before COVID, to prepare a lunch for HIS teachers and staff to show how much we appreciate all the efforts that they make for our children.
We need your help to cook and put together a special meal on Tuesday 20th June from 11:00 -2:30 pm. More details are linked below.
  ➡︎Here is the Link to the Detail for Teachers & Staff Appreciation Lunch
That's all for us, have a great rest of the weekend!
From the HIS Parent Wolfpack (PTA) Team